TOPICAL MATTERS and NEWS
---
Following the AGM FoFNL's new Secretary is Malcolm Wood who may be contacted at secretary@fofnl.org.uk. The positions of Convener and Newsletter Editor are still vacant.
Headcode : April, 2014
"The world is run by those who show up."
This is my fifteenth and last Headcode and I had intended to use it to review the past five years of the Friends of the Far North Line and its achievements. However, we now have a more pressing issue that could threaten the very existence of our society.
A year ago, I announced to the Annual General Meeting that this would be my last year as your Convener and it still is: there is no prospect of me agreeing to extend my term of office or, indeed, continue serving on the committee at all. After some discussions, the committee found someone prepared to stand for the post. Unfortunately, owing to a change in personal circumstances, that person has told us that he will not now be able to do so. In the last Far North Express, we told you that Gavin Sinclair would also be standing down at the forthcoming AGM and that we'd had an expression of interest for that post. I have to tell you now that that person has also had to stand aside, although there is a current committee member who has signified that he may cover the post temporarily but not as an AGM appointment. Then there is the post of Editor of this newsletter. As many of you will know, our long-standing editor retired in 2011. We "head-hunted" his replacement but he was only able to serve for a year owing to health issues. The volunteer who replaced him was himself unable to take up the post for health reasons and, although I persuaded the outgoing editor to produce one more issue, since then I have been editing FNE myself; this is my fifth and very definitely last. Again, we have had no expressions of interest. So, at the time of writing, we have no Convener, no Secretary and no Editor, at least not from those who fit the quote at the top of this Headcode. I am therefore making a plea for someone else from amongst the membership to offer him or herself for office at the forthcoming AGM. As well as the vacant posts, others who have been running the society for many years - most of them for considerably longer than me - are at the stage where they feel it's time to hand over to someone else. That someone else must surely be reading this piece. And wouldn't it be nice if it were not an old man like most of the rest of us? What we need, please, is for someone else to "show up," to use that horrible Americanism.
What will happen if no one comes forward? There are two strands to this: the administration and the campaigning. Firstly, both Gavin and I will surrender our access to the FoFNL email addresses but would have no successors to pass them onto so no one would be able to contact the society by electronic means; messages would disappear into the ether. Secondly, this publication would have no one to produce it so FoFNL would have no regular means of contacting its membership. The most serious outcome, though, could be the dissolution of the society under Article 26 of the constitution and I'm sure none of our members wants this. The result would be that no one would be fighting for the railway north of Inverness nor indeed into the Highland Capital from either the east or the south. So, let's hear from someone, please, either before or at the Annual General Meeting at Conon Bridge. The fact that we can get there by train is in no small part as a result of campaigning by the Friends of the Far North Line.
Elsewhere in this newsletter, you will see that there is some progress on Aberdeen - Inverness and a vague promise of something happening with the Highland Main Line. In both cases, the work is planned to take a lot longer than we would wish. There is disappointment that nothing is included in the ScotRail Invitation to Tender for north of Inverness but we should not rule out that the winning franchisee may wish to exceed the specification. At least one of them has said that it proposes to do so throughout Scotland.
We hope to see as many of you as can make the trip at Conon Bridge on 31st May. Let's just hope it's not the last time.
---
If you have any comments or require any information please contact FoFNL by
E-mail
---
Welcome to the Friends of The Far North Line
The Friends of the Far North Line is the campaign group for rail north of Inverness, lobbying for improved services for local users, tourists and freight.
Our website will give you an insight to FoFNL's successes and concerns. You will find a complete collection of newsletters dating back to 1998 as well as an archive of interesting documents.
This is a map of the Far North Line which is situated in the northernmost part of Scotland. Hovering the pointer over the name of a station will display a local photo.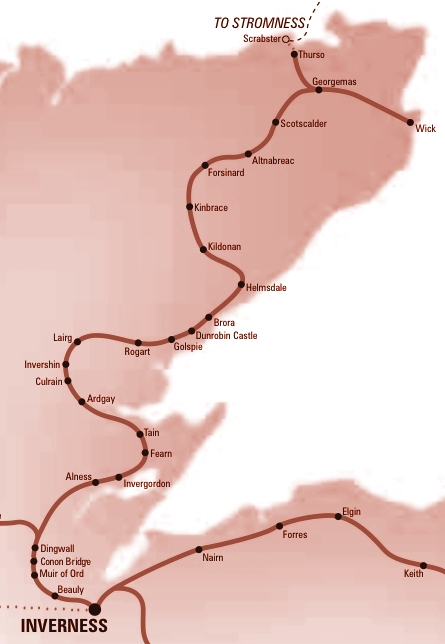 Our aims include:
The continued retention and improvement of the line from Inverness to Wick/Thurso.
The development of services for local residents and tourists alike.
Enhancement of freight services.
Publicising the line, its attractions and potential.
Liaison with local groups to foster interest in the line.
Liaison with ScotRail, statutory bodies and tourism authorities.
The use of the line by heritage trains.
Our 1995 conference for rail interests was the precursor of the Highland Rail Partnership a collaborative body spanning the Council, Highlands and Islands Enterprise, local Enterprise companies, rail operators, the Friends Groups and others.
Achievements include the Easter Ross commuter train, Beauly and Conon Bridge stations, all-year Sunday trains, initiating the re-introduction of significant freight, the transporting of extremely long lengths of pipe to Wick, and the building of a footbridge alongside the Shin Viaduct. A substantial increase in freight is still needed and we will continue to persuade haulage contractors that there is an alternative to driving long distances over inadequate roads.
We continue to seek shortened journey times and hourly services between Inverness and Tain. We aim to work in partnerships, we publish a thrice yearly Newsletter, we are democratically governed through our AGM and a geographically representative committee.
---
Join...
If you would like to join The Friends of The Far North Line please download, print out and complete the application form. If you prefer, you can phone our Membership Secretary on +44 (0)1334 475311. Annual membership is only 12 UK pounds (10 for concessions).
---
Office Bearers
David Start
29, Ethelwulf Road
Worthing
BN14 7NF
Angus Stewart
36 Learmonth Place
St Andrews
Fife
KY16 8XF
Bob Barnes-Watts, Inverness
Iain Macdonald, Alness
Richard Ardern, Inverness
Stewart Campbell, Alness
Sandy Colley, Culloden
A selection of Far North Line photos can be found
here
.
The photo of Culrain station was taken by Peter Van Den Bossche and the photo of Altnabreac by Dennis Troughton. Both are used under the Creative Commons Licence.
The European

Railway

Webring