David Spaven - Railway Atlas of Scotland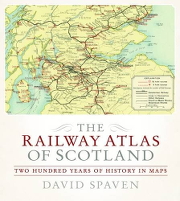 The Railway Atlas of Scotland : Two Hundred Years of History in Maps
David Spaven
255 pages, £30.00
Birlinn in association with the National Library of Scotland, 2015 ISBN 978-1-78027-238-2
David Spaven, son of Frank Spaven FoFNL's former Membership Secretary and Vice President, has had a busy year in publishing two books with the same number of pages but vastly different in format.
The atlas is a large hardback book profusely illustrated by coloured maps of all kinds. It is an absolute treasure and is dedicated to his parents, Frank and Sheila. 181 maps of all kinds cover nearly 200 years of railways with an informed commentary and there is a useful and extensive bibliography.
Although the Brora tramway was too early for the scope of this book, the Far North Line is well represented and even the proposed Dingwall and Ben Wyvis Railway is covered. It was to be electrified using the BR system so that through working would be possible once the Highland Lines were also energised!
The TRACKatlas page shows the FNL in detail north of Lairg. The author observes that the 24 miles from Helmsdale to Forsinard is the longest single-line railway section in Britain. Over the 68 track miles north of Helmsdale there are 48 crossings, 41 of them are User Worked Crossings. The AOCL-B half barrier crossings "can be viewed as an expensive indulgence of the negligence of motorists". The author is critical of the over schematic depiction of the north in the recent First Group and Abellio ScotRail maps. He really likes the Alan Jowett maps of 1989 although it must be said that Clacknaharry (sic) is shown as being immediately north of the River Ness rather than north of the Caledonian Canal.
There is so much in this atlas. Seek it out for many hours of enjoyment.
Richard Ardern