The Battle of Jutland: The Orkney Perspective
I do not know whether any Cheshire men were involved in the Battle of Jutland in 1916 but I would think it highly likely. On Tuesday 31 May 2016, Orkney played host to the national commemoration of the 100th anniversary of the battle. The editor, therefore, suggested that since I live in Orkney, perhaps I could write an article on Jutland for the Ancestor? So here goes...
During WWI, the Royal Navy's Grand Fleet was based at Scapa Flow in Orkney. In fact, the strategic importance of this natural enclosed and protected harbour has been recognised by mariners throughout history. The Vikings used it as a raiding base and that's how the name originates: Scapa comes from the old Norse Word skalpr meaning sword or scabbard, but could also be used poetically for ship; Flow also derives from the old Norse floi or fljoy meaning plenty of water or fjord where ships could be hauled.
Scapa Flow is an area of 270 square miles, roughly sixteen miles by seventeen miles, and has an average depth of 120 feet. It is 400 miles from Jutland Bank, 600 miles from Kiel (German) naval base and 690 miles from the Admiralty based in Whitehall, London. Originally there were seven narrow entrances between various small islands to the Flow, all with strong 10 knot tides, but after the dramatic sinking of HMS Royal Oak on 13 Oct 1939 by the German submarine U 47, Winston Churchill ordered the construction of causeways, now known as The Churchill Barriers, to close off the four eastern entrances to the Flow and improve defences. Admiral Sir John Jellicoe said of Scapa Flow ...a fine stretch of water, the centre and pivot of the whole naval side of the war.
Admiral Jellicoe is best known as Commander of the Grand Fleet in WWI, but to every serviceman who ever served in both wars in Orkney, his name was more associated with trains! Scapa left its mark on everyone who served there; it was like joining a club of special places of service like Poona, Singapore or the Desert Rats in North Africa. When a serviceman was posted to Orkney, the classic route to Scapa was by train to the north of Scotland and then by boat for at least three tumultuous hours across the treacherous stretch of water between Scotland and Orkney, the Pentland Firth. These trains were affectionately (?) named the "Jellicoes". Journeys began at Euston or King's Cross and the trip of 700 miles could take anything from twenty-four hours to three days. In their splendid book Scapa Flow, Michael Brown and Patricia Meehan gathered the personal recollections of servicemen and women and local Orcadians to paint a comprehensive picture of Scapa Flow during both wars. Here are a few quotes from servicemen travelling on the "Jellicoes".
...leaving Devonport late one night, we eventually reached Scapa two nights later .......men and baggage everywhere; Moving in or out of the compartment was an obstacle course .......the air was dense with smoke and smelt more like a ship's bilges than a train ......on the journey from Portsmouth to Thurso, I lived on pies for three days and we had an occasional wash by putting our heads out of the railway carriage window to catch the raindrops ......cold, my goodness it was cold and a spare blanket of very dubious appearance is at a premium. Snow outside but my neighbour gave me a sip of rum from his hip flask; he'd done this journey before .......what endless purgatory this is ......at every stop, we used to try and nip out to grab a cup of tea .......after passing through Invergordon, we stopped by a wild remote moor in the darkness and there were the WVS with tables full of cakes and sandwiches.
But the Jellicoe train was only part of the journey to Scapa; there was the sea crossing to endure across the Pentland Firth. Here's what some servicemen had to say about that.
...we boarded an ancient mail boat and some hardened sailors had found convenient spaces where they could wedge themselves between posts and rails. We passed Dunnet Head and entered the Firth where we received its full welcome - not just ordinary waves, but hills and valleys of deep green sea, the meeting through thousands of years of the Atlantic Ocean and the North Sea creating a nine to ten knot current. One minute we were gazing at clouds and the next we were almost dipping our feet in the Pentland Firth - hence the importance of being wedged! ....the ship rolled and pitched so much that one moment we were lying almost horizontally on our backs and the next standing on the rail with the swift waters swirling under our feet .......I remember on one trip hearing a soldier say "I don't mind someone being seasick on me, but when it's someone four places further along the rail and he missed the three in between, that's what I call bloody bad luck!" .......I remember waiting on the quayside at Stromness to join a ship to go home on leave and I saw men coming north being carried off their boats on stretchers. Wives will never know how we suffered for those ten days at home.
So our brave young servicemen have endured perhaps three fiendishly cold nights on a "Jellicoe" train followed by a three-to-five hour crossing on an old mail boat in a force nine severe gale to reach Orkney - but there's more to follow! For Army or RAF personnel, onward travel was usually by 3-ton truck to their final destination; but for RN personnel, it meant yet more sea journeys to reach their ships anchored out in Scapa Flow. These journeys were undertaken by what were called drifters. Arriving in Orkney, sailors would first be sent to a depot ship which could be described loosely as "holding pens" until the small drifters came alongside to collect personnel allocated to the various ships at anchor. Getting aboard one of these drifters was perhaps the most hazardous part of their journey. Consider this vivid account of the operation...
...There were often as many as ten drifters alongside the depot ship. It was a nightmare job transferring a full kit-bag, a hammock and a large suitcase and, if you were a tradesman you had a tool box as well which could weigh a hundredweight or more! In the choppy seas of the Flow, the drifters were never still. We poised on the gunwale of one boat until the gunwale of the adjoining one finished its eight to ten feet rise and fall on the swell and then you jumped for it with both arms loaded with your kit! Sometimes you had to make three or four journeys like this to reach the appropriate drifter!
During both world wars, Orkney's population increased more than threefold due to all the service personnel here. Orcadians were, and still are, immensely proud of the part their islands played in these important events, so it was right and proper that the main commemorations of the Battle of Jutland should take place in our capital, Kirkwall, with smaller, but no less important remembrance events, held at the Naval Base at Lyness, on the island of Hoy. The event was on national television and I felt that the BBC did an excellent job in portraying the day of remembrance, peace and commemoration.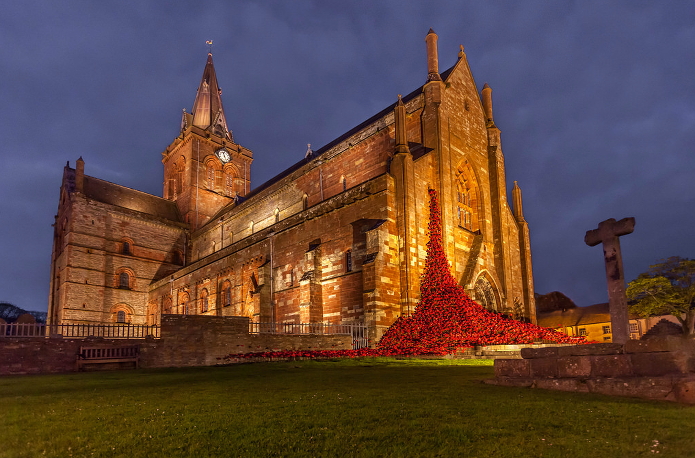 Photo: Andrew Simpson
I am sure we all remember the wonderful display of poppies at the Tower of London; some of those poppies were brought to Orkney and a similar touching and poignant display was created outside St Magnus Cathedral, the poppies all spilling out of a tiny window far up on the left-hand side of the main door. Most of the shops too had lovely poppy displays in their windows.
This article originally appeared in the Cheshire Ancestor, the journal of The Family History Society of Cheshire (http://www.fhsc.org.uk).It is reproduced here with the kind permission of the journal's editor, and Suzie Woodward, the article's author.
Suzie has lived in Orkney for nearly twenty years and is a proofreader and family history researcher. She can be contacted at vestlaybanks@btinternet.com