Another Triumph For Your Committee
After a period of local unsettlement the official announcement to re-open Beauly Station took place on 19th January at a press launch attended by the Rt. Hon. Charles Kennedy MP in whose constituency the station is situated.
Your committee convened meetings in Beauly and the Highland Council Chamber to further the cause of the re-opening. Beauly had missed out on funding several times in the past but funding of £84,000 from the Strategic Rail Authority along with Railtrack (£67,000), Highland Council (£30,000), Inverness and Nairn Enterprise (£18,000) and Highland Rail Developments (£5,000) means that the project can now go ahead.
The station will consist of a 10m platform, a waiting shelter and small car park. It is expected that it will be used most regularly by travellers to Inverness for work and leisure with seven trains each way, six days a week providing the service.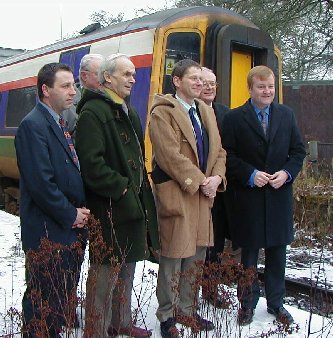 Photograph - J.R.Piercy