Fond Memories of the Coffee Pot
It was referred to affectionately by the folk of Dornoch and district throughout its long, eventful and useful life as the Coffee Pot.
The sturdy little tank engine I first remember was already verging on obsolescence by the first decade of last century, when it pulled its first train slowly into the recently-built Dornoch Railway Station.
Yet this little loco, aided occasionally by others, served Dornoch Light Railway under three masters - Highland Railway Company, LMS and finally British Railways - for over half a century, until only three years before the picturesque line's closure in 1960.
I first became acquainted with it in 1953, when I made the traumatic move from primary school in Durness to Dornoch Academy.
I was awakened very early at my croft home in Sangobeg, two miles east of Durness, on that late August Monday morning.
My mother accompanied me as we trundled 60 miles on the Durness mail bus, a utility Bedford OZ with wooden seats, to Lairg, where we caught the northbound Inverness - Caithness train to The Mound Station, along with many other youngsters returning from remote homes to secondary school.
There we dismounted in the early afternoon, before embarking for the final seven-and-three-quarters miles of our journey on the crowded single carriage, attached along with two or three accompanying goods wagons to British Railways' sturdy little workhorse No 55053, constructed little over three years after the line's inauguration in 1902.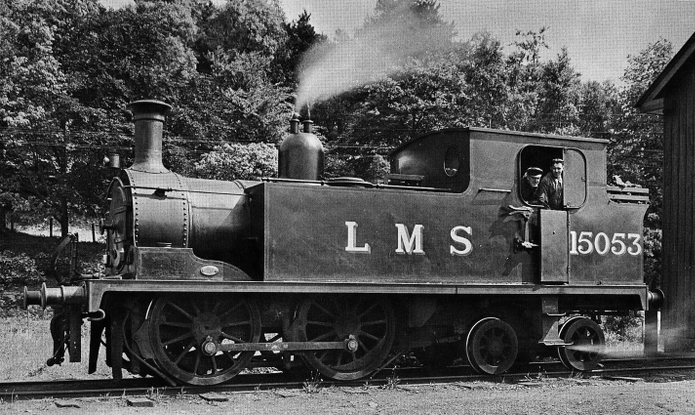 Donald Bremner
Presently we chugged away, very slowly, across the sluice viaduct and artificial causeway across Loch Fleet from which The Mound vicinity takes its name, passing Cambusavie Platform, wheezing and chuntering along the lochside before halting briefly at Skelbo Platform. Then on along the dunes by Coul Links to Embo, the only really significant stop on the line, where passengers may well have boarded or left.
From Embo it puffed the last two-and-a-quarter miles along above the Moray Firth, the north end of Dornoch Golf Course, Achinchanter Farm and Earl's Cross Wood, before sliding gently into the picturesque wee tree-lined Dornoch Station, at that time supervised by stationmaster, the late George Sim.
Here I must digress and admit I may be wrong about the identity of the engine involved on that first trip. No 55053, which originally bore the Highland Railway number 45, and later the LMS number 15053, was the regular loco on the line. However, a well-known photograph of Dornoch Station, taken about three weeks later, shows its sister engine No 55051, brought in when 55053 was undergoing maintenance, providing the motive power. Never mind - the replacement would still have been referred to locally as the Coffee Pot.
Be that as it may, after disembarking, my mother walked with me and my case, as we followed other lads the half mile to Earl's Cross Hostel, Sutherland County Council's boarding residence for secondary age boys from outwith the area, attending Dornoch Academy. Then it was a two-mile round trudge to the Academy itself, to enrol officially, before returning to the hostel, where my mother, who was staying with some friend that night, bid me a tearful farewell at the main gate. But that's another story.
Over the next six years I became better acquainted with the Coffee Pot.
Although buses for hostel residents were provided to travel home or return to school at the beginning and end of most main school holidays, it was incumbent on pupils to return at the end of the summer holidays by ordinary public transport - hence the mail bus, mainline train and the Coffee Pot.
The same regime prevailed with regard to the two-day October break - the "tattie holidays" - although after my first year, Durness parents hired a local minibus to convey pupils home on the day the break began.
I also travelled by Coffee Pot on the first and last stages of a long journey from Dornoch at the tender age of 16, for an interview at the RAF aircrew selection centre at Hornchurch, Essex. Sadly, by the time I left school, my eyesight had deteriorated beyond the stage of eligibility for aircrew training - which is why I reluctantly entered tertiary education, before rather less reluctantly combining a journalistic calling with that of a part-time officer in the Territorial Army.
It must have been shortly after that particular journey that the original Coffee Pot, No 55053, suffered a fractured axle that rendered it beyond economic repair, leading to its replacement for the branch line's last three years by two ex-GWR pannier tank engines, No 1646 and 1649.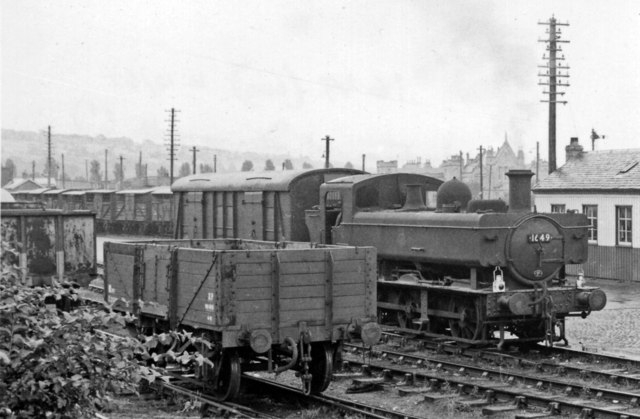 Ben Brooksbank - Creative Commons Licence
I remember well most of those who staffed the line - George Sim, ticket clerk Cathy Fraser, driver Tom Fraser, whose son Kenny was in my class at Dornoch Academy, guard Donnie Bain and my old friend and school contemporary Jimmy Melville, who began his working life as a teenage porter at Dornoch Station, before moving on to higher things. Jimmy, still alive in good health, is the only survivor from those happy days, and has made a prominent appearance in a DVD detailing the line's history.
The Coffee Pot remained part of daily life throughout my Dornoch schooldays. We passed the station daily on the trek to and from the academy, while from Earl's Cross Hostel we would often see the ancient loco wheeze its way up the incline past Achinchanter, heading for Embo and points north, at the head of its assorted rolling stock.
When first I arrived in Dornoch the station boasted a tiny newsagent's booth, run by local woman Mrs Voight, who had married a former German prisoner of war. However, in the late 1950s, as that location proved uneconomic, she moved it up the road to the council house scheme at Bishopfield, to benefit from a greater footfall and presumably increased business.
My last journey on the line must have been in August 1958, as I returned to the ancient burgh for my sixth and last year at Dornoch Academy.
The writing was by that time on the wall for Dornoch Light Railway and many similar branch lines throughout Britain. Flexible bus services and the increasing prevalence of private motoring had issued a death sentence for so much of the local railway network throughout Britain.
By the time the last Coffee Pot No 1649 steamed out on its final journey on 11th June 1960, I was a student in Glasgow, far away from dreamy Dornoch.
At that time, few dreamed that local railways might be required a couple of generations hence, to alleviate road traffic problems in congested areas, or as revenue-raising tourist attractions.
Imagine what a marvellous draw, for steam railway buffs and lay visitors alike, the truly scenic nearly eight-mile Dornoch - Mound line might have been had it survived until today. What a lost opportunity.
Willie Morrison