Letters to the Editor - Nordic Lines
SIR - The point I wish to raise is that on viewing the World's Most Scenic Railway Journeys yesterday evening (June 12) on Channel 5, I was struck by a situation which is almost identical to that of the Far North Line, and wished to draw it to your attention.
The programme (well worth watching) was all about lines in Finland starting in Helsinki and progressing north to Oulu, then Rovaniemi, the last major centre of population in Finland. From there a single track line extends to the Russian border with passenger services as far as Kemijärvi.
Rovaniemi has a population of approx 65,000, almost the same as (Greater) Inverness, and Kemijärvi has a population of 7,500, rather similar to Thurso. There is almost nothing in between the two and this line is far more remote than the FNL.
The line was put down for closure in 2005 and at the time was diesel operated. Services did in fact cease in 2005. The locals however mounted a campaign and not only won a reprieve but the line, 15 years on, is now electrified with modern rolling stock for the passenger service. Interestingly there is only ONE service in each direction per day yet this line received electrification!!! I grant that there are freight services for the timber trade but I am absolutely certain the business case for retention of the line PLUS electrification would never have got approval in the UK, be it from Holyrood or Westminster.
This does beg the question of how we assess the 'business case' of schemes. It is my opinion that the business case criteria are rigged to permit only very few schemes to win and we really should be questioning the whole process much more vigorously.
Nigel Morley
Heckington,
Lincolnshire
[Editor's note: the FNL is almost three times as long as the Finnish railway and has quite a few towns and villages on its route.]
SIR - The recent publication of the Rail Services Decarbonisation Action Plan by Transport Scotland is a welcome document as is the proposed electrification beyond Inverness to Tain by 2035. However, with the importance of climate change issues, fossil fuel emission reduction and sustainability, surely greater urgency or emphasis could be made to implement the recommendations of this plan.
I am already dismayed by the large investment and determination by Scottish Government to upgrade the A9 and A96 to the status of dual carriageways, despite their highly fluctuating seasonal traffic flows between Summer and Winter. This is in comparison to greatly reduced sums being invested in the parallel, but I would consider more sustainable, Highland Main Line and Inverness to Aberdeen railways.
It has struck me for a long time that there appears to be a deliberate bias towards road schemes in Scotland, with these taking precedence over railways. This also seems to contradict efforts by Scottish Government to reduce impact on the environment and address climate change issues.
Whilst recently watching the Channel 5 World's Most Scenic Railway Journeys programme set in Finland, I was impressed that the electrified line from the country's northernmost city of Rovaniemi (Population 65,000) far inside the Arctic Circle, had been electrified a further 54 miles north to the small town of Kemijärvi, with a population of 7,000 on 11 March 2014. This scale of investment in a remote part of the country with extreme winter conditions was made only after this line had been closed to all passenger traffic between September 2006 and March 2008. This small town is now the terminus of the night sleeper from Helsinki and adjacent to Finland's Winter Sports Area where there are few roads and a very low population density.
Another Nordic country that seems keen to invest in its remote rural areas is Norway. Currently rail electrification is being extended northwards from Trondheim (Population 180,000) to Hell and Stjørdal 18 and 22 miles respectively, marking the current limit of Trondheim Local Services. Double tracking is also a part of this project.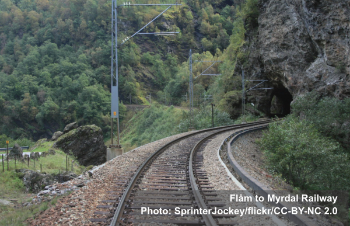 Norway's electricity is mainly generated by hydroelectric power. Significantly the world's steepest electrified adhesion railway, the 12½ mile Flåm branch, has its own hydropower generated entirely at its own hydroelectric power station at Kjossfossen, two stops down the line from its junction with the Bergen Railway at Myrdal.
Perhaps, based on this logic, more investment and the electrification of the entire Far North Line beyond Tain, to Wick and Thurso, should be considered, rather than the use of the proposed battery or hydrogen powered trains.
This could take advantage of locally produced hydroelectric power produced at the long established Loch Shin scheme accessing the grid at Lairg, and Conon Valley, Strathfarrar/Kilmorack and Glen Affric schemes feeding into the grid at Beauly. Presumably this could also help reduce cable transmission costs, and leakage could be boosted at various points by sub stations.
A full explanation of the development of the North of Scotland Hydro Electric Board and its schemes can be found in the very readable The Hydro by Peter L. Payne (Aberdeen University Press 1988) and The Dam Builders, Power from the Glens, by James Miller of Inverness (Birlinn 2002).
The Oban Line also runs past the Loch Sloy Hydro Scheme with its generating station at Inveruglas and then again past the Ben Cruachan Hydro Scheme with its generating station in the Pass of Brander. Even the Kyle Line traverses land which forms a part of the Strathfarrar Hydro Scheme and the generating station at Loch Luichart.
I offer these comments to help stimulate general discussion, but perhaps it is also necessary to challenge the current view that electrification of the entirety of the Highland railways is not considered viable, even with locally produced hydroelectric power, although I accept that generated power output and potential could be limiting factors.
Graham Atkins, Edinburgh
Retired Public Transport Officer/Planner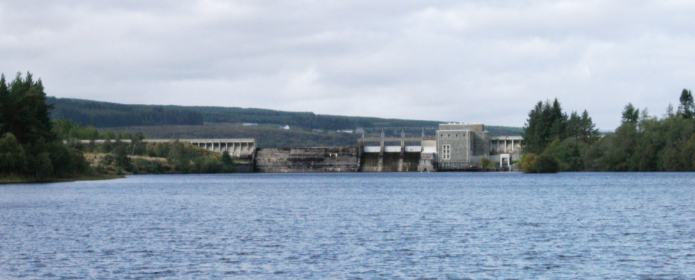 Photo © Richard Sutcliffe [cc-by-sa/2.0]