Inter7City Circle
Monday 10th December 2018 - the first weekday of the new ScotRail timetable with HSTs (High Speed Trains) on Inter7City routes if you know where to find them.
CIRCULAR TRIP: Inverness>Aberdeen>Perth>Inverness, first class "Anytime Day Singles"
| | |
| --- | --- |
| Inverness | dep 05:54 |
| Aberdeen | arr 08:11, dep 08:51 |
| Perth | arr 10:18...(well, that was the plan!), dep 14:51d> |
| Inverness | arr 17:07 |
Left Ardgay 4.00 am to drive to Inverness. Temperature -2 so it took over an hour. The road over Struie was glistening and the snowploughs don't start until 06:15.
Angst at station car park ticket machine: After four attempts to pay by card, I discovered that I had £6.00 in coins and two seconds later I had my ticket and relaxed again.
Not for long.
It was bloody freezing in the station and the RACKET from all the units and locos sitting in the platforms revving away was horrendous! Nothing was open. No toilets, no newsagent, no coffee, no booking office, no waiting room. Biting cold wind. Tried going out of the exit at Platform 1 but noise was equally intimidating. Eventually went out of the main entrance into Station Square and discovered that I could get away from the full force of the noise.
Once the platform number was displayed and I was on the train - in the leading slam-door carriage - it was bliss. Bagged my seat and hopped off again with camera. Driver looked happy.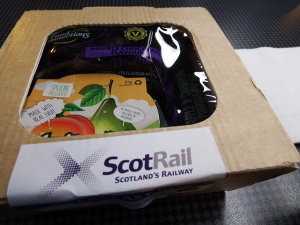 Soon under way, almost in silence, or so it seemed. The conductor was very pleasant and professional. My guess is that she actually trains conductors. She was promptly followed by the trolley, which was laden with goodies. I was presented with a "Breakfast Box" containing a substantial apple and oatmeal bar, a sealed pot of diced peaches and pears in juice and a large chocolate-flavoured muffin with chocolate-flavoured chunks. A nice cup of tea, to which I added my own full-fat milk from a screw-top bottle in my back-pack, washed it all down.
Another huge relief was that it had not been thought necessary to write the menu in embarrassing slang Glaswegian!
Did I say how comfy the seats were? The seats are simply splendid! Very large table, too, with all sorts of electric sockets. The carriage lighting was muted and there were working curtains at all the windows.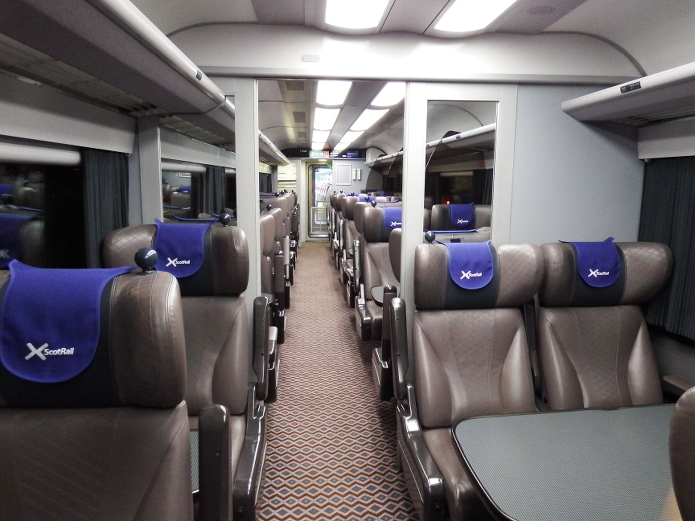 On the approach to Nairn I was bracing myself for the DINGDONGTHISISNAIRN but there were no announcements at all, pre-recorded or live, during the whole journey. Another plus.
It was a busy train and by the time we got to Keith I was beginning to notice the expressions on people's faces standing on the platform. They mostly just gazed in awe and seemed unwilling at first to move at all, probably being convinced that this was a diverted special train which wouldn't be stopping. At almost every station, once they had convinced themselves that this was "their train", quite a few piled onto the leading carriage and sat down without realising that it was entirely First Class. In fairness, there were no actual notices saying so and the head-rest covers simply said "ScotRail" unlike a train I was on later in the day. At Insch there were quite a lot of schoolchildren, and by Inverurie our carriage was more like a school bus! A school bus with extremely well-behaved passengers. I don't think there was a spare seat and I don't think any of them realised they were in First Class. It didn't matter. Meanwhile I had been chatting to a lady from Cullen who had got on at Keith and was bound for Dunbar - a journey she makes fortnightly. She had two or three pieces of luggage and one of those two-wheeled shopping trolleys which contained her dog! I only know this because she told me so. The dog never so much as whimpered, let alone stuck its nose out. Anyway, I learned all the pitfalls of return journeys from Keith to Dunbar, some of which were astonishing. Being stuck in Keith Loop for over an hour - so near and yet so far. Terminating at Huntly . . . . no buses on the horizon and train returning to Aberdeen. Learning to change trains on northward journeys not at Aberdeen, where there is a fight to be a sardine, but at Dundee, where the (same) train is relatively empty. During the recent closure at Dyce, being shouted at to get on the bus at Aberdeen and then the bus arriving one minute after the Inverness train had left. Going round by Inverness to avoid the rail replacement bus altogether. This wasn't to be her day either . . . . we were about 10 minutes late into Aberdeen and the Penzance via Dunbar train had just left. I was ok though, as I still had half an hour. However, I had spotted on several monitors that the only 08:51 departure appeared to be a train to Dundee. It should have been going to Glasgow.
Coming back onto the concourse, the first person I saw was the conductor from my first train. She came up apologising for the missed connection to Dunbar but when I told her that I was actually going to Perth, she insisted on accompanying me over to the barrier attendants to find out what the score was. She was simultaneously scanning through two different hand-held devices of her own, looking for information. It turned out that the train I was booked onto was being terminated at Dundee, but it was still an HST so I was happy enough. I knew I was going to have a lot of spare time once I got to Perth, so a wait at Dundee would add another colour to my itinerary!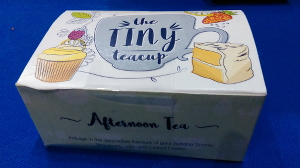 I soon found myself back in exactly the same seat in exactly the same carriage that I had recently left. The difference was that I was the only passenger in that carriage! Off we set and then suddenly WHOOSH ! It was as if we were flying. What a speed on that line. It was exhilarating. Along came the trolley. Another "Breakfast Box" - this time with a blueberry-flavoured muffin with blueberry-flavoured chunks. There was no sign of the conductor at all - on the whole journey - which wouldn't normally have bothered me except that I wanted to know how and when I was going to get from Dundee to Perth. The trolley guy had nothing else to do but chatter away to me. He had a very strange accent. Not one I'd come across before. He went off to his store cupboard at one point and came back with an "Afternoon Tea Box" which he thought I might like for later on! (Scone, jam and clotted cream!)
So . . . . into Dundee. Long narrow and cramped platform was my impression with no signs indicating a way out, but there were plenty of staff to ask. The whole place seemed to be teeming with ScotRail auxiliary staff, who were forcing smiles and cheerfulness onto all and sundry. The next train to Perth was going to be the next train from Aberdeen to Glasgow, due in about 50 minutes. Found my way out, through a cafeacute;, through the barriers (where I didn't insert my ticket in case it ate it up . . . the guy was happy to let me out and back in again) then up a working escalator to a large concourse area with what seemed like glass walls on three sides and freezing, bloody freezing temperature. In three places there were what looked like glass revolving doors, but nothing revolved. Oh no. When you approached these doors they wheeched apart and as soon as you stepped into the glass circle the opposite side doors wheeched open too, thereby allowing a gale of freezing cold air to enter the building. It was no colder outside than it was in. Took some photos inside and out. Was impressed by the ticket place - three staff in place and able to tell me that my next train was in fact an HST (it wasn't supposed to be) and that it had a trolley. In fact I got a dubious look and a "Why on earth would a train NOT have a trolley?" expression. ". . . .What an odd question!"
If she only knew . . .
Back down another working escalator, although it did emit an unnerving screech every 15 seconds or so. I thought about playing the piano but decided my fingers were too cold. Through the barrier and there were a lot of people sitting in the cafeacute; area. Did I tell you it was cold? It's a kind of long narrow area and exactly opposite each other are two large glass sliding doors which open even when nobody is near them allowing an almost constant through draft of freezing air. I bought a Beano. Sorry I mean a Dundee Courier, Dundee edition, and asked the lady behind the counter if there was anywhere warm to wait. She directed me to the "ScotRail small lounge" down the platform. This was a good bit warmer but had the same plan of doors opposite each other leading onto the platforms on either side. It wasn't "just" a waiting room either. It was the only way to get to the toilets, so there was a constant opening of the doors by those wishing to avail themselves. The ramp which started in the middle of the room to the toilets was too steep for one chap to propel his wheelchair up without assistance. The monitor showing departures had a handy light suspended from the ceiling right in front of it, blocking the view! One fairly elderly lady had been on my terminated train from Aberdeen. She had now missed an appointment at Perth so was going to return home. But they had just announced that the next TWO trains to Aberdeen were cancelled so she decided to go and get the service bus.
Onto the uncancelled Glasgow train. Quite busy. Quite a few ScotRail uniformed staff with cheesey grins and jolly ho-ho stuff. Trolley appeared almost immediately and I politely declined a third "Breakfast Box" and bought myself a gin and tonic. I mean a real one - none of your pre-mixed tins.
Perth in no time at all. There was loads of time before my final leg back to Inverness. I had originally planned to meet some friends for lunch but that had fallen through so I had simply decided that it was far too cold to wander around and that I would go into the Station Hotel, have another drink and some lunch and then stay warm in their lounge. Well. Their lounge was warm but it was unattended, as was the reception desk. There was an invitation to ring the bell. I rang the bell. Ten minutes later a young woman passed through. To cut a long story (in broken English) short, the bar was closed and the kitchen was closed. Duncan had an appointment today. I think.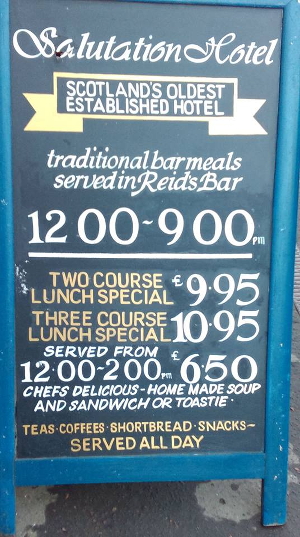 Back outside and there were plenty of taxis across the square. "Please take me to a nice hotel which is open for lunch." No problem. Off to the Salutation. Coal fire in the lounge. Glass of red wine. Ribeye steak + onion rings to die for. Delicious.
Back at the station and a full-size Rail Replacement Bus from Aberfeldy Motors is about to depart for "Inverness only". . . . . . with four passengers. Dear Lord.
I discovered that my final train of the day, which should have been starting from Edinburgh, was starting from Perth. In fact it was sitting there, but it was too early to be allowed on board. The waiting room though, very sensibly had only one door and was well heated.
When the train left Perth there were to be two disappointments. Firstly, there was no trolley and secondly there was the tannoy. The young lady who made all the announcements (live) had one of those voices which seem to start each sentence frantically fast and at high doh, before gradually working down the scale. At every station we had to be exhorted not to try to open the doors until the train was at a standstill (as well as all the other guff).
Arrived back in Inverness on time. The 17:12 to Ardgay was still sitting there as I walked to the car park. Couldn't see an empty seat on it.