FoFNL Red Wheel
John Yellowlees, ScotRail Honorary Rail Ambassador and long-time member of FoFNL, suggested that we might wish to fund a Red Wheel plaque at Dunrobin Castle Station to commemorate the 150th Anniversary of the opening of the section from Golspie to Helmsdale on 16 May. We happily agreed to this but we do not know, as we go to press, when the unveiling will take place.
John has provided some background information about the history of the Transport Trust and the plaques as well as the Duke of Sutherland's Railway.
The Transport Trust was first proposed in 1963 by a Mr R E Wilsdon, who was concerned that records, drawings and photographs from those times of rapid change should be preserved for posterity. He had received support from the British Railways Board, London Transport and others, but there was of course no digital dimension in those days.
The Trust diversified from archiving into skills development, with awards for young preservationists as well as for lifetime achievement, offering loans funded by its benefactors at very low rates of return. Its profile has been maintained by successive patrons the Duke of Edinburgh, Prince Michael of Kent and currently the Princess Royal. Now relaunched as the National Transport Trust, its 2020 awards recognised a broad cross-section of transport heritage. Perhaps less successful as yet have been efforts to speak for the heritage community in dealings with organisations like the National Heritage Lottery Fund, but it is hoped that a new manifesto will help achieve improved working with corporate and affiliated organisations.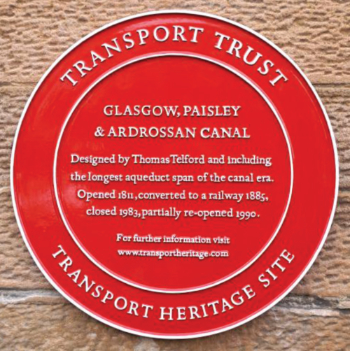 Inspired by the English Heritage programme of blue plaques, the Trust's Red Wheels have been rolled out over the last dozen years to denote sites of transport heritage, and work in conjunction with back-up material on its website to inform, educate and enthuse visitors about turning-points in our nation's transport history, so as to help preserve them for the enjoyment of future generations and perhaps inspire youngsters to consider a career in transport or engineering. With over one hundred Red Wheels in place south of the border, Scotland has come late to the game. The first one here was unveiled at Paisley Canal Station in August 2019 to celebrate a site of multiple canal and railway significance. Two days later it was joined by Glenfinnan, and later that year by Wemyss Bay, an ultimate in transport interchange.
Notwithstanding the pandemic, two more were unveiled in socially-distanced fashion during 2020 by Fife farmer and locomotive-owner John Cameron, the Trust's vice-president. These were for Scotland's first railway opened in 1722 at Cockenzie, and the world's first roll-on roll-off ferry in 1850 at Burntisland. Other wheels already delivered for unveiling this year are for the UK's only hand-operated turntable ferry, the Glenachulish operating between Glenelg and Kylerhea; Orkney's wartime Churchill Barriers built to keep enemy submarines out of Scapa Flow which now provide a road link between its southern islands; the Alloa Waggonway whose route is etched into the townscape; Madelvic, Britain's first car factory in Granton, Edinburgh which for a short time made early electric vehicles; the Leamington Lift Bridge on the Union Canal in central Edinburgh, and Anderson's Piano, the rockfall detection system of tripwires dating from 1882 in the Pass of Brander, for which funding has come from the Friends of the West Highland Lines.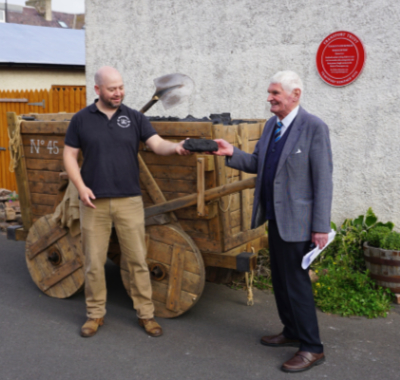 What commends the Duke of Sutherland's Railway between Golspie and Helmsdale to the National Transport Trust is that it was the longest stretch of railway anywhere in Britain to have been planned, financed and opened by one individual. Unique among British stations in having been in the ownership of one family throughout its entire existence, the Duke's own station at Dunrobin Castle provides the perfect setting for this Red Wheel funded by the Friends of the Far North Line, and a full account of its significance is on the NTT database.
John Yellowlees
[Right] National Transport Trust vice-president John Cameron with '1722 Waggonway Heritage Group' chair Ed Bethune in front of the new plaque and a replica wagon. [Photo: John Yellowlees]