Class 158 - Thirty Years in Service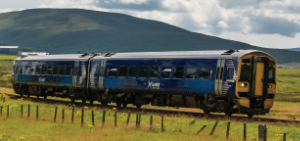 The class 158 "Express Sprinter" trains currently used on the Far North Line were first introduced in Britain by ScotRail in September 1990.
The 09:00 Inverness to Glasgow service was flagged off on Monday 1 October 1990 by Councillor Peter Peacock, Vice-Convener of Highland Council, who later became the Scottish Government's Education Minister.
They were a radical departure from the locomotive-hauled carriages they were replacing. ScotRail's marketing brochure promised "a modern, spacious open saloon with ergonomically designed seating, wall-to-wall carpeting, full air-conditioning and wide anti-glare picture windows."
While appreciating many of these features, the cramped nature compared to what had gone before was a shock to most passengers. They were built at a time when the concept of "Social Distancing" was unknown. Indeed, Margaret Thatcher would only allow two new coaches to be built for every three they were replacing.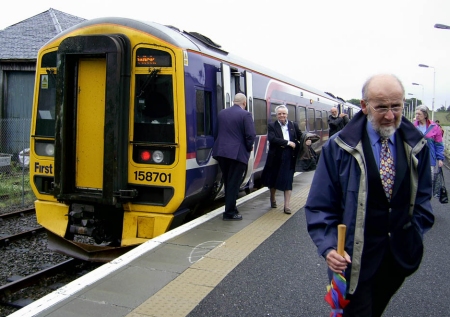 It was All Change! at Inverness in 1990 with the 158s on the Central Belt services and 156 "Super Sprinters" on the Aberdeen and Far North Line services. The 156s were replaced on the FNL and Kyle lines by the 158s with the May 2000 timetable, which enabled an 18 minute reduction in timings between Wick and Inverness. As we know, the 18 minutes (and more) was lost to us in 2005 for other reasons. FoFNL had a part to play in the refurbishment of the 25 Inverness-allocated 158s in 2007 when seating space was made a little more friendly. See FNE issue 42 of September 2007 for details and a front cover picture of the first refurbished unit, kindly diagrammed for AGM day in Thurso.
Richard Ardern