Rail Freight Reflections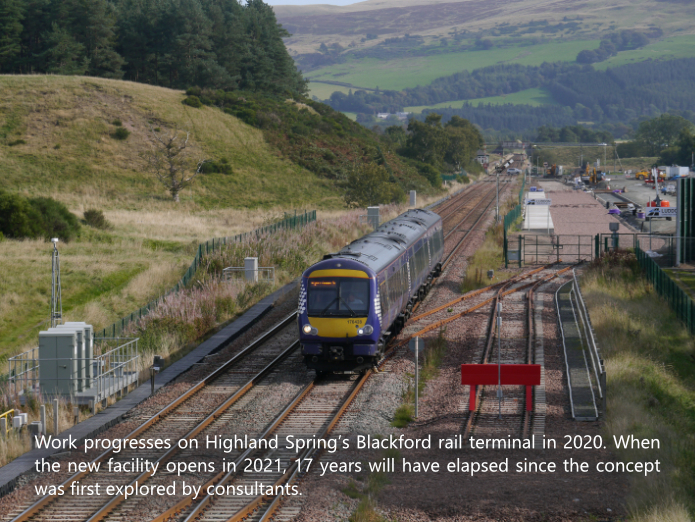 This article first appeared in the Rail Freight Group magazine in December 2020
When you've spent your working life in and around the rail freight industry, it can be hard to stand back and see the bigger picture. But nine months after retiring as RFG's Scottish Rep, I thought it was time to put pen to paper, highlighting some key case studies (and I've been involved in most of them, in one way or another) which illustrate the achievements and failures of the past couple of decades - as well as the opportunities for the future.
Looking at the industry as a whole, the outstanding success has surely been the development of domestic intermodal - pioneered by logistics companies such as John G Russell, Stobart and WH Malcolm, who had the strategic perspective to build a new rail market which has matured to the point where freight trains are seen as the natural mode of long-distance trunk haulage for the main players in the retail sector. And the now twice-daily container train from Grangemouth and Mossend to Teesport shows how rail can compete effectively over shorter distances in the European market.
Of course, intermodal has long been a rail strength, going back to Dr Beeching's 'liner train' vision in 1963 - today's legacy being Freightliner's key role in moving Scottish exports from Coatbridge to Deep Sea ports in England. But Freightliner suffered grievously from draconian speed restrictions imposed by Railtrack for many months after the Hatfield rail crash in 2000 - and Coatbridge has never fully recovered from the loss of business to sea feeders from Grangemouth and Greenock. And the limitations of the Scottish Government's Freight Facilities Grant scheme mean that the terminal still soldiers on with 1960s-vintage cranes.
The industry was also found wanting in the wasted opportunity par excellence of the post-privatisation years in Scotland: the failure to rail-connect the massive forest industry complex at Steven's Croft, just north of Lockerbie. The complex was deliberately sited between the then A74 and the West Coast Main Line so that a rail private siding could handle a significant proportion of raw materials and finished products. But the three big companies on site - having set up the Lockerbie Railfreight Company to develop a terminal - never found a champion within the rail industry. In essence the Railtrack and Strategic Rail Authority attitude was that 'freight trains will get in the way of the shiny new Pendolinos'. After three years of trying very hard to develop a rail option, the Steven's Croft companies became disillusioned, and in 2002 opted to stick with road haulage for 100% of their needs. And so it remains, with the area earmarked for rail now built over.
Fortunately, some companies who see the potential for rail have incredible patience, as well as long-term vision - none more so than Highland Spring. By the time that their new terminal at Blackford opens for business in 2021, it will be 17 years since the rail concept was first explored in a consultancy study. Not many businesses will be that patient.
In some cases, politics plays a very big part, as shown by the Highland Main Line (HML) from Perth to Inverness, two thirds of which is still single-track. Back in 2008 the Scottish Government's Strategic Transport Projects Review identified upgrading the HML as the third-top priority among 29 road and rail schemes across Scotland. Investment of between £200m and £450m was envisaged - designed to benefit both passenger and freight traffic. Twelve years later, work was completed on a drastically scaled-down programme, with £65m spent on modifications to two crossing loops, solely to enable the operation of an hourly- frequency passenger service, with no benefit to rail freight. The daily Mossend-Inverness intermodal train for Tesco / Stobart continues to be limited to just 20 containers due to the short length of crossing loops, yet the Class 66 could haul 28 containers - a 40% increase in productivity.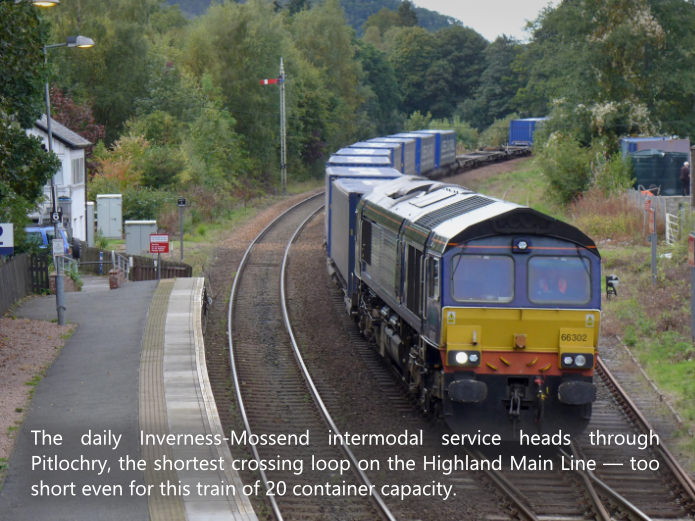 Meantime, dualling of the parallel A9 road continues (at an originally forecast cost in 2010 of £3,000 million - and who knows how much now), last month prompting an alliance of transport and environment charities to express 'deep concern' about the Scottish Government's draft Infrastructure Investment Plan, which 'fails to prioritise investment in low-carbon, sustainable transport. Instead, it continues with the same old set of high-carbon roads projects that has made transport the single largest source of emissions in Scotland.'
To finish on a brighter note, there can be no doubt that a welcome wind of change has blown through the rail freight sector in Scotland following the appointment of Bill Reeve as Director of Rail at Transport Scotland some years ago. Network Rail now has a freight growth target, and as a result much work has gone into developing new rail markets. But theoretical potential has to be turned into traffic on the ground. A key yardstick will be whether or not the Levenmouth passenger rail re-opening scheme incorporates a freight dimension, serving two massive Diageo plants: the largest grain distillery in Europe at Cameron Bridge, and the nearby Leven bottling plant. Open these up to rail, and then - with some support from Transport Scotland - the wider internal Scottish market for spirits movements can be steadily unlocked, including a significant share of the 50,000 long-distance whisky lorry trips annually on the A9.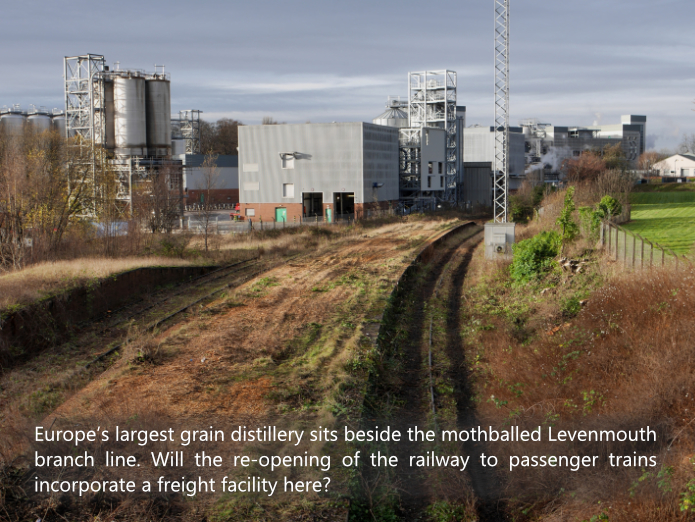 So - despite past failures - there has been much to praise, and the future holds some great opportunities for rail. But the industry needs to communicate its strengths and its successes better. Encouragingly, Network Rail went on the front foot publicity-wise during lockdown, highlighting rail freight's resilience (in contrast to the severe impact on the passenger rail business). Rail freight can deliver - and perhaps now will be accorded the higher priority it deserves for the substantial benefits it provides for the economy, climate change, road congestion, road damage and road safety.
David Spaven
Principal of Deltix Transport Consulting
All photos: Bill Roberton