Young Stationmaster Looks Back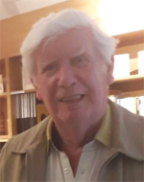 After reading about a talk Ian Budd gave to the Retired Railway Officers' Association in December 2021, RROA member Donald Stuart wrote to John Yellowlees about the memories that JY's report of the talk had triggered.
Donald begins with a brief history of his railway career:
My service began in 1952 in Inverness in the District Traffic Superintendent's Office under Allan Yeaman who used to give me sixpence for collecting salmon (ex Kildonan) off the north train addressed to himself. I went on to work in both the Enquiry and Booking Office before being called up for service in the RAF for three years, 2½ spent in Germany, before returning to the Booking Office and then becoming a Relief Clerk at my home station Dingwall. Much of this time was spent at Beauly where I studied and passed the Signalling Rules and Regulations exam.
On to Kildonan and then Stationmaster at Alyth Junction, including Meigle and Newtyle, followed by my final Stationmaster's position at Monifieth - the post of Stationmaster ceased to exist with the introduction of Area Managers. Various postings followed, including at Carnoustie and Montrose, before ending up in Dundee - at one time under the watchful eye of a certain Jim Summers, my Area Manager.1
To cut a long story short, I eventually became Assistant Outdoor Superintendent (East), Edinburgh, under another great railwayman for whom I had the greatest of respect, Alex Arnold.2
My career finally ended as Movements Officer, North, based at Perth, responsible for all lines North, East and West from Dunblane, Cupar to Aberdeen, Inverness to the Far North and Kyle Lines, also included was the West Highland line from Helensburgh Upper to Oban, Fort William and Mallaig.
Kildonan
On the Far North Line I was appointed Stationmaster at Kildonan, including Borrobol and Salzcraggie, in the early 1960s. I don't remember anybody using Salzcraggie, but there was an occasional passenger at Borrobol. The siding was used from time to time to stable a freight vehicle running a hot axle box. Shortly after my appointment, Mohammed Ayub, about whom there is an article in the September 2020 issue of Far North Express, was appointed Stationmaster at Kinbrace and he used to visit me for tuition on clerical procedures associated with the position. At the same time John Prosser was Stationmaster at Helmsdale.
Not long after his appointment, Mohammed was involved in a shunting movement detaching the Dining Car from the Northbound service and attaching it to the Southbound service when, for whatever reason, it became derailed and as a result the north line was blocked for about 24 hours. Mohammed was not the most popular of individuals at this time! This was a booked daily operation at Kinbrace but when there was late running it often took place at Kildonan and on occasions Helmsdale.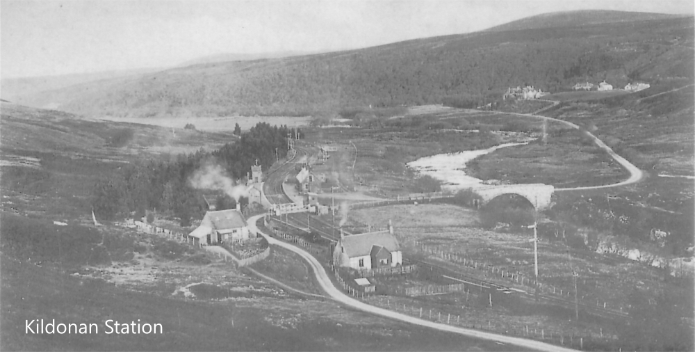 During my time at Kildonan, free periods were spent panning for gold, along with my late wife, at nearby Baile an Òir "town of gold" or in the River Helmsdale next to the station. In the summer you had to contend with hordes of midges and in winter time it was too cold to attempt panning. I still have some gold in a bottle to remind me of those days. Another pastime was removing the occasional adder from the platforms!
In those days winters could be harsh with frequent and heavy snow showers and on more than one occasion I had to get my wife to assist in snow clearing of the points to keep the the loop lines clear. No worries about health and safety then. This experience would stand me in good stead for dealing with snow in the Dundee area in later years but that is another story. Happy days.
Donald commented, "I think I must be the last of the stationmasters still living, certainly for the Far North Line. When I was appointed at the age of 25, I was one of the youngest stationmasters in British Railways."
1 Jim Summers M.B.E., former Chief Operations Manager for British Rail Scotland, whose working background was on the production side of railways and whose career included acting as consultant for railway companies and projects world-wide. After being seconded to DB (German Railways) to study the workings of the railway there, he went on to be responsible for major changes to the way the BR timetable operated, with fixed times from major terminals which exist to this day.
2 Alex Arnold was a true railwayman's man, who spent some time in the Anglia area before coming to Scotland. He was Goods Agent for a time at Lothian Road in Edinburgh before becoming Outdoor Superintendent (East), based in Edinburgh responsible for an area from Berwick on Tweed to the far North and West of Scotland.
Railways in the Blood
As is often the case, Donald's family is intertwined with the railways. His late wife Marjorie, was one of the last to operate the railway telegraph instruments on a daily basis between Inverness and Perth before the telephone became the instrument of choice. Marjorie came from a long line of railwaymen with her grandfather, Robert Hepburn being Stationmaster at Lochluichart, Thrumster, Garve and Conon. His son, John Hepburn, was Stationmaster at Gollanfield, Merchiston, Melrose, Milngavie and finally Bowling. Marjorie's father, Eric Sutherland, started at Burghead and then spent most of his career in the Inverness area. Donald and Marjorie's late son, Alan, joined Network Rail under Hugh Wark, and established a fifth generation of railwaymen in the family.
Intriguingly, Marjorie's family connections go back to the 1870s and the construction of the Kyle line. William Garrow, Marjorie's father's uncle, was a ballast guard during the construction of the line to Stromeferry and then became Stationmaster at Helmsdale before being appointed as Superintendent of the Line at Inverness in 1890, retiring through ill health in 1901. William's son Robert became a Highland Railway engineer under Alex Newlands and went on to being involved in the construction of railways in Argentina.
On Marjorie's mother's side, her grandfather, Robert Hepburn, was a stationmaster at several locations including, Garve and Thrumster, and retired as stationmaster at Conon Bridge. His son John, also became a stationmaster at various locations including Gollanfield, and retired from Bowling.