An insight into the technicalities involved with the introduction of a chord at Georgemas
For many years it has been an aspiration of FoFNL to have a chord built at Georgemas to allow direct running to Thurso with only one reversal necessary to reach Wick. Following on from various conversations with former signalman Iain MacDonald your Editor invited him to submit a description of the equipment and techniques required to achieve the chord.
After the acquisition of land and track two new junction type points layouts would need to be created. When trains are approaching points the points are called "facing points" and when travelling away from points the points are called "trailing points" and each direction of traversing the points requires a different set of equipment and procedure.
When approaching from a trailing direction the track circuit is activated for the line concerned and the points move to the correct position and the relevant points set indicator (psi) is illuminated. If this procedure fails the driver stops at the unlit psi and on the signallers instructions walks to the plunger and attempts to set the route, and if that fails a points operator is required. Unlike hydraulic points, which the train wheels push aside, a driver is not allowed to clamp and scotch these points as they have motors.
When a train approaches in the facing direction the points mechanism has no way of knowing in which direction the train wishes to travel and this is why clamp lock points are required and route selection is made by applying the left or right hand plunger; this being the same way as a route is set up in a signalbox by the signaller. Unfortunately this can not be done remotely but entails the driver having to stop, leave his cab and operate the appropriate plunger as is done presently at Dingwall and Georgemas.
Trains are not allowed to stop within the controlling treadles and track circuits of an A.O.C.L. level crossing as this will fail the crossing and cause problems. As there is an A.O.C.L. at Halkirk care will have to be taken when locating the stop board and the points leading onto the chord.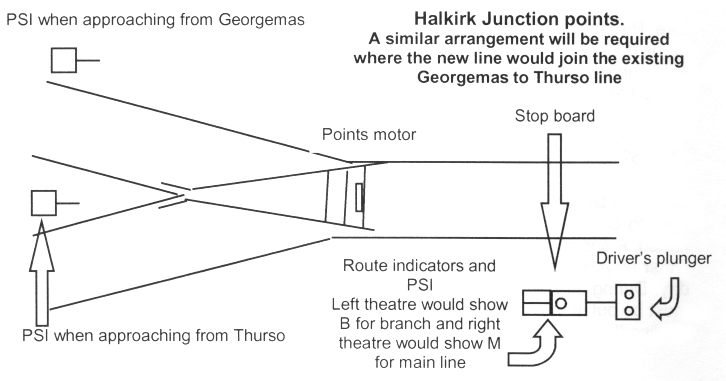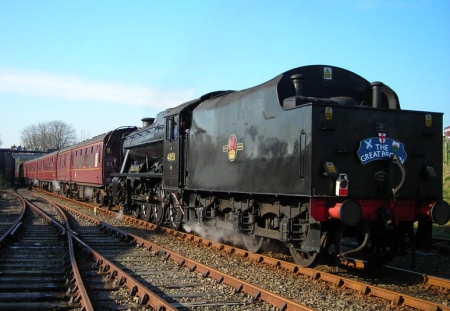 Photo: Mike Lunan