Far North Memories
FoFNL member, Janet Mackenzie, sent us these nostalgic shots that she took in the early 1960s. Janet writes:
"The train in the snow was taken on my journey at the end of January 1960 up to Thurso to start my new job at Dounreay. I had only been up to Dounreay once, for the job interview (a free trip or I wouldn't have gone), and had been amazed at the journey. This time I made sure I had my camera with me. The photo was taken by poking the camera out of the little opening top sections of the window in the compartment. This meant a whole lot of freezing cold air coming in to the compartment, but the reverend gentleman sitting opposite, the only other person in it, nobly put up with it. I think he was amused at how excited I was!"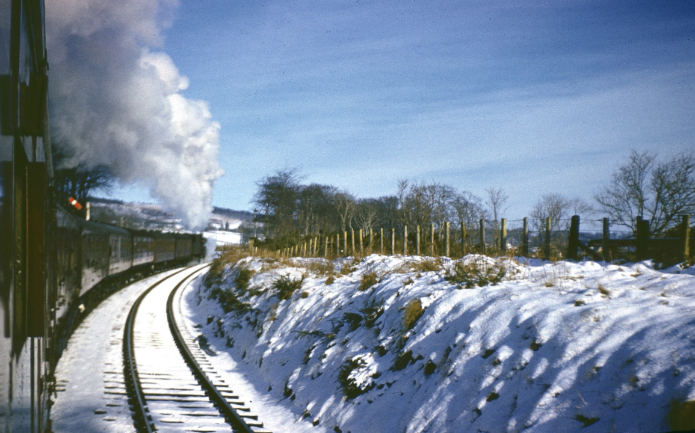 Janet has no information about the goods train on the line by the single track road down to Helmsdale. It looks as though some ballast wagons were included in an otherwise fairly typical formation. "I think it must have been an unusual sight even in summer 1963 when this photo was taken, or I wouldn't have begged Jill who was driving us to stop so I could get the shot."