A Railman Remembers,
9 - The End of the Innocence
The Highland Railway and its descendents, currently known as ScotRail, have been part of the fabric of the Highlands for so long, it's easy to take them for granted. A lot of people are surprised when they find out how close we came to losing them.
Beeching had already closed busier lines, notably the Waverley route from Edinburgh to Carlisle. The ill advised nature of this closure is clearly demonstrated by the reopening of part of the route in 2015. But in the 1960s, the predilection for closing lines meant that chopping off everything north of Perth made perfect economic sense to the road lobby. So a group of doughty Highlanders formed a pressure group called 'Macpuff', which was quite a trendy name for its time.
I benefited greatly from knowing a couple of those activists. One was Michael Taylor who moved north to start Westerbus out of Dundonnel in the late 60s. I'm sure he would be delighted to see his bus still running nearly 50 years later. Another was Phil Durham, a wheelchair-bound wartime submarine commander who was extremely active from Scotsburn Farm in Easter Ross. We owe all the people involved in Macpuff a great deal; without them there would be no Caledonian Sleeper, no trains from Inverness to the Central Belt, no Kyle line and no Fearn Station memoirs.
It was close to the winter solstice, the shortest and darkest day of the year, when the midday train departed leaving a distinctive form looming out of the grey Ross-shire air. He was wearing an old fashioned suit with tails, and he had the demeanour of a crow. He may have had a Victorian buttoned down starched collar. When he knocked on the ticket office door and walked in I knew it was trouble.
He introduced himself, surveyed the office and said; "Is that your record player?"
This was not a good sign.
"Uh huh".
"This is a railway station, not a discotheque, get it out of here."
He walked through to the kitchenette.
"Is that your mattress?"
Did I mention it had got very cold in the caravan? Rather than wasting BR's electricity trying to heat it up, it had seemed logical to move the bed into the warm office. During the day I hid the mattress in the kitchen. It was just a temporary measure of course.
"Uh huh".
"Get it out of here. And the guitar."
Murdo was the relief clerk from hell via Helmsdale. He was the opposite of the easy going Dick. He'd obviously heard about me and made it his personal mission to impose some discipline, or preferably winkle me out of Fearn altogether. It was an awesome performance; a bit like being mugged by a Free Presbyterian hitman. I knew straight away it was curtains.
I had felt a sense of achievement to see almost a year notched up on my first job. But I was wrestling with whether, when and how to leave Fearn. Or should I do another one year cycle? Now the decision had been made for me, and I was in no mood to fight. I jumped on the 3.15 to Inverness as I often did on a Friday, but this time I got off at Invergordon. Then I walked in to the Area Manager's office where the adventure had begun the previous February and handed in my week's notice.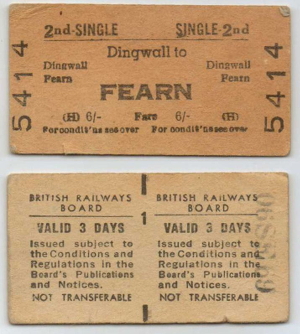 It was years before I got over the loss of my quarter fare priv travel. But I had some money saved, as well as an ill-advised air-cooled VW van. It was time to head out into the world and start a JJ Cale influenced band called 'Difficult Situations' or 'Hard Times' or something like that. In the end someone else did it far better than I could have imagined.
The caravan was sold for the same price I'd paid for it, to the gentlemen who had towed it in there for me earlier in the year. I did pay the station a courtesy visit a few months later to check out my successor. We had a coffee and compared notes; he was in uniform and looked fairly straight. But as I took my leave, he winked at me and said; "Don't worry, I'm still running Fearn with the same informal attitude you did". I realised it had been a Pyrrhic victory for my nemesis Murdo.
Within a couple of years the freight trains formed of vacuum braked short wheelbase vans had gone, and with them the potato traffic. The next round of economy cuts saw the station formally designated as unmanned. Eventually the building was disposed of by BR, to be converted into a substantial house.
As a result of my accidental railman status I was lucky to meet Buffet Car Alec who invented fast tea delivery, Dick the unflappable clerk who trained me up, Delivery Dave who took me and the parcels on entertaining rambles, and James the Post, multi-instrumentalist and bandleader. Various family members came to stay during the summer, and even a couple of school friends, Tim and Simon, managed to track me down and pay a surprise visit.
When people ask what you did after you left school, there are many different answers. Some had a gap year. Some had a baby. I had a station.
Fearn became a B listed building in 1978. As yet it has not become necessary to erect a blue plaque, but if it did, it would say that I lived and worked there in 1974, that I enjoyed it very much and, to everyone's surprise, I can still remember most of it.
The end.
Concluding our series of articles by Mark Nolan, telling the story of his early days as a railwayman at Fearn Station on the Far North Line in the 1970s.