Book Review
The Kyle of Lochalsh Line by Ewan Crawford
Amberley Publishing, 2014. 96 pp £14.99. ISBN 978 1 4456 1411 3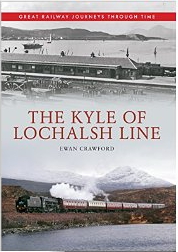 This book is a collection of colour and black and white photographs arranged in east to west geographical order from Inverness to Kyle. Pages 10 to 22 cover the Inverness to Dingwall section shared by both Kyle and Far North Lines.
Station Square, Inverness is shown with a couple of horse drawn carriages awaiting custom. The four-signal gantry west of Rose Street is passed by a Class 26 diesel hauled train, a Class 37 and a Class 158 sprinter are shown at Clachnaharry, and perhaps the most interesting picture clearly shows the track bed for the former double track near Bunchrew. A picture of the Safeway train near Clunes in 2004 is followed by one of a Small Ben at Beauly in 1938 showing lots of pallets in the yard. There are pictures of the Ness viaduct collapse and rebuilding and of the temporary locomotive shed at Muir of Ord in 1989. Several views of Dingwall in both steam and diesel days show just how much that station has altered, including former parcels traffic, semaphore signalling and the bay platform at the north end in use.
The reproduction of the photographs (which are mostly two or three to a page) is not brilliant, but the selection does give a good representation of the line throughout its history though majoring on the last forty years. Two highlights are an early photograph of Lochluichart station with the nine staff all lined up, and a postcard of the formidable, but now demolished, Loch Rosque Castle near Achnasheen. The captions are helpful and almost all the photographs are dated. As this is principally a photographic work there is only a short six page account of the history of the line and readers are referred to other works for more detail. FoFNL Vice President Frank Spaven's work on helping to save the line from closure is outlined. Friends of the Kyle Line is mentioned in the links section, but FoFNL is not.