Highland Survivor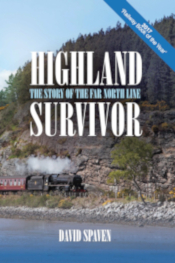 The first print-run of David Spaven's Highland Survivor: the Story of the Far North Line sold out some time ago, but a revised edition has now been published - see
www.lomondbooks.com/catalog/product?products_id=12990.
David tells us that the new edition mainly corrects mistakes and typos, but does contain one new historical fact - which he challenges aficionados to find! Since its original publication in 2016, Highland Survivor has been awarded '2017 Railway Book of the Year' by the Railway & Canal Historical Society.
If you have not purchased this book yet we strongly advise that you do. For all who are interested in the line, either as users or readers, it is invaluable.