Hydrogen Trains Enter Service in Germany
On 24 August 2022 the first 5 of a fleet of 14 Alstom two-car Coradia iLint hydrogen trains entered commercial service on the Weser-Elbe-Netz regional passenger services between Cuxhaven, Bremerhaven, Bremervörde and Buxtehude in Lower Saxony, Germany. The remaining 9 units will be delivered by the end of the year when the route will become the world's first 100% hydrogen train railway. The line is around 75 miles long.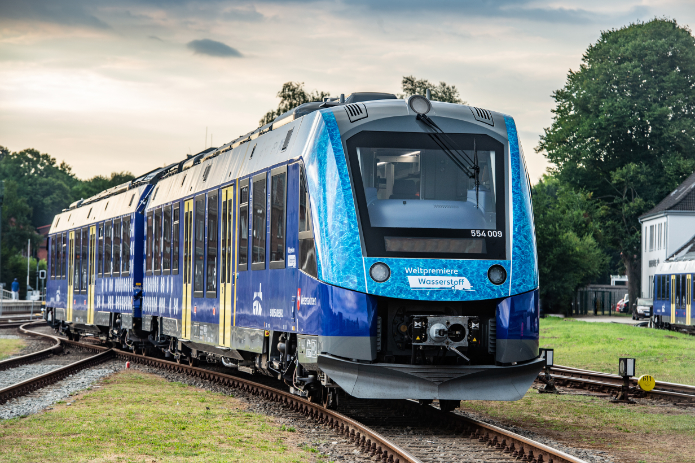 The trains have a declared maximum speed of 87 mph and a range of around 620 miles. On-board batteries are used to store electricity returned to the system by regenerative braking.
A fuelling facility has been built in Bremervörde. It has 64 storage tanks with a total capacity of 1800 kg, six hydrogen compressors and two fuel pumps. It is planned to produce hydrogen on site in the future using wind power for electrolysis.
Alstom has three other contracts for hydrogen fuel cell powered regional trains: 27 iLint units to be deployed in the Frankfurt metropolitan area; 6 (with an option for a further 8) Coradia Stream units for Lombardy in Italy and 12 Coradia Polyvalent hydrogen trains for four different regions in France.
The Coradia Stream units are of five cars, with the central walk-through car containing all the hydrogen power generating technology: the fuel tanks and fuel cells.
The Coradia Polyvalent trains are electro-hydrogen dual-mode multiple units and will be able to operate in electric mode under 1500V dc and 25kV ac, as well as with hydrogen power where there is no catenary. The four-car units will be able to operate at 100 mph and carry up to 220 passengers, with a range of 250-375 miles in hydrogen mode.
Ian Budd