David St John Thomas - An Appreciation
David St John Thomas 1929-2014, railway author, prolific publisher and committed Liberal died whilst cruising on Cunard's Queen Victoria on 19th August, shortly before his 85th birthday.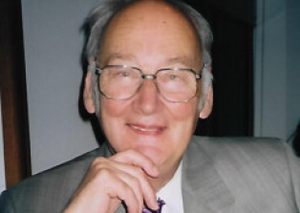 David spent most of his life in Devon, moving to Nairn at a stage when others would think only of retirement. His first interest, railways, was stimulated as a boy living adjacent to the now closed Great Western Tiverton to Barnstaple line, where he enjoyed unauthorised access to the local signal box. His early book, "The Country Railway", recently reprinted, recalls the milk churns, cattle loading and daily arrival and dispatch of sacks of Post Office mail at the village stations across the land.
In the 1960s David entered into partnership with Charles Hadfield to form David & Charles publishers, based at Newton Abbot, Devon. Charles had written "British Canals. An Illustrated History" in 1950. David engaged railway writers in growing the business. At its height the company employed 300 staff. An ever increasing range of books poured out covering railways and other transport as well as geographically related topics. David's own writing often combined the two. As General Editor of the fifteen volume "A Regional History of the Railways of Great Britain" he commissioned railway authors for each region, while writing volume 1 "The West Country" himself. Highland readers may well recall the series published on the offshore islands. Railways apart, David had a love of music and his garden.
In Nairn David and his wife Sheila regularly opened their house to a group of railway enthusiasts. David was a member of FoFNL. In the background, the David St John Thomas Charitable Trust encouraged new writers, and in its Newsletter provided space for supporters of little known charities to write, for which a donation in kind was made to the charity concerned. At Christmas they hosted full Christmas Dinner to several groups. Those who worked for them were treated as if part of the family. In later life David gravitated from the Quakers to the Episcopalians, supporting Sheila in her church responsibilities. He is survived by Sheila, his daughter Alyss Clare and son Gareth.