Book Shelf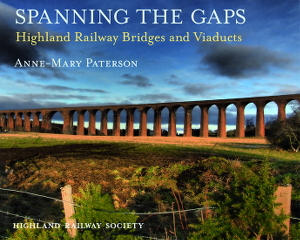 Spanning the Gaps: Highland Railway Bridges and Viaducts
Anne-Mary Paterson. Highland Railway Society, 2017.
ISBN 978-0-9927311-1-3 £16.00.
This 96 page oblong format book gives full range to The Highland Railway Society's impressive archive of photographs concerning bridges and viaducts from 1864 to the present. Anne-Mary Paterson has done much to research the work of her grand uncles, William and Murdoch Paterson and of their older contemporary Joseph Mitchell, in the construction of the railways and these bridges in the northern Highlands.
Murdoch's proudest achievement, the 29 stone arch Culloden Viaduct makes a stunning front cover, but in contrast his timber Altnaslanach Burn viaduct at nearby Moy is equally innovative and long lasting. Many contemporary photographs and diagrams have survived, not least of the Findhorn Viaduct at Tomatin built in the 1890s.
The territory covered ranges from Wick to Dunkeld and from Kyle in the west to the Spey in the east. The diversity of designs is huge from a swing bridge to the castellated embellishments requested by the Duke of Atholl and the replacement for the Baddengorm Burn bridge which was so unluckily and tragically washed away in 1914.
This book has such a rich story supported by so many interesting photographs stunningly reproduced in both back and white and in colour. It can be fully recommended.
Richard Ardern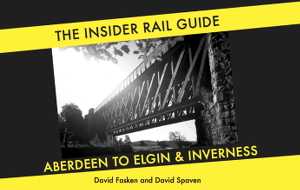 The Insider Rail Guide - Aberdeen to Elgin & Inverness
David Fasken and David Spaven. Kessock Books, 2017.
ISBN: 978-0-9930296-9-1 £7.99
This is the second of David Fasken and David Spaven's Insider Rail Guides. Whilst the subject of this book has less obvious tourist credentials, this only goes to prove that fascination can be found everywhere, if you know where to look. The strength of the Insider series is that the result of the authors' research is presented in a way that keeps you intrigued, with black and white photos, hand-drawn maps, and many very attractive line drawings to help you on your way.
The pocket-friendly size is just what you need for a book like this - you won't mind carrying it around.
I have a personal interest in this part of Scotland as my wife was brought up in Buckie and our family has spent much time exploring and enjoying the whole area. As a slightly political aside, while reading the history of the line it is impossible not to be struck by the irony of the 'competition is good' mantra that we hear so often. I can't imagine that any pre-grouping passengers would have agreed with that!
Ian Budd