Press Releases
EWS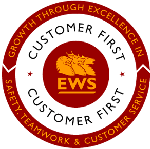 EWS, Britain's leading rail freight operator, is to invest £50,000 upgrading the Far North rail line from Thurso - Georgemas for operation of the new class 66 rail freight locomotive.
Currently, the class 66 locomotive is only cleared to operate as far as Georgemas. The extension to Thurso will open up new rail freight opportunities and remove many trucks from the Highland road network. The £50,000 investment by EWS will expand the route availability of its new locomotives. Work to upgrade the route will be completed in October.
Graham Smith, EWS Planning Director, said: "The clearance of this route shows the commitment of EWS to invest in order to secure rail freight growth. Key customers in Thurso have been identified by EWS and once infrastructure work has been completed, trucks will be removed from many main Highland roads including the A9 as a result of this investment."
Extract from "Outlook", ScotRail's complimentary magazine for July - September 2001

"ScotRail is to run the first-ever year-round Sunday service between Wick, Thurso and Inverness starting in September. The timings of the trains have been arranged in order to maximise journey opportunities for people taking the train in either direction to return from a weekend away.
"The new service will call at all the usual intermediate stations and the soon to be open Beauly station which is due to come into service during the currency of the winter timetable. "ScotRail Managing Director Alastair McPherson said: "We are delighted to be able to respond from the many requests by the Friends of the Far North Line and other community representatives by introducing at our own risk this winter Sunday service for the Far North."
Inverness - Thurso/Wick
Inverness
d 18.30
Thurso
a 21.50
Wick
a 22.19

Thurso/Wick - Inverness
Wick
d 13.40
Thurso
d 14.08
Inverness
a 17.28