Letters to the Editor
I received this letter from Adrian Varwell about cruise ship passenger opportunities. I suggested that he sent a copy to Alasdair Smart, ScotRail's Tourism Manager. Alasdair duly replied and I'm reproducing this too.
Capturing the Cruise Market: a note from Adrian Varwell
Back in the 1970s I witnessed three special trains being dispatched from Invergordon, one to Glasgow and two to Edinburgh, all in the space of around 90 minutes. These specials had been arranged at short notice because a cruise liner (the Uganda, I think) had terminated its cruise short of its ultimate destination. Whilst it would be wonderful to see our present train operators rising to such a challenge, there is surely one modest step that could be taken to capture just a small part of the cruise ship market.
At the moment there are fleets of coaches offering a number of tours for passengers, and there are reports that some cost-conscious travellers are taking to the local service buses to Inverness, causing problems for those waiting in Alness and Evanton. Are there opportunities for ScotRail to promote its services to cruise passengers?
With 110 cruise liners expected to call at Invergordon in 20191 the Far North Line could attract some of the 178,000 passengers by promoting the present service in an imaginative way. By offering up to thirty seats (with a packed lunch?) on the 11:30 from Invergordon cruise passengers could enjoy nearly two hours at Dunrobin Castle before returning on the 14:42 back to the port. Apart from the busiest summer Saturdays it should be possible to reserve a number of seats without adversely affecting other passengers on these trains. A trip to Inverness on the 11:31, returning from the Highland capital at 14:50 could be equally attractive.
Just recently, an article in Wanderlust magazine by my son, Simon, has highlighted five must-visit stations in the Highlands, including Invergordon and Dunrobin2: surely some of this year's cruise passengers will be looking to experience these stations for themselves?
1 www.cruisethehighlands.com
2 www.wanderlust.co.uk/content/5-little-known-scottish-highland-stations-you-must-visit/
Alasdair Smart's Reply
Good afternoon Adrian,
You raise a number of very pertinent points. The opportunities arising from cruise passengers is one we are aware of and have been liaising with CruiseScotland, Port of Cromarty, VisitScotland and many others to try and advocate towards rail.
Train has a number of advantages over road travel (comfort, environmental, scenic views etc) and not just the practicality of reducing the traffic impact on the local community. Fundamentally, I believe it gives our visitors the best opportunity to meet and see the real people and places of Scotland, to give them unique experiences and create lasting memories.
I agree there is clearly significant potential but, despite our best efforts, we have not yet been able to successfully convert the Ground Handling Agents and Tour Operators away from their coaches. The independent travellers are more difficult to communicate with directly as we work through intermediaries such as the cruise line operators themselves and local welcome volunteers.
However, that is not to say we have not had some success over the last 2 or 3 years and I know it is currently a hot topic. We are looking at a number of additional promotional activities this year; including increased social media presence (incl highlighting trips to Dunrobin, where rail passengers can benefit from a reduced admission rate), visitor leaflets and a number of other items we are working on, but which are still in the development stage so are not yet ready to share.
I always welcome ideas and suggestions for identifying new passenger markets and improving our customers' experience, so thank you for forwarding on.
Regards
Alasdair Smart
Tourism Manager
Editor's note: Letters to the Editor are always extremely welcome. This is an ideal way for members to express a view without worrying whether it is the same as FoFNL's current line on the topic.
John Brandon, a past Convener of FoFNL picks up on Richard Ardern's article Transforming the Highland Main Line: An Urgent Task in the January 2019 FNE.
Richard Ardern's item on the upgrade of the Highland Main Line is in the "bleeding obvious" category to quote Basil Fawlty and goes further than any previous proposals I remember seeing. However, the bean counters want much more than "nice to have" even if the operators think it's all a good idea. The usual way of justifying what needs to be upgraded is to start with the timetable you want to operate. You then do only what's necessary to make it work. Cutting to the bone, though, is seldom a good idea as we have seen with Borders: in order to run any specials, advertised train services have to be cancelled. Nonetheless there is a precedent. Tisbury loop west of Salisbury was originally installed only for perturbations and the then Southern Region General Manager said it was not to be used for the normal train service. These days, it is used hourly for the normal service! Thank goodness it was built. Sadly, though, it's not in the station as, at the time, the down platform was owned by an agricultural machinery company, no longer trading, who wouldn't let it go. Perhaps with hindsight that was a good thing as level access would have had to have been provided.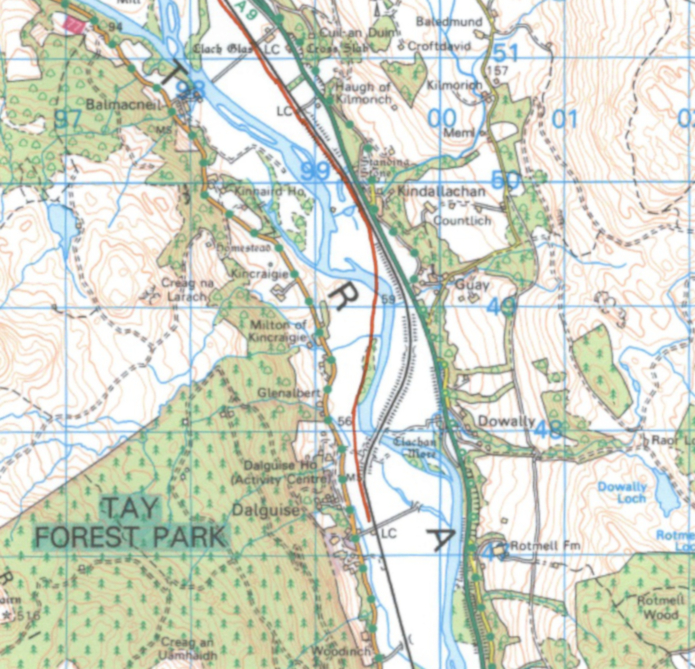 That moves me on to the first of a couple of comments on Richard's plans. Rather than start double track at the Spey bridge I would suggest it starts north of Newtonmore as providing level access to the reinstated up (southbound) platform would be prohibitively expensive. My second suggestion is to spent a LOT more money by starting the Dalguise to Ballinluig double track south of the Grade A Tay bridge with a completely new down (northbound) line alignment of around 1½ miles including a second bridge across the river. It would also need to take some class 3.2 agricultural land. It would, though, give a much better alignment than the present line which would be retained for up trains and could actually be extended further south. I wonder how the cost would compare with a similar length of A9 dualling even at Network Rail's inflated prices?
Yours faithfully,
John Brandon