Freight Lines
The ongoing timber trial on the Far North Line has focused all our minds on the need to get as much freight onto rail as possible. There is currently a lot of discussion about how this can be achieved and there are many ideas in play.
Another trial of a new freight flow, this time between Scotland and England, has been running this summer. The Colas Rail train of tankers operates overnight from Aberdeen Waterloo to Spalding in Lincolnshire, 500 miles away. It carries calcium carbonate slurry, originally from Norway, for use in the manufacture of high-quality paper. On arrival in Spalding the product is unloaded and transferred to road tankers for the remaining 25 miles to King's Lynn. Unfortunately the goods sidings there have been closed.
A survey of media reports turned up some other interesting items:
High-Speed Rail and Scotland - a report by Greengauge 21, commissioned by the High-Speed Rail Group, proposes the reopening of the remainder of the Waverley Route and using its link to a reinvigorated Settle & Carlisle Line, partly to increase freight capacity between Scotland and England. It also contains many other radical suggestions, such as adding dynamic freight loops to the West and East Coast main lines, and building new segregated freight lines parallel with the ECML between Newcastle and Peterborough.
Meanwhile, a different approach has been taken by a company called FreightArranger.
Its website states, "FreightArranger is a newly formed business which uses short intermodal trains to move freight within the UK. Formed from the InnovateUK-funded F3 Project, FreightArranger has redesigned rail freight within the UK to make it much more widely available to UK-based manufacturers, retailers and pallet networks."
The setting up of the business arises from a recent UK Government-sponsored study. "F3" stands for Fast Frequent Fulfilment. This is an interesting different angle - shorter trains, more (smaller) loading locations.
Currently there are 65 intermodal terminals in the UK, but the F3 study has identified around 650 possible sites, as only short sidings beside a stretch of hard standing are required.
An article in RAIL magazine [Issue 894 Dec 19-Jan 20] explains, "This new approach is based on short, fast trains linked to very small terminals, in which containers stand still for no more than a handful of hours."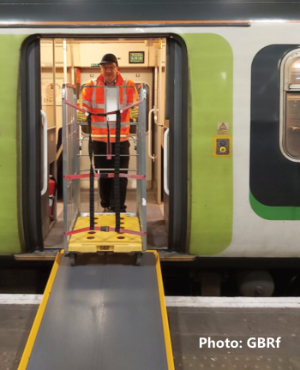 Looking at another aspect of moving freight away from the roads, there are three companies trying out the use of converted passenger multiple units for items such as parcels. Because the trains are accessed at station platform level it is simple to use roll cages. On arrival these can be transferred to electric road vehicles for local delivery. So far two established companies, GB Railfreight and Rail Operations Group (through their newly-created subsidiary Orion High Speed Logistics) and a new venture, Varamis, are currently converting stock and operating trials. All are planning to introduce services in the near future.
There's definitely a touch of déjà vu here for someone who has no difficulty in remembering parcels van trains and Scammell Scarab three-wheel tractor unit lorries! - albeit not electric.
Ian Budd