A Railman Remembers
7 - The Music Station
Continuing our series of articles by Mark Nolan, telling the story of his early days as a railwayman at Fearn Station on the Far North Line in the 1970s.
Being the sole worker at an outpost like Fearn could get lonely, so I had a little transistor radio for company. As far as music went, we had Radio 1 in mono. And that was it. The pirates were long gone; commercial stations were just starting, but it would be another eight years before Moray Firth Radio arrived to surprise everyone and transform the Highlands. In 1974 the music was frankly terrible; glam rock and novelty singles dominated. The only record I enjoyed that year was Midnight at the Oasis, a sexy laid back jazzy song which somehow made it through the mediocre playlist.
Luckily I had my trusty Yamaha acoustic guitar, so I used the time between the trains to pick a few tunes. One of the posties took a particular interest.
"I used to play a bit myself, trad jazz, you can't beat it." Actually Jimmy was being rather modest. He had been playing in bands for 30 years and was very well known throughout the Highlands. But trad jazz was getting even further away from the music I wanted to play. "My son plays drums and we know a guitarist, if you play bass we could have a session..." I didn't take it too seriously, but one weekend we borrowed some amplifiers and set up at the station. Anyone passing by would have been amazed to hear 'Tequila', 'Green Onions', 'Yakety Yak' and 'Stranger on the Shore' wafting out of the booking hall. Jimmy was really versatile, alternating between alto or tenor sax, and clarinet. He even took care of vocals when necessary . To our delight it was a full, varied sound and everything clicked immediately. With Jimmy's repertoire we got enough material together for a set in no time. Jimmy was tremendously excited; "Mark boy, you guys have got it, you've got swing" he kept saying with a glint in his eye. He had retired from playing in his fifties, and hadn't expected to go out with another band. But here was a chance to hit the circuit one more time, and he had all the contacts we needed. With the Nigg yard in full flow, Easter Ross was like the Wild West: every pub, hotel and social club was crying out for entertainment to attract the workers, they in turn were away from home with plenty of money and one thing on their minds.
We called ourselves 'Summer Set', and with Jimmy's charm and our relaxed sound, we were quickly booked up every Thursday, Friday and Saturday. A pair of secondhand Wem PA speakers got ordered from London, which arrived a week later on the midday train. We played places like the Aluminium Smelter club and the Invergordon Social Club, as well as the many neighbouring British Legions. Then the Jackdaw Hotel in Barbaraville topped and tailed the weekends with a residency every Wednesday and Sunday. It was crazy, we were playing five nights a week, and I was earning far more with the band than the railway. For a couple of mad months I couldn't get away to take advantage of my free train travel, and I had to fight for a weekend off.
For transport, we squeezed ourselves and the gear into Jimmy's pride and joy, a tasty red Mk II Ford Cortina. The feral atmosphere of Easter Ross during the height of the oil madness was never more apparent than on the roads; there seemed to be an above average number of car accidents in the early 70s. Young locals with new money, incomers who didn't know the roads, all of them out partying like mad. It was a heady mix.
Despite the access to alcohol, I was never that interested in drinking at the gigs. This didn't go unnoticed. Although I was a relatively inexperienced driver, Jimmy put me on his insurance so I could drive the band home after gigs. I was keen to get driving experience, and flattered that they trusted me enough. Although we saw a few accidents, fortunately we were never in any.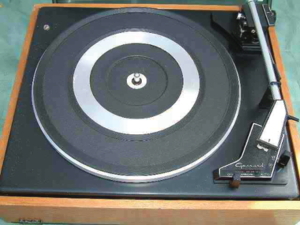 Naturally with my new found wealth, I did what any sensible nineteen year old would do: I bought an Amstrad stereo amp with speakers, and a Garrard SP25 Mk III record deck. These were proudly set up in the ticket office. Although it wasn't a particularly expensive stereo, it's doubtful if there has ever been a better sound system, or more music played, in any operating British railway station. While I was bopping round the ticket office, the autumn with its potato traffic was looming ever closer. But for the time being it didn't matter. Fearn was now officially the Music Station.