Rolling Stock Developments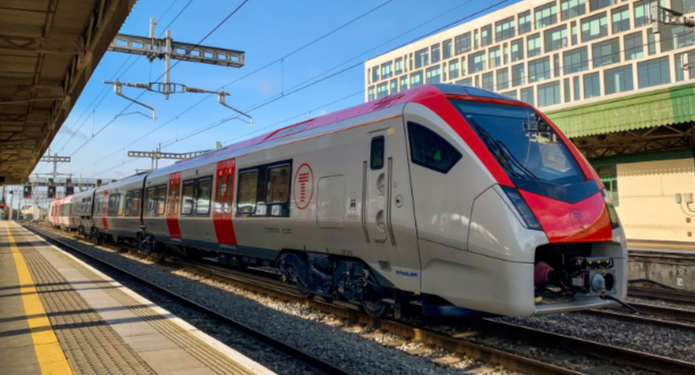 Photo: Transport for Wales
Electric & Hybrid Rail Technology magazine recently published this article based on an interview Stadler Rail's Achilles Brecht gave to its editor. One of the speakers at our AGM & Conference this year is Stadler's James McCaffery - Programme Lead - Stadler Rail Services UK, so this gives some interesting background. Reprinted with permission.
Swiss rolling stock manufacturer Stadler has been developing battery-powered vehicles since the early 1940s. The firm, which currently holds the Guinness World Record for completing the longest journey with a battery multiple unit in pure battery mode, spent many decades operating as a small family-owned business based in Switzerland, focusing mainly on manufacturing highly customised rail vehicles for its clients.
In the late 1990s, however, the business grew exponentially to become one of the fastest growing and most innovative train manufacturing companies operating in Europe. A key area it has always been committed to for innovation is sustainability. From its early days in the 1940s up until the present day, the firm has continued to improve its battery-powered trains and is now also exploring hydrogen-powered locomotives.
Stadler Rail's Achilles Brecht, an engineer and specialist in alternative drives, with a focus on battery technology, has played an important part in the company's development of battery electric multiple units (BEMU) for passenger operations. Reflecting on recent achievements, he says, "In 2008 Stadler set its first battery-related world record when it expanded a Stadler Variobahn light rail vehicle for Munich's public transport company, MVG, to enable it to cross a non-electrified section of track called the English Garden in the Bavarian capital using battery power.
"Then, in 2018 Stadler presented its first BEMU - the FLIRT (Fast Light Intercity and Regional Train) Akku, which in 2021 set the Guinness World Record for completing the longest journey, 224km, with a battery multiple unit in pure battery mode. In 2022 the first serial FLIRT Akku, which typically has an operational range of around 100km, was presented at the world's largest railway exhibition InnoTrans, alongside the FLIRT tri-mode, which has been developed for Transport for Wales, as well as the UK's first independently powered electrical multiple unit (IPEMU) for the Liverpool City Region," Brecht added.
To date, Stadler has sold 113 FLIRT Akku BEMUs in Germany for three different regional rail networks - Schleswig-Holstein, Rhineland-Palatinate, and Mecklenburg-Western Pomerania - two of which will be operated by Deutsche Bahn. "The first serial trains will start operations this year," adds Brecht.
Meanwhile, the FLIRT tri-mode, being developed for Transport for Wales, can run on lines with overhead electric wires as well as with battery power and diesel. The use of batteries on the tri-modes will enable a fully electric service north of Cardiff, to prevent costly infrastructure upgrades for the client. The FLIRT tri-modes are part of the contract signed by Stadler and Transport for Wales in January 2019, comprising 35 FLIRT vehicles in total and 36 CITYLINK tram-trains. 24 of the FLIRTs will be tri-modes.
Furthermore, the IPEMU (Independently Powered Electric Multiple-Unit) for the Liverpool City Region, is equipped with a battery-based energy storage system. New battery traction equipment is mounted in the underframe and the cooling system is located on the roof. While an IPEMU is running on the electrified network, the batteries can be charged from the third rail, as well as through regenerative braking. IPEMUs can be recharged in less than 15 minutes, and batteries are able to undergo more than 10,000 charge/discharge cycles. IPEMUs can reach speeds of 80 km/h when fully charged and cover 55km on one battery load.
US presence
"Interest in local CO2-neutral solutions to replace diesel trains is very high at the moment," adds Brecht. And that interest is not just coming from Europe, either. In February this year, Stadler reported that it is working with Utah State University (USU) and the ASPIRE Engineering Research Center to develop and test a battery-powered passenger train, based on Stadler's FLIRT concept, for the North American market.
According to Stadler, before the battery-powered train can be rolled out in North America, which has few to none electrified lines on public rail, extensive research and development (R&D) work is required to adapt the vehicle to the American infrastructure and national regulations.
Back in Europe, the firm has teamed up with DLR (Deutsches Zentrum fűr Luft- und Raumfahrt [German Aerospace Centre]) Institute for Vehicle Concepts and the DLR Institute of Networked Energy Systems to look at how it can improve its battery-train offering further. The firms are currently in the second year of a three-year project to develop a modular and scalable battery system for passenger trains, which can be adapted to meet route-specific applications.
The battery system is being developed as part of the MOSENAS project, which stands for "modular, scalable energy storage for sustainable local rail passenger transport." Stadler, alongside its partners, is currently developing a demonstrator of the concept based on the FLIRT Akku by undertaking comprehensive tech monitoring and computer simulations for battery life and components.
"Stadler presented its first battery electric multiple unit in 2018," Brecht continues. "Since then, we have focused on testing and proving battery technology in modern trains. Working together with the DLR gives both partners the opportunity to increase insights in forward-looking technologies.
"We are seeking to develop a modular and scalable battery which can be adapted to the local conditions," he continues. "Each railway route or network has its own specialties so the battery should be tailored exactly to the specific needs of that route or network. Thus, we analysed route-dependent factors which are required for the suitable dimensioning of the modular energy storage system. The performance and capacity of the battery system should be optimally adapted to typical operational scenarios. If the operational area of the train changes or the route is further electrified after some years, the battery system can be adapted to changing needs at a later point. This can help to optimise the trains' weight and installation space and to reduce costs."
As part of this project Stadler and DLR have undertaken a thorough screening of future battery technologies and accelerated battery design through model-based simulation. "This also involves the modelling of traction and auxiliary power demand at different operational, infrastructural and climatic conditions to better characterise the requirements on future battery systems in highly dynamic conditions," adds Brecht.
The MOSENAS project team is also developing concepts for warning indicators, which detect and monitor critical battery conditions, and creating efficient fire protection strategies by investigating the correct storage of battery modules. It is also exploring the optimal charging infrastructure, including looking at how second-use batteries in stationary storage systems can be used and how, with the help of "sector coupling" systems for generating renewable energy can be integrated.
"The second-use batteries research is being carried out on a theoretical basis, so no physical tests are undertaken in the project," comments Brecht. "Meanwhile, using renewable energies for recharging battery trains in decentral rail networks is a key challenge and is addressed in our project through a combined energy system and rail model."
Future technologies
With decades worth of experience in battery-powered train development, Stadler offers railway network operators support in analysing routes and networks and examining feasibility. "In doing so, we consider the desired timetables and schedules and determine whether the existing electrification is sufficient or whether additional charging stations may be necessary," Brecht says.
This analysing process is extremely important for operators seeking to decarbonise their networks, according to Brecht, as "every route network has its own special features and challenges". He continues, "In Schleswig-Holstein, for example, you have to expect a lot of wind and salt water. So Stadler took the possible headwind into account when designing the battery and kept larger reserves and paid special attention to corrosion protection against salt water. In the route network in Rhineland-Palatinate, the vehicles to Pirmasens must cope with an incline of up to 35%. Therefore, an additional electrification of about 5km in length will be set up at the beginning of the climb, so that the BEMUs can manage the ascent with fully charged batteries. On the way down, braking energy is fed back into the batteries."
Looking at how battery technology will change in the future, he concludes, "Battery technology is developing at very high speed. Depending on the technology, future developments will focus on increased life spans which will add to the economic advantage of battery trains compared to a full electrification of secondary lines. Also, improvements in terms of energy density and fast charging capabilities can be observed. More compact designs and advanced cooling solutions are possibilities to improve battery technology on a system level."
Hydrogen trains on test in the US
Alongside its battery-powered trains, Stadler is also developing America's first-ever hydrogen-powered train. In November 2019, Stadler teamed up with the San Bernardino County Transportation Authority (SBCTA) to design and build the first hydrogen-powered FLIRT.
The FLIRT H2 multiple unit, which was first unveiled at InnoTrans last year, will be "instrumental in bringing zero-emission rail technology to the USA," according to Stadler. The hydrogen-powered train is intended for passenger service on the Redlands Passenger Rail Project in California. The Redlands Passenger Rail Project is a 14km link between Redlands and the San Bernardino Metrolink station.
Furthermore, at InnoTrans 2022, Stadler also signed a Memorandum of Understanding (MoU) with the California State Transportation Agency and Caltrans for 25 hydrogen-powered trains, building on its work with SBCTA.
FLIRT H2 is currently undergoing testing on Swiss rails before it's transported to the US in early summer 2023. It is due to enter passenger service with SBCTA at the start of 2024. The train consists of two cars and a middle section referred to as the powerpack. This holds the fuel cells and the hydrogen tanks. In the powerpack, hydrogen is converted into electric current, which is stored in a traction battery. The battery then supplies the vehicle's drive system, HVAC system and other comfort facilities with power.
In this configuration, the train can also recover kinetic energy when braking, so that this can also be re-used to drive the train. The train can reach a maximum speed of 130 km per hour (79 mph).