Stewart Nicol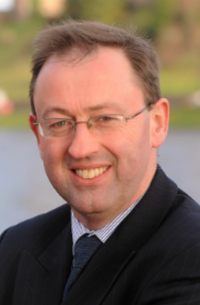 FoFNL was sad to learn that Stewart Nicol, Chief Executive of Inverness Chamber of Commerce, is leaving that post in May next year.
Stewart has been a very vocal advocate of the need for Inverness and the Highlands to have the best possible transport links to the rest of the country. He has not tired of pointing out that the railway provision radiating from Inverness is not fit for purpose.
We very much hope that his successor is as dedicated to persuading the Scottish Government to improve this situation as he has been.
Stewart's most recent article in the Inverness Courier, welcoming the imminent opening of Inverness Airport Station, highlights the current deficiencies and emphasises how different transport provision is in more enlightened European countries.
Stewart Nicol - Inverness Courier 06-12-22
I'm really looking forward to the opening of our new railway station at Inverness Airport later this month, as it's a great way to round off a challenging year. It is a long overdue addition to our local rail infrastructure and will become a key part of the transport infrastructure for both the City of Inverness and the wider Highland region. It will undoubtedly give users of the airport another travel option in terms of connectivity to Inverness, Nairn and Moray. Importantly though, I believe it also has great potential to provide a convenient commuter option for the growing communities to the east of Inverness, including the impressive development of Tornagrain.
Unquestionably, the key to the success of the station will be the service timetable and how well that integrates with the flight schedules. I have the suspicion there may well be a bedding-in period around all of this before we get to our final desired destination?
While this is a really positive development, it is at best modest and highlights for me how much needs to be done with the rest of the rail infrastructure of the Highlands. The Highland Main Line, our rail connection between Inverness and Perth, is for the avoidance of doubt not remotely close to being a 'Main Line' by any definition. Indeed, I often reflect, it would look remarkably familiar to our Victorian forefathers who originally built it! As colleagues in Caithness regularly remind me on these matters, the fact it takes around 4½ hours to travel the 100 or so miles to Wick by train demonstrates just how unfit-for-purpose the Far North Line also is in terms of meeting the needs of their businesses and communities.
Over recent weeks I have seen a number of business social media discussions around the high standard and impressive performance of rail travel across mainland Europe, which is something I first experienced on a business trip to Sweden over two decades ago. Before we start to discuss standards and performance of our rail services, we again enter a new year with no prospect of seeing any meaningful improvement to our region's basic rail infrastructure.
FoFNL thoughts:
Highlands and Islands Airports Ltd (HIAL) is currently considering the options for improving the airport terminal. FoFNL very much hopes that they realise the need, in the light of the modal shift to rail that is the Scottish Government's policy, to make transfer between train and aeroplane as seamless and convenient as possible. London City Airport is a great exemplar of what can be done.
The most expensive, but by far the most desirable and least disruptive option being considered, is to build a new terminal beside the station. It is to be hoped that HIAL will not consider the potential loss of profits from airport parking as travellers shift from road to rail to be a factor, but will choose the option that's best for passengers.