Geographical Note
This page is here to clarify the terminology used to refer to the parts of the British Isles.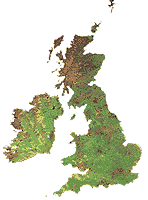 The British Isles (which is a geographical term, not a political one) consist of two main islands.
The western, and smaller one is Ireland which contains the Republic of Ireland, an independent country and Northern Ireland which is part of the UK. The larger island is Great Britain which consists of three countries - England, Wales and Scotland.
The Letters UK are short for "The United Kingdom of Great Britain and Northern Ireland" the word "England" is often used in error to describe "Great Britain" - rather like saying "America" when you mean "North America including the USA and Canada"!
Scotland and Wales are not in England. Scotland occupies most of the northern half of Great Britain but only has one tenth of the population.