Royal Train From Invershin
The Duke of Edinburgh boarded the Royal Train at Invershin at 21:30 on Thursday 9 June 1966 to travel to an engagement in Manchester the next day which was his birthday. I am starting to write this article exactly 54 years later. Tomorrow will be the Duke's 99th birthday.
Researchers are led down many interesting paths often into subjects different from the starting point. My starting point was curiosity to know more about Mohammed Ayub who, I believe, was Pakistan's first railway "ambassador" in the North. The article in FNE issue 80 summarises his time as Station Master at Kinbrace from 1963 until 1967.
The abstract of his oral history file at the National Railway Museum (NRM) mentions him meeting the Queen Mother and that set me thinking she must have used the line on occasions to travel to her home at the Castle of Mey and I was interested to find out more about that. The article in issue 78 resulted. It eventually transpired that Mr Ayub spoke of meeting Queen Mother, not on the Far North Line but, a few years later when he greeted her off the train at Glasgow Central.
In September 2019 I had planned a visit to the NRM to study their royal train files. To our surprise, it turned out to be the first LNER Azuma working from Inverness, hence another article in issue 79. My time in York was limited and I didn't find out much about the Queen Mother in the North. Hopefully there may be two articles resulting. This is the first to set the scene about royal trains in general and the Duke's trip in particular.
NRM Royal Train Files
The NRM Research Library, or Search Engine as they call it, has many royal train document files, year after year. Inside is the surviving documentation for many different journeys. Much of this covers preparation of the royal vehicles at Wolverton (near Milton Keynes) where they are stabled. Of interest to me also are the traffic notices and other organisational details from Scottish Region HQ in Glasgow.
Preparation of the train at Wolverton was thorough with each department submitting an "everything in perfect working order" assurance note to Geoffrey Tew, the Wolverton Works Manager. For example, he issued a memo on 15 September 1958 that the following vehicles were to be prepared for the 19th to bring the young Prince of Wales back to London from Aberdeen: Saloon 2900 and First Brake 5154. [File G10/58].
Replies are filed from the
Polishing Department
Frame Shop
Tinsmiths Shop
Brake shop
54 Shop [Trimmings in perfect order]
53 Shop
Electrical Equipment [Satisfactory]
Brass Shop
Lifting Shop
Wheel Shop
The Prince of Wales (aged 9) would be travelling accompanied by Miss Peebles and a detective. The coaches were to be added to the regular train at 20:30 which would be hauled by a Class A2 Pacific from Ferryhill Shed. [This would be The Aberdonian sleeping car train to London Kings Cross].
The empty coaches were to be worked forward on the working men's train from Wolverton to Bletchley and then to Crewe on the rear of the "7.20" [a.m.?] and then attached to the front of the "10.37" Crewe to Perth. [22:37? The overnight Royal Highlander?]. Thereafter it would be a Scottish Region responsibility to get them to Aberdeen.
One way workings of empty coaches between Wolverton and Aberdeen for Balmoral would have been fairly common experiences. I can remember seeing two royal coaches coming back on the rear of the 17:30 stopper from Aberdeen to Perth at Stanley Junction on Monday 19 August 1963.
The Duke of Edinburgh's Birthday Tour 1966
The NRM Royal Train file G7/66 contains LM Notice W.P 175 [three pages of foolscap] headed
"Journeys of HRH Duke of Edinburgh
Euston to Inverness 6-7 June 1966
Invershin to Manchester 9-10 June 1966
Manchester to Euston 10 June".
Vehicles 45006, 798 and a BG and 5154 were involved.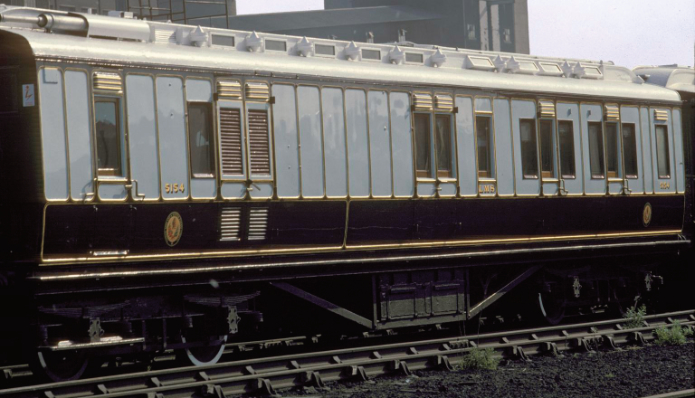 It would seem the Duke travelled north by other means. The standby arrangements for Monday 6 June were that three first class sleeping berths be reserved on the scheduled SLF coach and one first and one second class compartments reserved in the CK on the scheduled 20:20 from Euston from platform 15. Dinner was to be served and three breakfast trays to be put aboard at Carlisle (01:30/32). The train was to pass Gretna Junction at 01:42 but thereafter we do not have the Scottish Region memos. It is noted that Inverness arrival was to be at 08:15.
Meanwhile, all was ready at Wolverton. A neat letter in ink from the Brake and Gas Shop signed by J N Loxley on the 6th to Geoffrey Tew Esq stated:
"With respect to your letter dated 24 May... the vehicles mentioned have been overhauled and tested for brake, steam, gas and hot water services and found to be satisfactory."
These three vehicles [not 5154] were diagrammed to work north from Tuesday 7 June as followsWolverton 10:10 ECS with 45006 leading attached to 3A00, the 05:16 parcels ex Stafford.
Arriving at Willesden at 12:42 they would next be attached to 3L13, the 22:30 Euston-Carlisle parcels with the BG leading. This would call at Crewe from 03:03/04:40 and arrive in Carlisle at 09:26.
Thereafter attached to 3S06 parcels at 17:25. Perth 22:30/01:10 and arrive in Inverness at 04:30 on Thursday 9th. A portable wireless was to be required in saloon 45006 and this would be sent to Wolverton Works prior to 7 June.
Separately, vehicle 5154 was to be worked from Edinburgh at 16:34 on Tuesday 7 June to Perth 18:00/18:23 to reach Inverness at 21:30. This is in the English notes with no further details of the train or trains concerned. The coach would wait for nearly two days for the Royal train movement.
Thereafter power brake 5154 was to be attached at Inverness next to 798 and the gangway end connected. Departure for Invershin was to be at 18:45 on Thursday 9 June.
Cleaning, watering and gassing of the vehicles was to be arranged at Inverness. Interior cleaning would be done by accompanying Carriage and Wagon staff who "will also supervise exterior cleaning". "25 cwt of clean block ice in 9 inch cubes to be supplied to saloon 798 at approximately 5pm on the 9th. However, a manuscript note countermands this by instructing "35 cwts, not in cubes." A full supply of steam heat is to be maintained throughout the journey from Invershin to Manchester.
I suspect that a steam locomotive would have been used from Inverness if it had still been possible. Steam heating boilers in diesel locomotives gave quite a lot of trouble. I believe the Duke was the last member of the Royal Family to be steam hauled in British Rail steam days. This was in February 1967 when his overnight train was pulled from York to near Ripon by Jubilee no 45562 Alberta.
WP.175 finally instructs that a current copy of Radio Times and a supply of evening newspapers were to be put into the Special Train at Inverness on 9 June. [Was there an evening paper nearer than Aberdeen?] A supply of all national morning newspapers and a copy of Sporting Life were to be put aboard at Carlisle on 10 June [around 06:00].
From Invershin to Manchester Exchange
I have not yet managed to discover what the Duke was doing or his whereabouts in the North. Maybe he was fishing on the River Oykel, staying at Skibo Castle or visiting the Duke of Westminster? A search of the Court and Social column in The Times reveals that he spent his birthday on the 10th at a Duke of Edinburgh Award council meeting in Manchester and flew back to London.
The empty "Deepdene" Royal Train was timetabled to leave Inverness at 18:45 and to arrive at Invershin at 21:10. There is nothing to say whether it first ran up to Lairg for the diesel locomotive to change ends. 1Z12 was due leave Invershin at 21:30 and arrive in Inverness at 22:55. I wonder whether that will have been the fastest ever passenger service from Invershin to Inverness? Sadly the file does not contain the Scottish Region special notice to give us the intermediate timings. Leaving Inverness at 23:05 it was due to pass Gretna Junction at 05:56 and the type 2 diesel from the Scottish Region was to work through to Carlisle arriving at 06:07.
From Invershin vehicle 798 was to accommodate the Duke and his Valet and vehicle 45006 a police officer and railway officer Vernon Atkinson of the C&W Department in Glasgow who was to travel as far as Wigan.
From Carlisle a Class 5MT steam locomotive was to take charge and after taking water in platform 4 at Wigan North Western from 08:52 until 09.02 the train was to lie over on the Lowton Curve near Newton-le-Willows from 09.14 until 10:08 (while breakfast was to be served) so that it could arrive at Manchester Exchange (which is actually in Salford) on schedule at 10:30.
The Royal train was then to be worked specially to Wolverton and the names of the rostered guards are given. Presumably it would be held on standby until the Duke had departed by other means?
Other Abbreviations:
BCK Brake Corridor Composite
BG Brake Gangwayed coach
CK Corridor Composite [i.e. both 1st and 2nd class] coach
ECS Empty coaching stock
MT mixed traffic [i.e. passenger and goods]
SLF First class Sleeper
Current whereabouts of royal coaching stock mentioned:
Saloon 2900
Built 1959. Royal Family lounge, bedrooms and toilet.
Now at Fawley Hill Railway near Henley. Museum collection of the late Sir William McAlpine.
First Brake 5154
1924 LMS rebuild of LNWR vehicle 10070. Staff car with generator in the brake van.
Now at NRM Shildon.
45006
LMS no 2912 of 1942. Rebuilt 1948. Retained for post 1977 Royal Train. Scrapped 1991.
798
LMS 1941 armoured saloon for King George V1. Armour plating removed after the war.
Now in The Engine House at Highley on the Severn Valley Railway.
Previously at the Glasgow Transport Museum.