Strategic Transport Projects Review 2008...
...ongoing consequences and future rail projects
[Please note December 2008, not 2009 as is being misquoted in too many sources!]
It is a useful exercise to recap on where we were at in 2008 and to consider what has been achieved in eleven years and what has been delayed; some things seriously delayed, due to austerity and over-runs with the Edinburgh to Glasgow Improvement Programme (EGIP) in particular.
With EGIP we got there in the end and we now have a splendid range of services of new electric trains on five routes between Edinburgh and Glasgow and further, incorporating Stirling, Dunblane and Alloa. EGIP was Priority 2 after the unexpected new Queensferry Crossing which claimed £1.3bn from the transport infrastructure budget.
Priority 3 was the Highland Main Line (HML) and Priority 4 the Aberdeen to Inverness Line (A2I).
There was nothing in STPR for the Far North and Kyle Lines, but their capacity constraints are now being addressed as a consequence of the sterling work done by the December 2016 Review Team whose report was published in November 2019.
Progress and projects in the North
A2I has seen a good half of the project happen, but there is still a long way to go to provide the line capacity for the promised hourly service with a two hour journey time end to end. The original target was December 2016.
HML has seen a welcome increase in the frequency of passenger services but this has also visibly underlined the crippling capacity constraints caused by the many single line sections which were also needing to be addressed. Regular parliamentary answers were given saying that new loops or sections of double track would be provided. The original target for the three hour average journey time from Inverness to Edinburgh and Glasgow was December 2012.
Targets for the £6bn complete dualling of the two one hundred mile long trunk roads: the A9 from Perth to Inverness and the A96 from Aberdeen to Inverness by 2025 and 2030 respectively were announced post 2008 and the HML and A2I completion dates significantly extended by the 2011 Infrastructure Investment Plan. Complete double-tracking was not included in these rail improvements.
A new double track cut-off line in Fife from Inverkeithing to Halbeath (west of Cowdenbeath) was item 28 in the STPR but has not progressed. This would help alleviate congestion on the main line through Kirkcaldy.
The idea of extending this new Inverkeithing to Halbeath line by reinstating the former line from Cowdenbeath to Bridge of Earn was formally launched by Transform Scotland on 3 March 2014 as part of their InterCity Express strategy. It would provide dramatic time savings of 30 minutes between Edinburgh and Perth and much increased line capacity at a time of Climate Emergency. It would also help to extend the "HS2 effect" further north for more Scots to benefit. A survey of the route needs to be commissioned now as a first stage.
Political responses
We have been told several times that railways must at least compete with roads.
As you will see elsewhere in this issue. Parliamentary Answer S5W-27450 dated 5 March, referring to the £57m spent on the HML, claims that "This investment has also delivered a ten minute journey time saving between Inverness and the Central Belt". This is not true.
Since 2011/12 average journey times have increased by 3 minutes between Inverness and Glasgow in both directions and by 6 minutes southbound and by four minutes northbound between Inverness and Edinburgh.
Some good news is coming, but is due more to a change in rolling stock than the long expected investment to increase line capacity. The long delayed introduction of the full squadron of refurbished Inter7City High Speed Trains did not happen as planned in December 2018 and is now expected in December 2020.
This will allow a new timetable to be introduced which is expected to shorten average journey times from Inverness southbound to
Edinburgh 204½ minutes (saving 5½ minutes) and to Glasgow 188½ minutes (saving 13½ minutes).
But northbound there is expected to be a small increase from the Central Belt to Inverness of
One minute from Edinburgh (average 205 minutes) and two minutes from Glasgow (average 197 minutes).
205 minutes is an average journey time of 3 hours 25 minutes.
Quart into pint pot
This has clearly demonstrated the extreme difficulty that has been experienced in fitting more trains into the schedules on a long, largely single track "main line" [so called]. The train planners are to be congratulated in doing a Herculean job to achieve even these savings.
It should be obvious to all that substantial extra capacity, provided by a mix of double tracking, dynamic loops and perhaps some extra static loops, is urgently required. A two tier railway experience is developing in Scotland with the north falling behind. Some of the Prime Minister's "levelling up for the North" is needed in the north of Scotland too.
Worryingly, the "Phase Two" target for the HML for 2019 was way short of half of what was required to achieve (now by 2025) the objective of a 3 hour average time between the Central Belt and Inverness and yet it has used up more than half of the 13 years available to reach that objective! We certainly need some dynamism and determination to crack on to reach the declared goal of a railway fit for purpose which is able to compete with the roads on journey times.
Add to this the now declared Climate Emergency, and the environmental imperative to encourage passengers and freight on to the railway is compelling. With the major works currently going on to dual the parallel A9 road, improving the railway is really urgent to prevent reverse modal shift and to fulfil the former First Minister's 2008 statement that "railways should be able to compete with roads". The Scottish Government mentioned modal shift away from rail in its own document, A9 Dualling, Case for Investment, Main Report 2016, although it is contrary to its declared policy.
Pain before gain
How to achieve this? The declared political goals have been the three hour average journey times north to Inverness with headline fastest trains taking 2 hours 45 minutes; and an aspiration to electrify the routes between all seven Scottish cities by 2030 (now 2035?). By definition, that should include the line between Aberdeen and Inverness but this sometimes seems to be forgotten.
Decarbonisation of rail transport by 2035 is a new aim prompted by the Climate Emergency. This implies electrification for much of the network (even as far north as Tain) but leaving deeply rural lines to be served by hydrogen or battery power solutions yet to be created.
The Climate Emergency underlines yet again the need to switch a good deal of freight from road to rail where this is possible. The pitted state of the road surface of much of the A9 due to all the lorries, and the narrow nature of the A95 for lorries serving the whisky kingdom of Moray, underlines the urgency of this.
To do this we need to have sufficient paths for freight trains on the HML and on the A2I. At present there are none between Aberdeen and Inverness! The Scottish Freight Joint Board [Railfreight Scotland and Network Rail] Industry Growth Plan for Rail Freight 2019 is calling for more paths on both these lines. You cannot move the whisky and timber related traffic to and from Moray without train paths. Again it is all down to capacity and, in the case of freight, sufficient loading gauge for modern containers too.
A very important criterion for rail freight is the prevention of line blockages. The freight must get through every day especially if it contains perishables. Diversionary routes are thin on the ground in the north, but the A2I line is the link for when either the HML or the Dundee to Aberdeen line is blocked. There have to be paths for diversions too, including for the Caledonian Sleeper.
Double tracking, for example, one of the two longest sections of the HML, the 13 miles between Dunkeld and Pitlochry with a 5 minute headway of trains would in theory allow a total of 24 trains per hour, 12 in each direction. At present we are lucky to get four trains an hour through these single line bottlenecks. Other factors such as line speeds and gradients also come into play, of course.
What has to be decided is where to double throughout, where to introduce dynamic loops or in rare cases where to rely on static loops and single track (Killecrankie Tunnel perhaps?). It then has to be decided when to do the work, as a forerunner to when to put in the electrification. Much of this disruptive work should be done before the new flows of freight traffic are obtained and introduced.
The Systra study of the route for HITRANS was published in February and is available in full on our website at www.fofnl.org.uk/archives/Highland-Mainline-Unfazed.pdf. It details the lack of progress with speeding up the trains and suggests a Task Force be formed to take advantage of new possibilities such as early electrification driven by the new decarbonisation timetable.
Call to urgent action
From the point of view of the climate emergency, decarbonisation, and modal shift of freight from road to rail, it is essential that the outstanding HML work is now urgently prioritised.
The optimum specification is to produce an electrified double track main line from Perth to Inverness to secure more efficient and significantly faster journey times and considerably increased freight capacity. This should have been done before the A9 dualling is completed, but too much time has now been lost.
To have a modern double track HML railway, not subject to shortage-of-capacity delays at times of perturbation, will also be a great benefit to punctuality on the busy lines into Edinburgh and Glasgow.
In the spirit of Kerslake (see page 6) let us "level up" investment between the Scottish regions and Let us get the HML and A2I lines done!
It won't be achieved by 31 December 2020 but how about 2025 as promised for the track and 2030 for the electrification? ...STPR2 - please?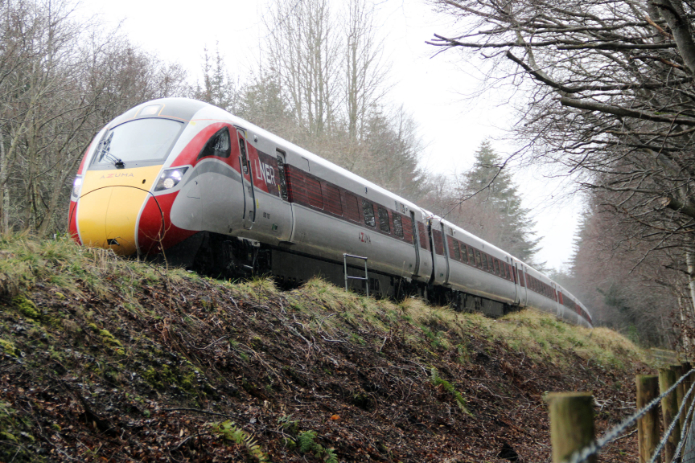 Photo: Sandy Colley