'Tain't Arf Confusing At Inverness . . .
A source of confusion at Inverness is two Tain Trains in the station at the same time on Friday and Saturday evenings at 9 p.m. Both have engines running and doors open. One is visible and is due to leave at 23:30, the other is invisible and leaves from Platform 7 at 21:09. On Friday 2 September a FoFNL Committee member watched a lady run from the just-arrived train from Edinburgh at 21:03 to catch the 23.30! An announcement on the arriving Edinburgh train might have helped.
About to travel north at Muir of Ord a few days later, the same FoFNL member had to inform an out-of-breath elderly would-be passenger that this was a Tain Train and not one for Inverness as he had assumed. Why not switch the running directions back to the conventional left-hand platform in the direction of travel, now that the sidings are not used and shunting is a distant memory? How much would it cost to fix the points the other way?
. . . But Better Directions At Tain
Following a suggestion from the Friends of the Far North Line, First ScotRail and HITRANS have altered the platform directions sign at Tain to reflect the increased number of trains actually beginning their journey at this popular Easter Ross station.
Trains from Inverness arrive at Platform 2 and do not shunt to Platform 1 before the return journey. There have been many instances of passengers waiting on the wrong platform and having to go back over the bridge for their train; this was a particular problem with visitors and their luggage on the 11:10 train on Sundays.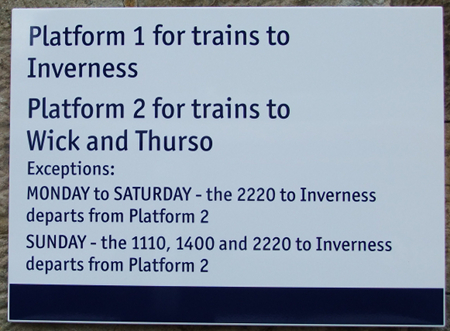 The electronic Passenger Information System displays are still under test. The picture shows train departures for Sunday 11th September but does NOT show the 14:00 to Inverness. The system is actually displaying arrival times of trains instead of departure times. As the 14:00 starts from Tain, the train does not show on the screen. This problem should be rectified shortly.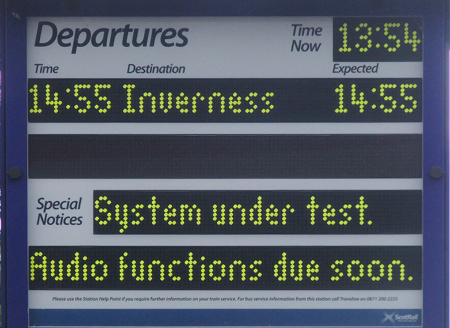 Photos: Bob Barnes-Wallis