Dual tracks!
Scottish Chambers of Commerce strong plea to Government
Scottish Chambers of Commerce press release
19 April 2016
A CONNECTED ECONOMY IS A SUCCESSFUL ECONOMY

Scottish Chambers of Commerce (SCC)'s Sustaining Growth, Supporting Business campaign sets out the key priorities for Scotland's businesses over the next five years. It forms the foundation of SCC's engagement with the next Scottish Government and the calls to action will help Scotland's businesses to compete and deliver growth in our economy.
A connected economy is a successful economy and Scotland requires better connectivity internationally, between our cities and across our city region and rural areas. Whilst transport connectivity remains vital, fast and effective digital connectivity is now an essential prerequisite for economic growth.
Liz Cameron, Chief Executive of Scottish Chambers of Commerce, said:
"Connectivity has driven rapid economic development and growth since the time of the industrial revolution. Canals, railways, roads and air travel have all played crucial roles in Scotland's economic success and as our economy evolves in a global market, we will increasingly look towards digital connectivity at the essential currency of the 21st century."
"Scotland has a target of achieving 95% availability of superfast broadband by 2018. We must go beyond this and aim for 100% coverage. Not only that, but the broadband speeds that businesses and residential customers actually experience must be world leading and reliable. Our goal must be to deliver an always connected Scottish economy, with universal and seamless superfast and mobile broadband coverage right across Scotland. This will break down barriers to trade and ensure that visitors to Scotland experience a truly world class digital experience."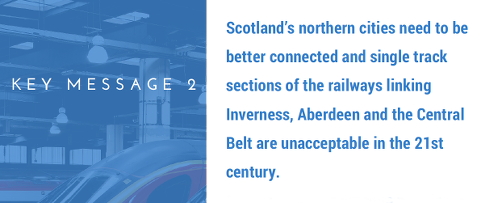 "We must also look to deliver transport improvements within Scotland by creating dual track railways between all of Scotland's cities and investing in a planned programme of road maintenance to ensure that the deterioration in our road network is reversed."