The North's Worst Winter
for 25 Years (1955)
FoFNL member and Convener of Transform Scotland's Policy Forum, Paul Tetlaw, found this article in a 1955 copy of Trains Illustrated magazine - the forerunner of Modern Railways, whose current editor will be speaking to us at our AGM & Conference.
Our railway is famous for its regular tussles with snow, and even made international news in 1978 when around 70 passengers had to be rescued from a stranded train by helicopter! See photo from Steve Morris Collection at foot of article.
We couldn't find a photo of the events described, but there is a wonderful British Transport Film documentary made on February 24th the same year in the North of England called Snowdrift at Bleath Gill. The first two photos below are stills from that film and there is a link to it on this issue's companion web page.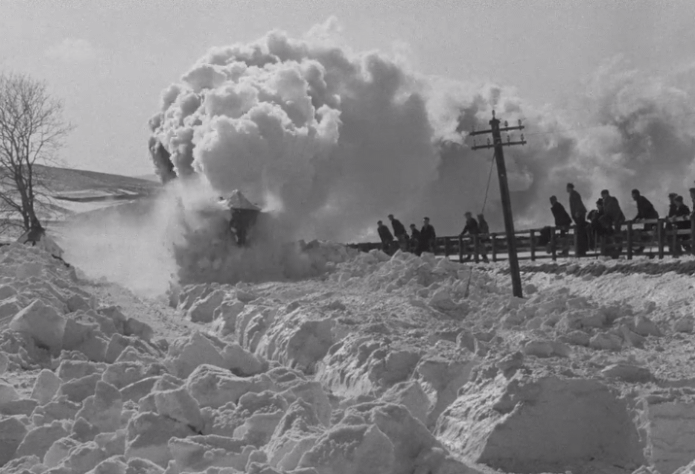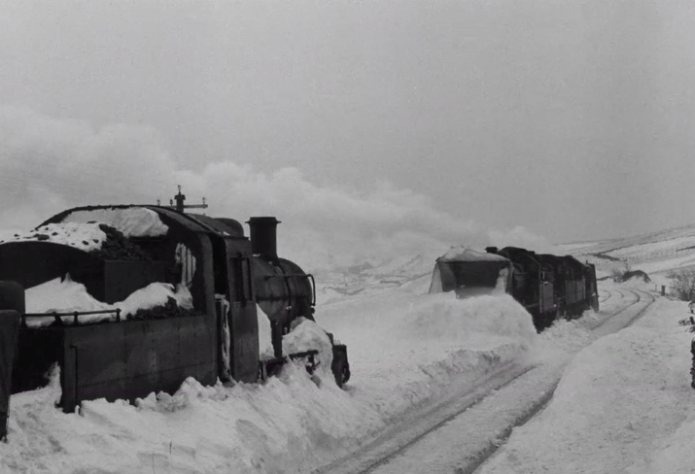 The bitter weather of last January and February played havoc with train services on some of the more exposed sections of British Railways. In Caithness and Sutherland, especially, the blizzard of Wednesday, January 12, produced the worst conditions experienced in that district for 25 years. Winds of 60 m.p.h. and more drove the snow into great drifts, notably on the line from Helmsdale to Wick and Thurso; this rises to a height of 700 ft. above sea level on the Caithness moors.
A shuttle service of snow ploughs was maintained between Helmsdale and Wick during the worst period, but despite this the 3.40 p.m. passenger train from Wick to Inverness on January 12 stuck in a deep drift at Bower station. A relief train from Wick with permanent way staff eventually managed to reach a spot half a mile from the stranded train, from which point the staff proceeded on foot with food for the snowbound passengers and crew. By this time the snowdrifts at Bower station had reached a depth of 25 ft. Two other passenger trains, one at Georgemas and one at Altnabreac, had also become firmly wedged in deep drifts, and 50 passengers were now stranded.
By late afternoon on Thursday, January 13, all three trains had been freed from the drifts and the passengers were all at Georgemas. The Engineer's Department dormitory coach there had become the "Station Hotel" and some 50 passengers and 50 members of the railway staff dined in relays. Contact was again restored by rail between Georgemas and Wick early on Friday, January 14, and between Georgemas and Thurso by noon that day. During the clearing operations considerable saving in time taken to clear points was achieved by the use of flame guns.
During the night of February 16/17 snowstorm conditions returned with renewed fury to the North-East of Scotland, and from all reports it was the worst in living memory. On the morning of February 17 several trains were brought to a stand in deep snow - the 1.55 a.m. Inverness to Perth freight train at Slochd; the 3.20 a.m. Inverness to Perth freight at Tomatin; the 5.15 a.m. Inverness to Wick freight, north of Lairg; and a snowplough from Wick was deeply embedded 1½ miles north of Georgemas. The Helmsdale snowplough, which left Helmsdale at 5.42 p.m. on the 17th, passed Forsinard at 7.42 p.m. and nothing more was heard of it until it was located 2½ miles north of Forsinard by a member of the staff who had walked out to find it, taking 4 hours over the 2½ miles there and back. The 3.10 p.m. passenger train from Inverness to Tain, carrying 42 passengers, became stuck at Alness and the passengers were accommodated in the station buildings overnight. After the line had been cleared the passengers went forward to Tain at 10.35 a.m. on the 18th.
A special train with permanent way staff which left Inverness about 10.0 p.m. on the 17th managed to free the stranded 5.15 a.m. freight from Inverness, by 7.0 p.m. on the 18th. The Engineers' train then went forward to Helmsdale, where it arrived at 10.0 p.m., having ploughed through drifts up to 12 feet high between Lairg and Helmsdale. On Saturday, February 19, this special train returned to Inverness, clearing stations and loop lines on the way. A second special train with permanent way men from Inverness which reached Helmsdale on Friday night attacked the route between Helmsdale and Georgemas on Saturday morning and, having ploughed through deep drifts up to 500 yards long, reached Forsinard at 2.0 p.m. North of Forsinard the first snowplough ran into a deep drift 120 yards long, and by the time it was released no further progress could be made on Saturday.
The nine-mile stretch of line between Altnabreac and Scotscalder was the only length still to be cleared on Sunday morning and some 200 men were concentrated with snowploughs to the north and south of the area. The break-through was made at 2.30 p.m. on Sunday, February 20, and after further ploughing between these points, the whole line between Perth and Wick and Thurso was again open.