Book Review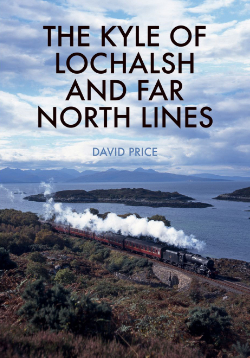 The Kyle of Lochalsh and Far North Lines
David Price, Amberley Publishing, 2018
ISBN 978-1-4456-8304-1
Softback: 96pp, 234x165mm, 180 photos. £14.99
Both for those familiar with the Far North and Kyle lines, and those yet to be amazed, this book is a wonderful photographic introduction to the beauty to be found, as well as showing a great variety of trains and motive power from 1973 to 2017, both native to the lines and visiting on tour.
David Price first became interested in the railways north and west of Inverness when watching a 1963 TV programme covering the visits made by the preserved Highland Railway 'Jones Goods' 4-6-0 (currently to be found in the Riverside Museum in Glasgow).
When the railways were threatened with closure in the early 1970s the author began to travel the lines with his camera. He made many subsequent visits and recorded both routes in different seasons. The changes in the railway environment over the years are very apparent, as is the unchanging beauty of the scenery, no matter which time of year.
Apart from a short introduction and background note, every page contains two high-quality photographs. The reader is taken from Inverness all the way to Thurso in the first part of the book, with 44 pages of Far North Line photos. Beginning again at Dingwall, where the Kyle Line heads east, we travel to Kyle of Lochalsh where photos from 1973 through to 2016 show the changes that have taken place.
I thoroughly recommend The Kyle of Lochalsh and Far North Lines which was published nearly five years ago, but is still available (currently at a reduced price) from the publisher's website.
Ian Budd