Alliance News
WiFi

Dingwall has been added to the list of Scottish stations providing free WiFi. In a press release on 30 June Communications Director Rob Shorthouse, said: "We're building the best railway that Scotland has ever had. This means more seats, more service and faster journeys. It also means giving our customers the best experience possible. WiFi is very much a part of that.
"We've had WiFi on trains for some time now, helping people stay in touch and do work on the move. But we know that journeys start well before you board the train, which is why we're rolling out these hotspots to key stations."
Level Crossing Safety - Phones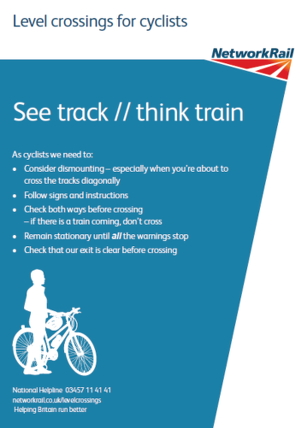 In a press release on 14 July the ScotRail Alliance announced it is rolling out a new system at high-risk level crossings that uses mobile phone signals to warn people to stay aware.
Geo-fencing technology is being introduced at eight Scottish crossings, including Dingwall, to help tackle the issue of distraction at level crossings. The system will be used to send alerts to mobile phones, near the targeted level crossing, warning the user to put their phone away before crossing the line. The new technology is being rolled out as figures from Network Rail show that young people are more likely to have a near miss at a level crossing during the summer and are more likely to be distracted when crossing.
Data reveals that 70% of near misses are due to distraction. 29% of young adults admit to using their mobile phone while crossing the railway.
Level Crossing Safety - Cyclists
Network Rail has produced a leaflet for cyclists using level crossings. It lays out the obvious, and not so obvious, dangers that exist, is well-produced and very clear about what can happen. We have placed a copy on our website - it's well worth a look.