Book Review
Trust Me, I'm Your Tour Manager! by Frank Faulkner
London: Austin Macauley Publishers, 2014. 113pp. £5.99. ISBN 978 14963 617 9.
Inverness to Kyle via the Carriage Washer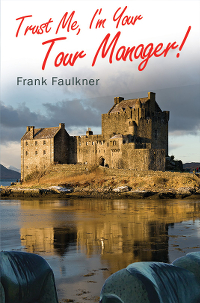 FoFNL member Frank Faulkner has written an entertaining short book about his experiences as a tour manager on trains and buses in Scotland and elsewhere over more than 20 years.
One incident relevant to single track railways was while waiting for the first train of the day from Rosslare Town when a railwayman ran all the way from the signal box to tell the party that the train was delayed due to a "communication failure." Running back to the box, he pulled off to admit another train. It had to get out of the way first because their train had been parked BEHIND it, it being the second train due out of a single track siding!
And the carriage washer? We are led to understand that this was incorporated into the scenic route from Inverness to Kyle to clean up a train which was totally plastered with some of the finer contents of a recently ploughed field. I mustn't reveal any more. Read and enjoy!