Fair Fares for Scotland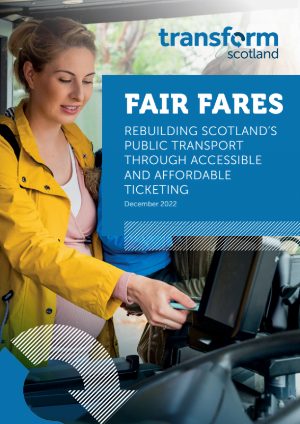 A new report published on 12 December 2022 calls for decisive action to transform the fortunes of Scotland's public transport sector. The report finds that public transport can be complicated, expensive and often fails to sufficiently address accessibility concerns. The report concludes that Scotland should adopt European-style integrated ticketing to ensure public transport is simple, affordable, accessible and reliable.
The Transform Scotland report 'Fair Fares' seeks to inform the Scottish Government's ongoing 'Fair Fares Review'. The report reviews the cost of public vs private transport and the performance of concessionary schemes, sets out funding options, and considers transport poverty and barriers to accessibility. The report finds that the Government's Review must prioritise affordable fares, innovative funding, accessible mobility, and integrated ticketing.
The report was also published a week before the Government's Scottish Budget was presented to Parliament on 15 December, where we would have expected to see financial provision made for the affordable ticketing trials that the Scottish transport minister has promised.
Transform's report is available here.
Transform Scotland director Colin Howden said:
"We need to make public transport vastly more attractive to many more people. We need this not only to tackle the climate crisis but also to make public transport financially viable for both passengers and taxpayers. To do this, it's critical that we drive up public transport patronage through affordable fares. Failing this, we can only see a spiral of decline for public transport services.
"Prior to the pandemic, we were facing a long-run decline in bus patronage and a failing ScotRail franchise. The public transport sector is now also having to navigate the impact of the pandemic on travel patterns and reductions in commuter travel as well as industrial disputes and driver shortages. Meanwhile, the cost-of-living crisis has made public transport less affordable, especially to those on lower incomes.
"So it's clear that Scotland must take urgent action to make public transport affordable. When facing similar concerns, Austria introduced a 'Climate Ticket', delivering simple and affordable public transport nationwide. This summer, in a matter of weeks, Germany introduced its '9-Euro-Ticket' as a response to the mounting energy crisis. But we've yet to see any decisive action along these lines in the UK for public transport users, only Westminster's fuel duty cut for car users. It is now time for Scotland to emulate these European examples, and build a climate-friendly transport network which is fair on household budgets."
The report's key proposal of a simple and affordable 'Fair Fares Card' emulates the Austrian '1-2-3' ticketing system (€1/day locally, €2/day regionally, €3/day nationwide) and allows multi-modal journeys to be made using one ticket at a fixed annual price. By comparison, while Glasgow's SPT ZoneCard holds similarities to the Viennese €365 annual ticket, offering multi-modal mobility for a fixed price, the price ranges between £815 and £2,929 - up to eight times the price of the Austrian version.
Meanwhile, following Germany's successful summer trial of its 9-Euro-Ticket, which offered travel on all local and regional public transport for €9/month, on 1 April 2023 the country is introducing a permanent nationwide 'Deutschlandticket' offering travel on all local and regional public transport services across Germany for €49/month (or €588 per annum).
In full, the report's recommendations are:
1. AFFORDABLE FARES
Implement a fare structure which ensures that the cost of public transport is equal to, or cheaper than, the cost of driving. Scotland's Road Equivalent Tariff for the Western Isles proves the feasibility of such a model. This approach must be expanded nationwide to remove the high-cost barriers to modal shift, reduce transport poverty and ensure low-income households can escape 'forced car ownership'.
2. INNOVATIVE FUNDING
Ringfence the revenue from traffic demand management measures (e.g. road pricing & parking levies) to improvements and subsidies for local public transport services, following the international examples outlined in section 6 of this report.
3. ACCESSIBLE MOBILITY
Prioritise tackling long standing inequalities and improving social inclusion by:
Integrating disabled travel schemes into mainstream booking systems to reduce barriers to access.
Working with local authorities to simplify travel information, scheme application, and eliminate the 'postcode lottery' of barriers to travel for disabled people.
Reimplementing flexible and affordable TaxiCard schemes, in recognition of the fact that taxis remain an essential, but increasingly unaffordable, lifeline for many people.
4. INTEGRATED TICKETING
Introduce a national flat fare public transport 'Fair Fares Card', emulating the Austrian 'Klimaticket' and the German 'Deutschlandticket', providing a transformational boost to public transport usage, reversing the damage caused by the pandemic and bringing affordable fares to everyone in Scotland. This will provide an attractive and easy-to-use public transport system which has: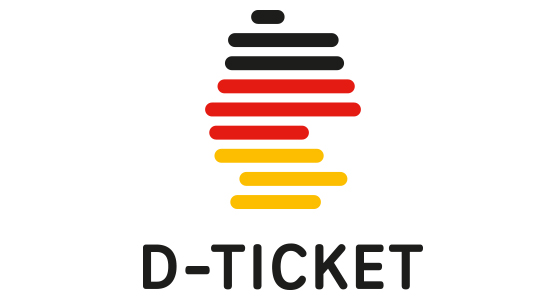 Multimodal integration, such that multi-modal journeys can be made using one ticket.
Standardised pricing, so that the cost of public transport is equal across Scotland and regional inconsistencies are eliminated.
Local, regional and national ticketing offers, emulating the Austrian '1-2-3' ticketing system (€1/day locally, €2/day regionally, €3/day nationwide).
Affordability: While the scheme is still under preparation, news reports suggest that the total cost of the Deutschlandticket will be around €3bn per annum, which, all other things being equal, on a per capita basis would amount to around £0.17bn (£170m) per annum in Scotland. This is a sizeable, but far from overwhelming, share of Transport Scotland's £3.1bn annual budget; modest compared to the £1.6bn it spends annually on rail services; and a small fraction of the £7bn that the transport agency plans to spend on new traffic-generating roads schemes.
Any ticket of this type would be expected to generate significant additional levels of public transport use, generating new farebox income, and diminishing the annual cost of such schemes over time.