Alness Station Clean Up
To help Alness in Bloom with their annual tidy up, Mr. Ian MacDonald, member of FoFNL, managed to arrange for volunteers to have 4 hours access to the track at Alness Station.
Mr. John Day, of Railtrack's Signalling Division very kindly came along with safety vests and worked as hard as any of the dozen or so volunteers who turned up. To date 40 black bin bags have been filled with cans, bottles and wrappings and work continues around the station area.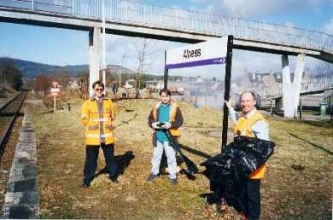 A reporter and photographer recorded the day's events which were published but unfortunately the reporting was inaccurate. However, the overall impression was given of a community working to enhance the rail travel experience and attract more customers to make more use of the commuter train and the new winter Sunday trains. As with most of the stations on the line there are very useful free park and ride facilities.
Following its successes in the competition, Alness is hosting the 'Beautiful Scotland in Bloom' competition this year and it is hoped that many delegates will come by train.