Chiltern Railways: The Inside Story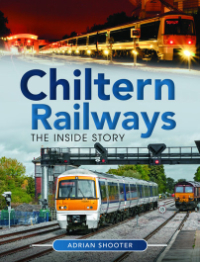 Adrian Shooter, Pen & Sword Transport, February 2022
ISBN: 9781526792495 Hardback: 192pp. £30.00
As a child in the 50s and 60s my local railway line was what is now known as the Chiltern Line. I lived on the very edge of Greater London and watched with excitement as trains rushed past, scooping up water from the Denham water troughs on their way from Birmingham and Birkenhead, or even Sheffield.
This was an interesting railway from the point of view of watching trains. From opening in 1905 to 1948 it was known as the Great Western & Great Central Joint Railway, as could be seen on the warning sign about trespassing, near where I used to balance with my feet on the uncomfortable wire fence [see picture]. By then the line was part of the BR London Midland Region, so the only Big Four companies' steam locomotives which you never saw were Southern Railway.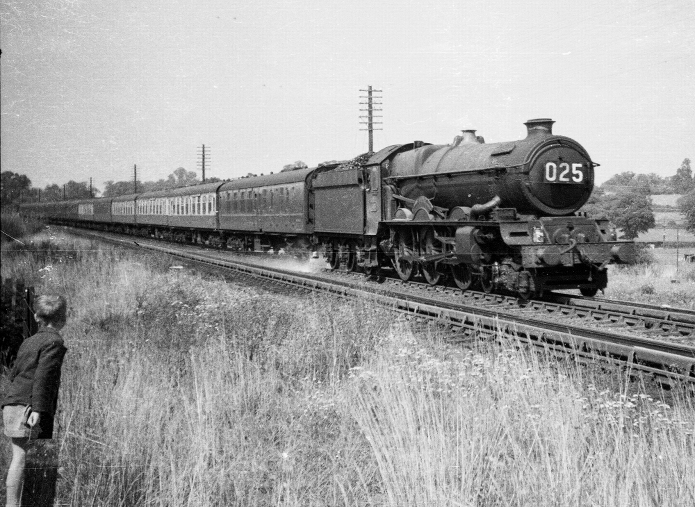 By the time I was a teenager the line had been drastically reduced in importance but was still my quickest route to central London - 20 mins to Marylebone (my favourite London terminus) as opposed to around 40 by Metropolitan Line underground, or Central Line tube. I bought a BR UK timetable and started to imagine a new use for my local railway; the track was still there for trains to run from Birmingham to Marylebone, although of course they never had, since the GWR trains from there had run into Paddington.
I looked up all the timings in my BR all lines timetable book and spent a huge amount of time constructing a timetable to provide such a service. I don't know what I thought I was going to do with it!
I went on to begin a career in orchestral playing and gave it no further thought, but during the 1980s things began to change on that railway. Chris Green, fresh from his time at ScotRail, was in charge of Network Southeast and one of his first actions was to prevent the conversion of Marylebone Station into a bus station and its railway into a bus tunnel. At around the same time a rail user group began to agitate for better services on their Birmingham to London via Banbury corridor and in May 1993 BR began the first Marylebone to Birmingham service.
The ground was laid for the establishment of the Chiltern Railways franchise which was won by a consortium led by Adrian Shooter, who had been a BR employee since 1970.
Having been aware of Shooter's work via articles in Modern Railways over the years, and then having met him briefly at Bo'ness during his Vivarail battery train demonstration I bought Chiltern Railways: The Inside Story as soon as I heard about it, to find out what had happened to my local line since I'd moved to Scotland in 1976.
This inspirational book is the story of how Adrian Shooter and his dedicated team of railwaymen (N.B. gender-neutral term) ran what was arguably the most successful, and definitely the longest held, franchise under UK rail privatisation. I would go as far as to say that the book should be required reading for anyone involved in the running of railways.
Adrian Shooter comes across not just as a 'can do' character, but a 'will do', and of course 'did do'. Starting from the foundations laid by Chris Green, who had overseen the Total Route Modernisation of the line, Shooter took on the task of creating an excellent railway.
To him running a railway had simple requirements: "Keep them safe, run the trains on time, delight your customers. Remember those things when others try to make everything complicated." Chiltern Railways, like most companies, had a mission statement. However, theirs was not to impress the public but to inspire the staff and was only visible behind the scenes. It read:
To be the best Passenger Railway in the UK.
All day, every day, we aim to offer a safe, reliable, welcoming and value for money service to others.
The key to putting this into effect was to involve staff and passengers in decisions whenever possible, both to explain and to consult. For example, when specifying new trains a large group of passengers was invited to test proposed seats for comfort, the result was a 50/50 split between two strong preferences. Both kinds of seat were therefore used in separate areas of the trains and passengers got used to knowing where 'their' best seats were!
Some large infrastructure projects were required and it soon became apparent that Railtrack was sometimes guilty of greatly inflated charges. Chiltern Railways needed to build a brand new station to be known as Warwick Parkway. After a two-year wait Railtrack eventually came up with a price of £13.4m. This seemed ridiculous so instead they arranged to have it built, with the help of John Laing plc, a major Chiltern shareholder, for a total cost of £5.4m. The station opened in 2000. Apparently Railtrack hadn't been interested in building small stations.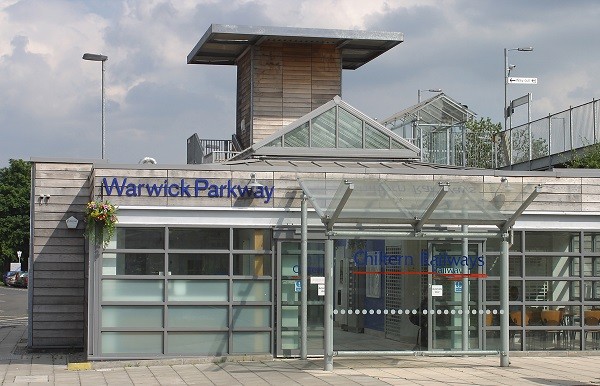 When Chiltern took over operation of the line there was a 28 mile section of single track, dating from BR retrenchment in the 1980s. Chiltern could only afford to have 18 miles redoubled initially, at a cost from Railtrack of £27m. A few years after completion it was decided that the remaining 9 miles should also be redoubled. Railtrack offered to do this for £180m. The difference came as a shock, so Adrian Shooter requested that he spend a day questioning ten of the Railtrack managers about exactly how they had come up with a figure of £180m. Using his knowledge as a railway engineer Shooter managed to get a reduced offer of £53m by the end of the day!
As railway industry observers we can't help wondering whether artificially inflated, or automatically generated, infrastructure costs are still inhibiting investment.
There are many observations in this book which are totally relevant to the Far North Line and railways in Scotland in general. Although a strong supporter of rail privatisation, Adrian Shooter does not believe it was carried out sensibly in the UK. The privatised systems which he thinks work well, such as in Japan, divided the national rail operations into vertically integrated entities, and he operated Chiltern Railways as closely to that model as he could get. ScotRail, in spite of being taken back into public ownership, still does not have full vertical integration. The separation of running trains and developing and maintaining infrastructure brings unnecessary difficulties. The ScotRail Alliance or "Scotland's Railway" is an effort to overcome this. And we should be optimistic because as Shooter says, "Contractual structures are not the be all and end all...people and guiding philosophies are much more important."
The book mentions many ideas put into effect by Chiltern Railways which could be put to good use on the FNL. For example a 'Taxibus' service was set up, similar to Demand Responsive Transport (DRT) now being considered around the UK, and Chiltern season ticket holders using Smartcards also have free travel on certain bus routes.
Soon after having successfully bid for Chiltern Railways, the Thames franchise became available. Adrian Shooter's comments on the state of that system illustrate his approach to running a railway properly: "Thames...was internally, as opposed to customer, focused and did not use its trains productively", he also found scruffy stations and terrible car parks. None of these features would 'delight passengers'!
In the final chapter of the book Shooter reflects on privatisation: "[It] happened at all because of political dogma in part of the Conservative Party. As a lifelong member of that party I have no hesitation in saying that, for the most part, those who advocated privatisation had thought no further than 'public sector bad, private sector good.'" Looking at the new situation in Scotland one has to hope that the reverse was not the only motivation. Interestingly, the benefits of public ownership currently felt by ScotRail managers - a chance to plan in the longer term and an opportunity to include staff in the planning and operational decision processes, are the same as those which inspired Adrian Shooter to aim for (and get) a 20-year franchise for Chiltern Railways.
Clearly, in terms of population, usage and geography, the Far North Line is far removed from the Chiltern Line. However, just because FNL residents live in a comparatively underpopulated area, they shouldn't be any less entitled to an excellent service.