Wick Man Keeping Far North Trains On-Track
Wick Engineer Appointment - Press Release from ScotRail Alliance - 7 November 2016
Rail travellers on the Far North Line will now benefit from the expertise of engineer John Sutherland who's responsible for inspecting and maintaining the trains around Caithness.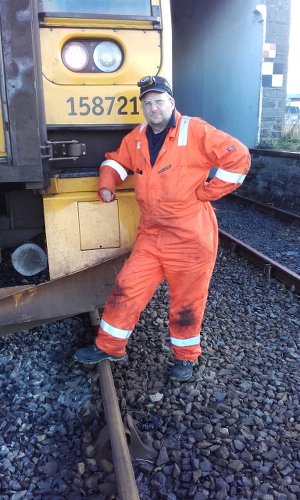 John is the ScotRail Alliance's first train engineer to be based in Wick and he'll diagnose and repair faults on the fleet, as well as acting in a first-responder role to deal with any issues in the wider Caithness area. As an A1 grade engineer, who previously worked at Dounreay, John has completed the eight-week railway engineer's competency course, providing him with specialist train knowledge.
Looking ahead to his first winter on the rails, John said: "I'm delighted to be taking up this role and look forward to playing my part in keeping rail services running on the Far North Line. Checking and maintaining our trains before they depart on their journeys is vital as we're providing an essential service for local people, visitors and tourists."
Investment in the Far North Line is budgeted at £42m for the period from 2014-19 and John's appointment is part of that spend, as the ScotRail Alliance focuses on providing a robust rail service to customers travelling between Inverness and Wick. Track infrastructure, the train fleet and signalling are all set to be improved before 2019.
ScotRail Alliance Engineering Director Angus Thom said: "Having a highly skilled engineer based in Wick means we're spending more time maintaining our fleet and the trains start the day after an inspection by John."
"His input is important to keeping the trains running and also for spotting longer-term maintenance needs, which can then be scheduled at our depot in Inverness."
Also pleased with this appointment is Trudy Morris, Chair of the Caithness Transport Forum. Welcoming local-man John's employment on the railway, she said: "We were delighted to hear at our last meeting that the ScotRail Alliance is taking meaningful steps to invest in the Far North Line, including employing a dedicated engineer in the area. This appointment will make a real difference to maintenance of the fleet in Wick, and we are pleased to see the ScotRail Alliance providing skilled employment in the local area."
"We congratulate John on his new role, and look forward to hearing more good news from the ScotRail Alliance over the coming year."