A Railway Too Far
I have always been intrigued by the former railway line between Wick and Lybster. Pre-war maps of Caithness suggest a branch line to nowhere or a forlorn attempt to defy geography by finding a direct route south from Wick to Helmsdale and on to Inverness.
The line was, however, promoted during the last years of the 19th century based on both local passenger and freight potential. The catchment area from Wick to Dunbeath had a population of around 8,500, far higher than today, and it was envisaged that locals would not only travel into Wick but would "feed" the main line south to Inverness, Edinburgh and even England! Sheep, cattle and fish would be carried for the crofter/fishermen and the new line would stimulate further production and increase prices.
The project was helped by the new Light Railways Act of 1896, which allowed a reduced specification and capital cost, government grant, and local subscription - mainly by Caithness County Council and the Duke of Portland. The line opened on 1st July 1903 and operated for only 41 years, closing on 1st April 1944. Throughout most of its existence there were three trains per day, with intermediate stations at Thrumster, Ulbster, Mid Clyth and Occumster.
Late 20th century Ordnance Survey maps still showed significant stretches of the 13 mile trackbed and, on a glorious September day in 1999, I caught the local bus from Wick to Lybster with the intention of walking the line northwards. As the sole passenger I had plenty of time to explain my plans to the driver who quite clearly thought I was barking mad and cast severe doubt on my ability to follow the route. Nevertheless, he bid me good luck when I alighted at Lybster, albeit with a mischievous chuckle.
To be fair, he had a point. The local golf club was easily recognisable as Lybster station and, at first, there were good stretches of decent walking. However, as the walk progressed, there were numerous fences and gates to cross and enforced detours due to overgrowth (mainly gorse) and waterlogging. In some places the line had given way completely to agricultural reclamation. As I surveyed a stretch of line beside a cottage at Occumster a man flung open the back door and demanded to know what I was doing skulking around his house. A degree of diplomacy was required to get me off the hook!
By taking the precaution of seeking permission before crossing land, I met several friendly farmers and local people. An elderly gentleman at West Clyth confirmed why the line failed to survive. The internal combustion engine was already making its mark in the 1920s and 1930s with lorries, for example, able to carry fish directly from Lybster harbour to the Wick fish curers without the double handling at the two railway stations. And, as a result of falling freight rates after the end of the First World War, coasters became competitive for bulk loads and coal for Lybster, for example, started to arrive by sea. For passengers the train times were not always suitable and, in any case, houses were so scattered along and inland from the coastline that many folk were still faced with a lengthy walk home from the remote stations. The first attempts at organised bus services in the early 1920s were soon being reflected in reducing passenger numbers on the trains. One factor which did benefit the line was Wick's decision to close all its licensed premises from May 1921 which led to "specials" to Lybster for thirsty Wickers on Saturday evenings. The main beneficiaries were the watering holes of the Portland Arms, the Commercial and the Bayview (run by the famous Maggie Donn), all of which still operate today. Unfortunately, one evening's additional income was of marginal benefit to the railway but evidently the return journeys to Wick after the bars closed at 9 pm were entertaining! The LMS did try to improve matters in 1936 by opening three intermediate wooden-constructed halts with hand-operated request signals at Welsh's Crossing (between Thrumster and Ulbster), Roster Road (between Mid Clyth and Occumster) and Parkside (between Occumster and Lybster) - but to no avail.
At Overton my path was blocked by an English crofter from Stafford who had survived 12 years in Caithness and it took me fully 30 minutes to persuade him to allow me to cross the trackbed on his land. Further north at Ulbster I met two Historic Scotland maintenance workers on lunch break completely oblivious to the railway history on which their van was parked. The platform at Ulbster remains clearly and, at this point, there is the option to explore the wonderful Whaligoe Steps cut out of the cliffs in the mid-18th century to allow the fish wives to carry their baskets of herring or white fish up from the landing point below. Reputedly made up of 365 steps, I have only counted 330, but that may be down to my poor arithmetic! Nonetheless they are well worth a visit. They were featured by Billy Connolly on his "World Tour of Scotland" and he was so impressed that he returned later on a private visit with his wife Pamela Stephenson.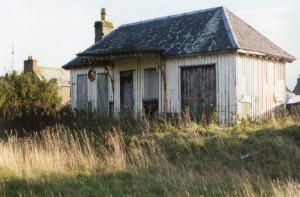 It was on to Thrumster where the station building (and clock mounting) survive adjacent to the main road. It has since been renovated. It was near here that I fell in with a group of light-hearted farmers who deliberately did not warn me about the electric fence ahead, much to their amusement when I climbed over it! They offered a theory that the engine which operated on the line originated in India and was nicknamed the "coffee pot". I formed the impression that they were talking from a position of rather dubious knowledge. They did, however, tell a great tale of the Lybster guard who, on a winter's day, spotted a brown hare in a snow-covered field from the passing train. Having collected his gun from home for the return journey, he instructed the driver to stop the train immediately on hearing a gunshot. The driver duly obliged and passengers were afforded the sight of the guard running through the snow to collect his prize. No penalties for unscheduled stops in those days!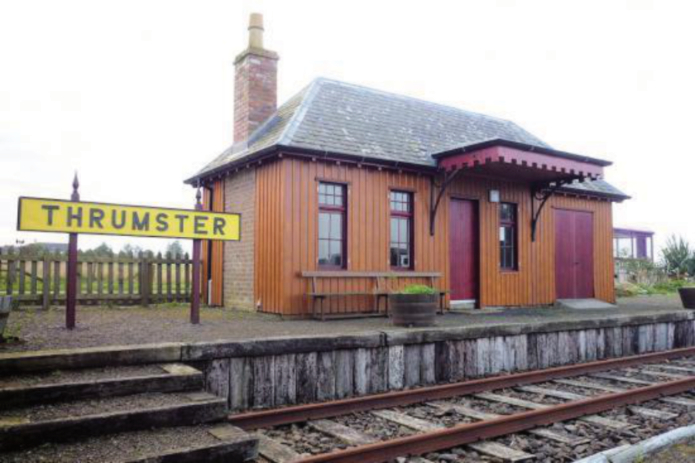 From Thrumster the walking became increasingly difficult and eventually impossible, but after seven hours, I arrived back in Wick. It had been a splendid trek through beautiful coastal countryside. The thought occurred that the old line could be developed for recreational purposes. And, with that thought, I headed for a well-earned pint in the famous Mackays Hotel.
David Fasken
Footnote: since undertaking that walk I have returned several times to Caithness. Mackays Hotel is very handy for the railway station and, on a couple of occasions, I have taken the first train to Altnabreac and walked over the Flow Country via Glutt Lodge to Braemore and Dunbeath. Intending to catch the bus back to Wick, on both occasions I was offered a lift by car, the first time by a lady who overheard me enquiring about bus times in Dunbeath Post Office; and the second time by two lads who had just come off Morven and were heading home to Thurso but routed via Wick to drop me off at the hotel door. This is a walk I recommend using the Far North Line, but I cannot guarantee the lift home at the Dunbeath end.
This article first appeared in the Summer 2001 edition of the Keith & Dufftown Express and some of the supporting information originates from Iain Sutherland's excellent publication The Wick and Lybster Light Railway.