Bob Barnes-Watts
As a tribute to Bob, rather than an obituary, we are reprinting a piece that John Yellowlees, FoFNL member and ScotRail Honorary Rail Ambassador, wrote in 2014, using Bob's own words, as background for a talk that Bob gave to the Chartered Institute of Logistics and Transport.
Bob's childhood ambitions were to get into railways and radio, and both gave him a heightened appreciation of the value of time.
As a clerk dealing with guards' journals at Paddington, he found himself writing to them with, among other things, answers to questions about connections.
At Penzance Station the lack of a winter bus connection to Mousehole led to him walking an attractive American girl there, and having thus walked into her life he married her.
They moved to the States where the lack of public transport in first Kansas City, Missouri and then North Carolina meant that he had to overcome his opposition to acquiring a driving licence.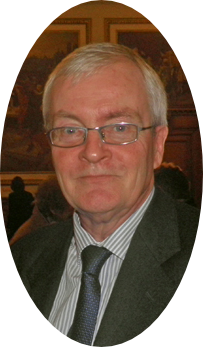 Next his walking took him into a radio station where he landed a plum job, but tired of the lack of public transport so moved to Chicago where he loved the Elevated Railway.
A return to England saw Bob working on a transport website which ironically had him revisiting the U.S reporting on conferences dealing with the burgeoning electronic travel information systems industry, but radio called him again, this time to a station in Exeter which was sold to AA Roadwatch. So he joined Wessex Trains, gained expertise in the Kadfire system of computerised timetable production and having met a new partner moved to be near her at Inverness. Bob was however no stranger to the Highlands, for his artist and headmistress parents' impecuniousness meant that each summer they rented out their home and went camping in the north of Scotland.
Thus he came to discover locations like the waiting room at Garve and the delights of the Travelpass which, using the Highlands and Islands Development Board's integrated timetable, enabled him to enjoy such experiences as what is now Scotland's last mainland postbus route linking Lairg with Tongue six times a week via the legendary Crask Inn.
Another postbus that has not survived was from Lairg to Lochinver on which he met an American determined to "go to Laxford Bridge and take in a show" because, being in large type, it was presumed to be a big town! The Travelpass started to lose its identity when routes began to drop out with bus deregulation in 1987, and it was left to writers like Peter White to try to fill the gap left by the demise of the HIDB timetable.
The Durness/Tongue/Thurso route that operates just once a month is critical to many Lands End - John o' Groats travellers, yet may prove elusive to anyone required to search online timetable systems by date of travel. Another curse of the modern traveller is the website not kept up to date, of which Visit Scotland's is an example, still claiming that Scotland has "lots of postbuses". Bus stops across Britain sport customer information screens that all too often are not maintained in real time so can carry advice that there are "no current departures, please refer to timetables". Mind you some passengers operators even find it hard to synchronise their clocks and watches, but the public's ability to read timetables is often underestimated. A comprehensive timetable from an organisation, perhaps Visit Scotland, is as much needed as an ability by Transport Scotland to act as an intermediary between different modes in the planning and holding of connections. Meanwhile Bob has enabled ScotRail to expand coverage of its Highland Connections leaflet so that its new edition coming out this spring will extend south to the, as far as he is concerned anyway, strategically important Rannoch/Kinloch Rannoch/Pitlochry bus link.