Forsinard Lookout Tower
The new Forsinard Lookout Tower was opened to the public in June 2016, along with a new 600m boardwalk. The tower was commissioned by The Peatlands Partnership - which includes The RSPB, Scottish Natural Heritage, The Forestry Commission (Scotland) and Highland Council and built as part of the Flows to the Future Project. It provides spectacular elevated views across the Dubh Lochan peat bogs pools from where you may be lucky enough to see skylark, meadow pipit, golden plover and possibly greenshank. Being in a Dark Sky area it is also an ideal place for star gazing.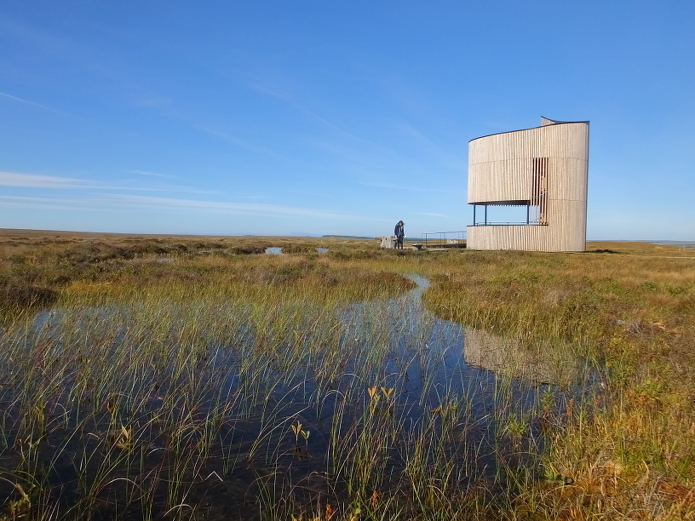 Paul Turner via RSPB
Much thought went into the design of the tower in terms of its impact on the landscape. The timber and steel structure has been constructed using locally sourced larch and Caithness stone. It is supported by 4m deep hollow piles, the use of which avoided extensive disruption to the peat. The construction materials were delivered by helicopter to minimise damage caused by large machines on the delicate bog surface.
Although the tower is part of the RSPB Forsinard Flows Reserve it is not so much a bird-watching tower as a place to view the whole environment.
The Tower is on the Dubh Lochan Trail which takes about 45 min to complete, starting from the Forsinard Visitor Centre in the old station building. Accommodation and refreshment is also available nearby at the Station Cottage Bed and Breakfast and Tea Rooms.