Station Usage Figures
These figures are April-March so the effects of Covid-19 travel advice and restrictions kicked in and affected the numbers. On the Far North Line several of the stations have such low footfall that percentages become misleading. Combine that with ORR's statement that "Some ticket sales and ticketless travel are not included, which may mean that usage at some stations is underestimated" and it is clear that we shouldn't draw too many specific conclusions from the data.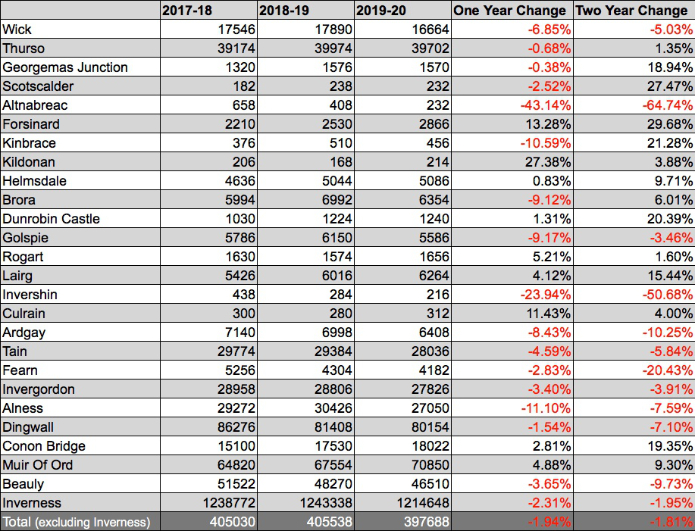 The Rosshire Journal reported the reaction of Kate Forbes MSP, Cabinet Secretary for Finance:
Growing commuter numbers may be helping drive rail passenger number increases at some Ross villages, local MSP believes.
Kate Forbes was speaking after the Office of Road and Rail (ORR) published its latest annual report into passenger numbers at Scotland's stations.
The figures, which covered the 2019/20 financial year, showed that passenger numbers were up by 2.8 per cent (to 18,022 passengers per year) in Conon Bridge, and 4.9 per cent (to 70,850 passengers) in Muir of Ord.
And Ms Forbes is optimistic of "further improvements" to Ross passenger numbers when "normality returns" after the pandemic. She also believes rises in Conon Bridge and Muir of Ord may be driven by new homes and commuter numbers.
Ms Forbes, said: "It's very encouraging to see more people using the train from Conon Bridge and also Muir of Ord. "There has been a lot of new housing in both areas, so perhaps they are becoming commuter belts for both Inverness and Dingwall.
"I hope that when normality returns, we will see further improvements to the Kyle and Far North lines."