A Railman Remembers, Part 3
Getting My Feet Under the Desk
Continuing Mark Nolan's reminiscences of his time working at Fearn station
The beginning of 1974 was an unsettling time for an impressionable Briton starting out in the world. For a start, IRA bombs were killing people in major cities and towns like Birmingham and Guildford. There was a lot of negative press about environmental concerns and the likelihood of oil supplies becoming exhausted, which was compounded and confused by the first oil crisis in late 1973. Although the 'crisis' was an economic embargo rather than a symptom of the oil running out, it was easy for a naive teenager to link them. The price of petrol jumped from 34p to 50p a gallon, and just to add to the unease, panic buying caused petrol stations to run out, and for a while fuel was rationed.*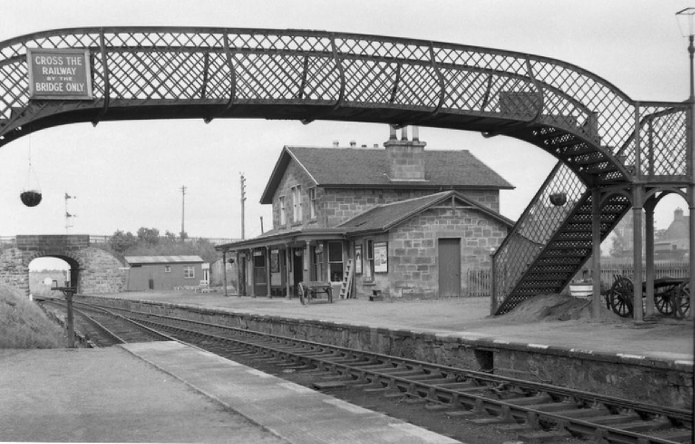 At the same time we were experiencing one of the worst stock market crashes in recent history. Anyone starting a business or embarking on property purchase was highly exposed. Then miners and power workers started striking over restrictions on pay which had been introduced to reduce inflation. Bin collectors left rubbish in the streets in support of the miners. Then there were power cuts, and the final straw was the government imposing a three day week on non essential industries.
The Scottish Highlands were mostly immune to these difficulties. The haste to get oil production up meant that we were exempt from the restrictions across the rest of the country. Cocooned in my little station, Fearn was considered an essential service, and the lights stayed on.
The trains of the day consisted of around five diesel hauled Mk1 coaches, many with corridors and compartments with sliding doors. They didn't hare around like 158s do today, so the timetable was less intensive, but the steam heated trains were reliable in all weathers, and spacious. Locos were uniformly painted blue, while the coaches were blue and grey. All this BR blue did create a corporate identity, but it was low on style and didn't do the locos any favours.
There were three passenger services daily each way between Inverness and the northerly outpost of Wick 'n Thurso, and none on Sundays. I would arrive off the 7:30 heading north, and use a wooden barrow with large cart wheels to move the parcels which had been disgorged onto the platform to a wire cage in the station. Then there would be time for breakfast before I greeted the southbound at 9 am. This frantic activity climaxed in a leisurely morning until the northbound midday train came through, followed by an idle afternoon until I jumped onto the 3:15 back to Invergordon. Consequently I had plenty of time to explore the station I'd unexpectedly acquired.
The ticket office had a window hatch to the main entrance hall which could be raised or lowered. The counter was fitted and, like the rest of the furniture, painted in thick black or grey gloss paint. Next to the hatch was a cupboard full of card tickets and a column date stamp which I changed each day. Probably. There was a bakelite rotary dial phone (Fearn 206) and another handset attached to a teak box with a couple of buttons which communicated by bell with all the neighbouring signal boxes. There was no longer any need for a signalman, which was the reason an inexperienced 19 year old had been entrusted with the keys to the station. I was however sensible enough not to bother the signalmen whose work, unlike mine, was safety critical.
There were other relics from earlier times when Fearn had been a busy station with a second platform and a footbridge. On the office wall hung a board with round red detonators to clip to the track to warn trains of an obstruction in fog. The clock, which needed winding every three days, had a dual face so it could be seen from the office and the platform. A large desk contained lots of redundant forms, some dating back to the LMS (London Midland and Scottish Railway) which had been nationalised in 1948. Another room through the office had a little oven with a hotplate, a sink and a kettle. Occasionally the permanent way men (track maintenance staff) would call in to warm themselves up and eat their lunches.
The entrance hall was quite bare, with the aforementioned parcels cage and some scales for weighing goods or luggage. Off the hall was a toilet, and further on was a room which could have been a waiting room if it had had any furniture or heat. And there was one more strange thing: in the corner was an industrial quantity of heavy rolls of thick brown paper; another manifestation of Fearn's all-important potato traffic. Of which more later.
* Forty years later we are burning more oil than ever, and it is still every citizen's right and economic duty to own a car.