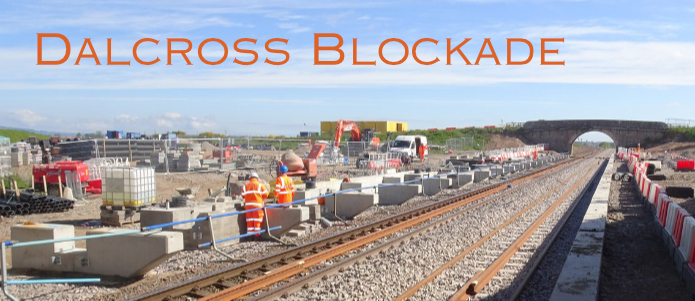 From late evening on Friday 8 July, Network Rail carried out 54 hours of continuous working on Inverness Airport Station (Dalcross) development that could not be undertaken safely while the railway was open.
Bus replacement services were provided and Network Rail issued a press release:
Since starting work last October the new £14m station at Inverness Airport has seen the construction of new platforms, the creation of the foundations for what will form the footbridge and lifts and the start of work to create the access road and car park at the site adjacent to the airport.
This weekend will see the demolition of the masonry road bridge to the east of the station site [above], installation of drainage, platform works and welding and stressing of the double-track section which has been created through the station.
The project, which is scheduled to complete in December, will deliver a two-platform station on the Aberdeen-Inverness line with step-free access, via a footbridge with lifts.
The station will have 64 car parking spaces with 10 electric charging facilities, four disabled spaces and cycle parking. There will be a new access road to the station for motorists and access to both platforms for pedestrians and cyclists.
Inverness Airport Station will deliver improved travel links to the growing Inverness Airport Business Park and the new town of Tornagrain.
David Millar, Project Manager for Network Rail said: "The construction of Inverness Airport Station continues to gather momentum and this weekend marks a significant point in the project. The removal of the old masonry arch bridge and connecting the passing loop are both important milestones in the delivery of the new station."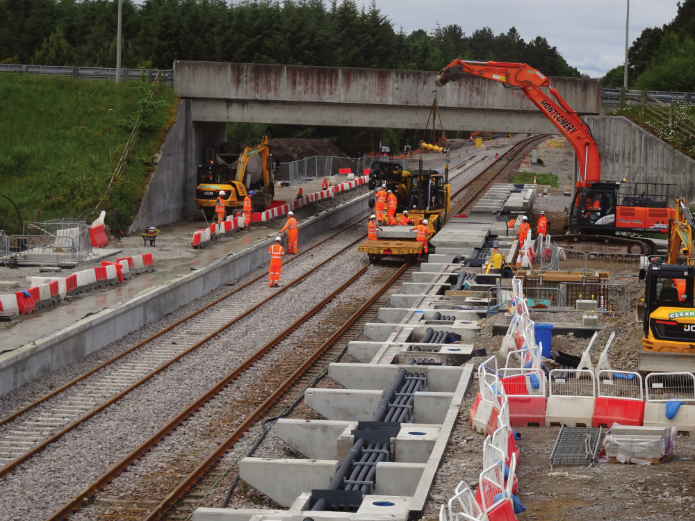 Photos: Network Rail
[FoFNL hopes to see truly integrated travel, with Highlands and Islands Airports Ltd deciding to build their new air terminal next to the station, which is Option 4 in their future plans.]