If You Build It They Will Come
In the midst of the intense campaigning from the Highland press to fully dual the A9 between Inverness and Perth it is refreshing to see an article reminding readers that transport is not just about roads.
A quote from the Kevin Costner classic Field of Dreams may sound a little trite, but this cliché is true when it comes to Scotland's under-funded railways. Whenever government has invested in the rail network, passengers have inevitably followed.
We saw it when the old Waverley Line reopened between Edinburgh and Tweedbank back in 2015. We saw it when a defunct station was brought back into use in Laurencekirk in Aberdeenshire back in the noughties.
And, closer to home, we've seen it before when new stations were opened at Conon Bridge and Beauly in the Highlands. Inevitably we'll also see it when the first passenger figures emerge from the brand new Inverness Airport Station, which opened just this year.
If you build it, they will, and indeed do, come. This was something particularly noticeable in the Highlands back in 2014 and 2015 when major roadworks took place on the Kessock Bridge and people abandoned their cars in their droves in favour of a rail commute from Beauly, Muir of Ord, Conon Bridge, Dingwall and further afield.
Certainly, there's much to commend about taking the train - from the environmental benefits and lack of traffic congestion stresses, to the ability to work on the go (this particular reporter has been known to design newspaper pages on his laptop while ensconced at a table on the way to or from the office).
Even the price of a train works out cheaper than the fuel in your car once you factor in the half-price tickets that all Highlanders on the Far North, Kyle and West Highland Lines are eligible for through the Highland Railcard. This applies to all services on said routes and is a real bargain that friends living outwith the region are really rather envious of. It's a perk we really need to make more of a song and dance about. Because it's really not something that's all that common.
But, however well we package it, train services simply haven't been reliable enough.
Indeed, the many delays hitting services meant that passenger numbers out of obvious commuter stations were beginning to suffer even before Covid ripped the rug out from underneath the network.
Then factor in the staffing issues that seem to affect all sections of the economy in this post-Brexit world - and those other staffing woes which also notoriously affected food trolleys on Caithness trains even before then - and it's clear things aren't all rosy.
What we need is investment. ScotRail has promised to make its services carbon neutral by 2035 - so that presumably means the days of the Class 158 diesels that currently ply their trade on many of our routes are numbered?
But even if any shiny new trains do come to pass, what good is new rolling stock if a big part of the problem lies underneath those trains' wheels? It's the rail network itself that's the key issue - and for too long government has promised big and delivered little. Anyone remember the much vaunted transport priorities that were published way back in 2008? One of the top three was dualling of the Highland Main Line, which is currently just single track. Others, like a new road bridge over the Firth of Forth, came to pass years ago, But the Highland Main Line? Not a sausage.
And it's not just the Highland Main Line that's an issue. Rail passengers and campaigners have been banging their heads against a brick wall for years over what is dubbed the lack of a "Lentran Loop" Most of the Far North and Kyle lines are single track, with only short sections of double line at some stations to enable trains to pass each other in either direction.
Sometimes there's a significant gap between these passing areas too. And, in the case of the stretch between Muir of Ord and Inverness, it only takes one train to be late for a domino effect to hit a bunch of others.
Indeed, anyone who has ever caught the 5.12 p.m. Inverness-Ardgay service will know only too well the sinking feeling that comes with realising the 12.34 p.m. Wick-Inverness train has been delayed.
'The latter is timetabled to arrive in the Highland capital only six minutes before the Ardgay train is due to depart. Over the course of its four-and-a-half-hour journey delays are not exactly unheard of - heck, on the day I wrote this piece the 12.34 p.m. was cancelled altogether. If it's running 30 minutes late then the Ardgay train - with all those commuters aboard eager to get home - is left sitting idle in the station.
What makes it all the more irritating is that such knock-on disruption wasn't always the case. Lentran between Inverness and Beauly once had a station, and although the station is long gone and its passing loop ripped up, the space where the loop once stood is still part of the railway.*
All it would take to significantly reduce the knock-on impact of those sorts of delays would be the reinstatement of this short section of second track. The land already belongs to the network, and the space for it is sitting there waiting.
But despite transport experts and politicians alike all seemingly recognising this work's importance, it has gone absolutely nowhere.
How many other similar 'easy wins' are out there? For there are most certainly others - take the people of Evanton, who are clamouring for the reinstatement of their former station, and in the meantime have to suffer the indignity of watching multiple trains whizz through their village each day without stopping. The track is already there and in daily use - it just needs a platform.
If stations like this were to be reintroduced, and if basic improvements like the Lentran Loop were finally sorted, passenger numbers would go up. We've seen it before.
If they build it, they will come. But it needs a lot less pontificating from those in power. We need a lot less "if" from them and a lot more "will".
Philip Murray, Inverness Courier, 28 July 2023
* As regular readers will be aware, Lentran Station was on the six-mile section of double-track which the Highland Railway opened in 1913. The company had various plans to improve capacity on its predominantly single track railways but was unable to afford most of them. The need for a way for trains to pass each other on the busy southern end of the Far North and Kyle Lines was obvious then. The double track was removed in 1966 but a loop was left at Lentran until 1988. We have campaigned for years for the whole six-mile section to be redoubled, or at least a 'dynamic loop' installed, allowing trains to pass at speed. However, as always, funding is limited and a short passing loop is now planned instead for Delmore, near Inverness. The urgent need for this loop was established by the Far North Line Review Team in 2016.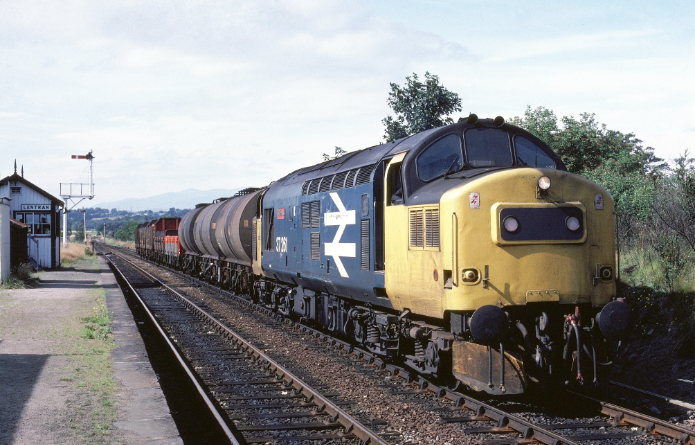 Photo: David Price, from The Kyle of Lochalsh and Far North Lines