Final Jellicoe Plaque Unveiled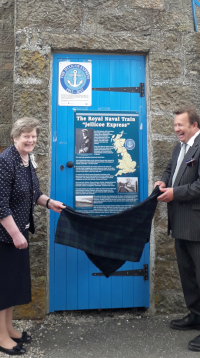 On Tuesday 30 April the unveiling of the 19th, and final, "Jellicoe Plaque" took place at the RSPB Forsinard Flows visitor centre, the former Forsinard station building.
The plaques commemorate the troop trains that ran the length of Great Britain to Thurso, for Scapa Flow in Orkney, during both world wars.
The Forsinard plaque was unveiled by Johnny Jellicoe, grandson of Admiral of the Fleet, Sir John Jellicoe, on a beautiful day, in the presence of well over 100 people including many school children.
There was an illustrated talk given by Robert Foden, a historian from Kirkwall; an exhibition and refreshments. It was organised by Moya McDonald of Another Orkney Production, who is the driving force behind the whole project and Caroline Eccles, Project Manager, Flows to the Future at Forsinard.
Photo: John Yellowlees