New Alliance Managing Director
Phil Verster, who was ScotRail Alliance Managing Director from May 2015, left his post on Friday 20 January to take up the post of Managing Director of the newly formed East West Rail project. This will be responsible for construction work and service provision on the Oxford to Cambridge route in England, closed by Beeching over 50 years ago. The route will re-establish a link between East Anglia and Central, Southern and Western England.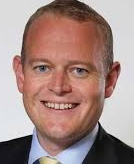 His successor in Scotland will be Alex Hynes, currently MD of Arriva Rail North's franchise in the north of England. Mr Hynes has been managing director of the franchise since 2013, at which time it was operated jointly by Abellio and Serco. He retained his position as MD when Arriva took over in April 2016.
His previous employment by Abellio and Serco will be useful in his new role. Mr Hynes said, "I am delighted to have been appointed to lead the ScotRail Alliance, this cutting-edge arrangement, which brings together the management of ScotRail and Network Rail to deliver the very best for customers. The ScotRail Alliance is delivering one of the largest programmes of investment, change and modernisation since the railway was built. To be part of that, and the plans to vastly improve services and capacity for customers, is hugely exciting for me."
Mark Carne, chief executive of Network Rail added: "We are very pleased that Alex is joining Network Rail to lead the ScotRail Alliance. This is one of the most pressurised, high profile roles in the whole railway industry and we look forward to helping him succeed."
FoFNL is looking forward to working with Mr Hynes when he takes up his appointment on 1 June. He has accepted the invitation, originally made to Phil Verster, to speak at our AGM/Conference in Inverness on 23 June.