New Far North Line History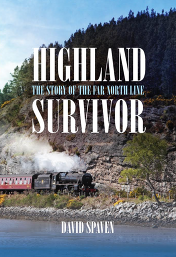 Highland Survivor - The Story of the Far North Line
by David Spaven
Date: 2016
Price: £16.99
Follow this link to pre-order.
Those who have read David Spaven's books "Waverley Route - The Battle for the Borders Railway" and "The Railway Atlas of Scotland : Two Hundred Years of History in Maps", both published last year, will be delighted to know that Mr Spaven has another book due to be published in September. This time he turns his attention to the Far North Line. The new book, entitled "Highland Survivor: the Story of the Far North Line" is dedicated to his father Frank who was pivotal in saving not just the Far North Line but all the main lines north of Perth. Frank Spaven was the Vice-President of FoFNL from its inception in 1994. Many of the photos in the book are from the Frank Spaven collection and have never been published before.
This is the book description to be used on the back cover:
'The 168-mile Far North Line, from Inverness to Wick and Thurso, is one of Britain's most remarkable rail survivors.
Completed under the auspices of the renowned Duke of Sutherland in 1874, it played a major strategic role in Britain's World War 1 effort, but faced extinction in 1963 when Dr Richard Beeching published his infamous report The Reshaping of British Railways.
'Forty-three years ago, David Spaven began on the Far North Line what would be a working life spent in and around the rail industry. In Highland Survivor he relates for the first time the fascinating story of Britain's longest rural railway: its origins, heyday, stunning escape from the Beeching Axe, and subsequent chequered history.
Using a wide range of newly-unearthed public and private archive sources, eye witness accounts and anecdotes from railway staff - supported by a unique collection of previously unpublished photographs and maps - he reveals the inside story of the successful 1963-64 campaign against closure, by far the biggest rail reprieve of the Beeching era.'