Weaving the Far North Thread
David Prescott, Director of Marketing and Development, Grand Union Trains Ltd and owner of Allan Rail consultancy, was reminded of his extensive Far North connections by our book, FoFNL 25.
As a career railwayman who has spent twenty five years working in Scotland, with ScotRail and subsequently Transport Scotland, and someone who has been involved in community railways and also wider community issues, I enjoyed FoFNL25. Of particular interest was the piece Far North Timetable Evolution which presented an interesting timeline of changes. I was surprised how often I had interacted with FNL events and people over that period. It was like following a thread from my railway career, through the wider tapestry of the railway. I noticed how my thread interacted repeatedly with that of three colleagues and friends: Frank Roach, Paul Salveson and David Spaven.
So, emboldened by those thoughts I have dredged my memory to provide a few "behind the scenes" insights into some of Far North events over the past 25 years.
The 26th October 1995 conference included three friends that I had yet to know - Frank Roach as a key player, Donald Macpherson who became a colleague in ScotRail, regrettably no longer with us, David Spaven, and Paul Salveson, who I knew well. I had first met Paul when he came to Regional Railways HQ in Birmingham in about 1991 or 92 seeking our support with his new project. It was a concept that resonated with my own experiences as Marketing Manager for Provincial North Eastern, working on the pioneering Provincial North Eastern Scenic Line Guides a few years earlier and also during the latter part of the Settle - Carlisle closure process up to, and then beyond, the reprieve. The outcome New Futures for Rural Rail was an excellent template on how to realise the potential of rural railways, coming as it did from Paul's challenging, community orientated, thinking and practical input from Regional Railways. It certainly developed and coloured the following nearly 25 years of my working life.
Fast forward a few years and I was with ScotRail, where I first met Frank Roach and David Spaven, now long-standing friends and colleagues. We met in different circumstances - Frank as one of the two Highland Rail Partnership (HRP) managers and also owner of Rogart Station buildings and David during his consultation work. As (National Express) ScotRail's manager responsible for all the commercial station tenancies I was able to provide Lairg station as the HRP base and also lease to Frank the remaining railway operational tenancy at Rogart station, although in spite of the ground work, it took until the end of the First franchise, some ten years later, before he was able to buy it and give it the care that it needed.
One of Frank and my early successes was the Dingwall morning commuter service, which started in March 1998. It established a pattern - Frank came forward with the idea and I worked on how to deliver it. Here it was to use a Class 156, sitting at Inverness, which had no work in the morning peak. I worked through the ScotRail costs and took it through the (quite relaxed) National Express ScotRail approval process. We agreed the number of passengers required for it to break even, (about forty) which was not an unduly high requirement, and the rest as they say is history.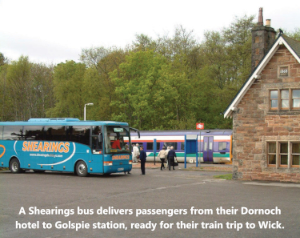 With the arrival of the 158s, with their reduced cycle carrying capacity, we worked up the "bike van", which I was able to oversee, as I also managed the ScotRail reservations system. Also as part of overseeing the reservations team I met our big "block booking" customers such as Shearings and Lochs & Glens coach holiday operators. Their interest was primarily on the Mallaig and Kyle lines, but by getting to understand their business model I was able to sell Shearings the idea of a one-way scenic rail trip on the Far North based in their Dornoch hotel. As the journey was Golspie to Wick on the first train, it was valuable income for ScotRail, at no cost. Shearings were happy too, as they significantly improved the occupancy of the hotel.
Frank followed with Beauly station. The projected demand figures were too low to be able to afford a four coach long platform. So the idea of the short platform came from the ORR station guidance document - where I worked on the basis that it was "guidance" not mandatory. ScotRail safety colleagues were persuaded by the argument, as were ORR in London and the station was built with its 10m long platform. Unfortunately the Glasgow office of ORR were not involved in the planning and it took a bit of "behind the scenes" work for them to approve the opening on a trial basis. The trial was, as expected, successful and the station has delivered passenger numbers, well beyond our expectations (virtually 1,000 users a week for each of the past ten years and third busiest on the line). It has provided income, and especially passengers, to both the Far North and Kyle routes.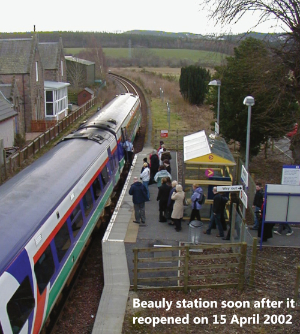 I had left ScotRail by the time I was next involved with Beauly in 2003/4 - as a consultant. (Thanks to David Spaven for introducing me to my new employers.) I worked on the follow-up market research for Frank. The results showed what we hoped, that there was mode switch from car and motor bike as well as some new trips, and one recommendation was that Conon Bridge could be re-opened using the same model.
By the time Frank had developed Invernet I was working as a rail technical advisor with Scottish Government, pre-Transport Scotland (as a consultant) and then became a founder member of Transport Scotland when it was formed. The fourth train from Wick (December 2006) was a FoFNL initiative supported by Jim Wallace, Orkney MSP, - to offer a connection out of the first ferry from Stromness. It was facilitated by the arrival of the four Class 170s from Hull Trains, another First company, which displaced a Class 158 from elsewhere to increase the fleet on the Far North. The northbound service did not come until December 2008, where some effort was required to demonstrate that the extra cost was only in the train crew, as the fuel and mileage costs were already being paid taking it virtually empty back on the evening train.
The retiming, earlier, of the first Kyle - Inverness train at the same time was part of the refocusing of resources on providing a stronger Inverness commuting network, whilst still providing the required connectivity for the extremities of the routes.
The next interaction was Conon Bridge which Frank had been promoting for some time, but which was stuck in the Network Rail GRIP development processes. At that time I was working with both Transport Scotland Road and Rail colleagues on the additional rail activity that was to be part of the alternative travel options being offered in mitigation of the prolonged road closures arising from the planned Kessock Bridge resurfacing. They had budgeted to use expensive loco-hauled trains to displace DMUs to provide the additional 158s required north of Inverness. (As now, there were no spare DMUs about.) We were able to negotiate a reduced cost from ScotRail by using the extra 156s, which had become available after the very successful and rapid electrification of the Paisley Canal line.
As part of this involvement I became aware that the planned bus-based Park and Ride site at the north end of the Kessock Bridge was not going to happen, because it was not going to remain after the works and the Roads team wanted these mitigation facilities to become permanent. So, in March 2012, I jumped in with the suggestion of Conon Bridge station, pressing a surprised Network Rail, on the back of their successful alliance with ScotRail to deliver Paisley Canal electrification, to build a new station by mid-February 2013. And in fairness to them they rose to the challenge and it did open on time at the start of the road closure period. Not only a new station, but another short platform station, which is now helping to establish a low-cost station option for other potential rural re-openings, or possibly platform raising. Usage has settled down to a steady 15,000 a year putting it into the top ten stations on the line.
Perhaps this illustrates the importance of individuals and personal relationships in achieving results. These particular relationships were based on mutual trust between individuals who have different experiences and approaches, but who, when brought together, have the right chemistry and have been able to deliver results, both on the FNL and elsewhere. So it seems that to get the right results, it is necessary to have the right people, in the right place, at the right time. Regrettably the converse is equally likely to be true, with the wrong people and poor timing, preventing good outcomes, but these are much more difficult to discover!
In summary it demonstrates the importance of creating and maintaining the right networks, not just amongst the "top" decision makers, important as they are, but also more widely through the various railway organisations.