Overnight Train, Two Capitals and a Castle...
FoFNL Member Chris Watford writes about his October, 2011 trip to Dunrobin Castle - as well as the thrill of his journey to get there:
Just as for millions of other people before me across the mists of time, Inverness and the Far North have, for as long as I can remember, held a particular attraction for me: the peoples, the cultures, its diverse architecture and - in Inverness itself - the city's holistic and somehow highly attractive aura and sense of presence; surely, all so hard to beat. And it's so magnificently complemented by the remoteness and amazingly diverse history belonging to both the Kyle and Far North Lines and the places along their individual routes, which are surely territorial gems to be envied globally. In other words, what a lovely part of the world this is!
Briefly, my earliest recollections of discovering these two wonderful railway lines (and their many wonderful and diverse stations and landmarks) began in the mid-70s of the last century. This was the era when steam-heated Mark 1 coaches, boasting PROPER deep seats - and with a ubiquitously well maintained Class 26 locomotive at the head - were the order of the day. Since then, my regular (well, at least twice yearly) jaunts to northern Scotland have altogether thrilled me without fail, whether this be by way of a day train to or from England; or through the uniqueness, splendour and overnight romance of the overnight Anglo-Scottish Sleeper, now First ScotRail's Caledonian Sleeper. I've always regarded the latter train (or its equivalent from London Euston as named trains go) as being a "magical train to a magical place." In the late 1970s, I experienced it in real style, haulage-wise, in the shape of travel in a second-class berth of a Mark 1 SLSTP sleeping car, one of a total of 18 vehicles in the train's formation. (SLSTP stood for Sleeper Lavatory Second Twin-berth Pantry.)
Some of you may recall that the berths in such rolling stock had "drop-lights" within and these could be opened almost down to sink level! This afforded me the pleasure, on one particular winter's night during that period, of recklessly ignoring the "Do Not Lean Out Of The Window" signs (oh, the folly of youth!) and savouring the dark, cold view ahead as British Rail's electric locomotive No. 82008, in pristine ex-works condition, gallantly roared out of London and hauled around 600 tons up Camden Bank on damp rails, her driver taking care to ensure that only occasional minimal wheel-slip occurred. As we rocked and rolled noisily and impetuously northwards, travelling directly over a bogie with at least two flat tyres, sleep didn't come easily; and it was not made any easier at Mossend either, where the traction change then seemed to resemble a form of belligerent hump- or fly-shunting, certainly more than the relatively seamless transfer of power that the management of the day would have preferred for their slumbering overnight passengers. And then northwards further still, with a pair of lovely sounding diesels of the period; diesels that nowadays easily command "cult" status. Oh the pleasure of such conveyance; the romance of the quiet Highland stations and their surrounding snowy mountains, streams and babbling brooks at dawn; the spectacular hangover; and the cold damp air of Inverness station on a grey early winter morning as one searched for that hearty Scottish breakfast within easy reach of Inverness station - if not on it in those days! Nothing in the world could surely beat this experience?
It was only a few years after this (i.e., the early to mid-1980s) that I ventured to Wick for a one night stay and distinctly remember turning up at the terminus station for the first train back one wet weekday winter morning. I soon found the train's rather odd formation comprised: locomotive 37025, one freightliner bogie wagon (with through steam-pipe and carrying one container), TSO, CK, BCK and BG, the whole outfit belching enough steam in the station to heat a small factory. (TSO - Tourist Second Open, with 64 seats at tables; CK - Composite Corridor, with 4 six-seat first class compartments and 3 six- or eight- seat second class compartments; BCK - Brake Composite Corridor, with two first class compartments and three second, along with a guard's compartment and a luggage/parcels space. All three types of vehicle had two toilets. BG - Bogie Brake, with guard's compartment and two luggage/parcels areas.) That trip, like so many others to the Far North Line, would have taken me through such gloriously interesting places as Altnabreac, Forsinard, Helmsdale and Golspie and - not least - Dunrobin Castle station itself. Little did I know at that time the significance of the line, its wonderful people, its history and its collective battles against the elements and politics - all to make it what it proudly is today. In fact, a few editions ago, I wrote of my 2009 expedition to the bleak yet stunningly beautiful hamlet of Forsinard, a deafeningly quiet rustic outpost and an all too brief stay at the then Station Cottage, which was run by a very caring landlady called Sue Mair. Unfortunately, said lady has since moved on and I believe the Station Cottage itself is now a private dwelling again. But it was that trip that further enhanced my love of all things Far North and, coupled to my membership of the FoFNL and reading about all its key "happenings" in this fine journal, I wanted to return there again as soon as possible.
Fortuitously, my subsequent reading about the success of FoFNL through it injecting some synergy between train calling times and the Dunrobin Castle opening times, plus the splendid efforts of our Committee Member, Bob Barnes-Watts (who I believe was also instrumental in securing castle admission reductions for those arriving by rail), collectively inspired me to get to Dunrobin before the end of the 2011 season. Having passed through the station countless times before, but never actually alighting there - and never having visited the castle itself by other means either - this was an irresistible extension of personal "boxes to tick" of the Far North. So off I set:
With minimal planning, a pragmatic approach in the pursuit of my visiting a wildly opulent and majestic castle by way of a pre-eminent railway route was undertaken reasonably quickly. Thus, I soon found this time - here in the 21st Century - the overnight sleeper from Euston had the magnificence of a sleek and still very modern-looking 5,000 hp Class 90 electric locomotive at the head of its quarter-mile long air-conditioned train in platform 15. Trailing behind, in the form of three separate Scottish destination portions all joined into one, was a gleaming set of chiefly Mark 3 Sleeping Cars, plus a couple of Night Cap Bars (as I like to call them) as well as some seating vehicles too. As we departed, in similar fashion to that with loco 82008 all those years ago, the DB Schenker driver ensured it was a positive affair: a sure-footed ascent of Camden again, with just one noticeable slip on the steepest part of the bank; then we were soon flying north, initially along the Down Fast, in a rather quieter and smoother environment than those relatively rough yet iconic Mark 1 Sleepers. Further down the train, in one of the plush refreshment vehicles, Haggis and Neaps and a single malt were devoured with great delight and this afforded us an excellent nightcap and foretaste of the wonderful land to come.
Then, as we ventured gingerly forward by five or six coaches to our Mark 3 Sleeper berth (not so easy for me on crutches), while the train glided through Kilsby tunnel on the approach to Rugby, sleep soon came easily; indeed, Edinburgh was just a dream away, arriving there shortly after 04.00. There, the change to charisma-free Spanish traction, in the form of a Class 67, was seamless enough; after which more valuable sleep was had before those magical Highland Main Line miles though glorious places such as Dunkeld, Pitlochry and Blair Atholl. Soon, a knock at the door brought a well-dressed and polite sleeping car attendant with coffee, biscuits and the news that we were on time. We clickety-clacked our way along the iron road, calling at all those legendary Highland Line picture-postcard places such as Kingussie, Aviemore and Carrbridge, thence atop the 1,315 feet of Slochd Summit with ease - and at a respectable speed. I also remember, at around this time, our train recessed briefly inside a quiet and misty rural loop off the single main line track to allow the passage of the up Highland Chieftain High Speed Train (HST) to King's Cross which soon swished passed us purposefully southbound, its MTU engines in full turbo cry. Thereafter, the Highland Capital was soon reached and, after a hearty Scottish breakfast in the Royal Highland Hotel (now seemingly run by quite pleasant Eastern European staff), with febrile anticipation we were soon boarding our suburban-style Class 158 Diesel Multiple Unit (DMU) for our Marco Polo-style journey into the long-distance pre-eminence of the Far North.
Having read numerous train-running performance reports carried in various editions of Far North Express, there seemed zero propensity for late running so we sat back with full confidence as the train departed bang on time and sped us toward what felt like the end of the world to us Southerners! Obviously, this particular trip took place before the Conon Bridge Station reopening materialised but there was plenty else to look out for, of course. After the fine Ness viaduct was crossed and as we clattered over Clachnaharry Swing Bridge and past its signal box, a very pleasant ticket inspection and greeting was afforded us by the train's conductor. In fact, subsequent en passant idle chat with this lady revealed that her husband was the train's driver that day, but that this was "a fairly unusual occurrence." Nevertheless, our journey was obviously a real family-run affair! Soon, the refreshment trolley arrived offering coffee, tea and (for the size of the trolley) an amazing array of other fine refreshments, its attendant equally as pleasant, but seemingly unrelated to the other train-crew, as far as we knew! After our passage across the well-documented section of line with a somewhat chequered past, we drew into the fine environment of Dingwall station, the imposing floodlight towers of Ross County FC's stadium reasonably evident close by. With the unit's Cummins engines at full-tilt again, off we set still further north, the Kyle line elegantly and quickly diverging to our left. It was at this point one could feel the tingle of adventure pass though us as we were - at last - on the most northerly and probably the most beautiful long section of railway line in Northern Scotland, if not the whole of the UK.
It's still incredible to consider the fact that the route length from the Highland Capital to the old County Town of Caithness is 161 miles in length; an amazing feat of railway civil engineering if there ever was one. Also, the fact that the section between Dingwall and Invergordon was opened as long ago as 1863, which, if you compare this to the inception of other British lines (take parts of the Isle of Wight for example), is an incredibly long time ago. It would indeed have been a real insight to watch the first train north leave Dingwall in 1863 and savour the surroundings (and pubs and shops?) of the age!
Carrying on and the first 15 miles or so follows the coastal route alongside the Cromarty Firth, followed by a rising gradient of around 1 in 100. Wearing my "history glasses" again, it seemed amazing to consider we were travelling over what was once part of the Inverness & Ross-Shire Railway. The train certainly moved along as if it meant to get somewhere and, before we knew it, we were passing the Evanton Intermediate Block Section (IBS) - or at least it was an IBS a few years ago! Galloping along, often at full line speed (75 mph), it seemed as though we could reach anywhere at fairly short notice. In fact, Alness viaduct and then its station were quickly reached, a well-kept albeit simple one platform affair (it once boasted three) that closed in 1960 but was, thankfully, reopened in 1973. The downhill acceleration from Alness proved delightful, even though we were only in a DMU, and the few miles to Invergordon - famous for its 1931 mutiny - were soon eaten up and the town quickly reached. Invergordon looked strangely busy and nothing there seemed far beyond and the water's edge. Shortly after departure, evidence of the many ancillary lines sprouting off left and right were a reminder to us of various industrial activities. As drizzle engulfed our train, we soon rattled speedily over Delny Crossing, once a noteworthy country station until 1960 as you will probably know, then the site of Kildary Station, also shut in 1960, was still just discernible. Once through the site of Nigg station and its level crossing we were soon into Fearn - which meant we were already 41 miles from Inverness. To us mere window-gazing passengers, there didn't seem to be much to write home about at Fearn, although an exploration of the place and its surroundings could easily have proven otherwise. Either way, our Class 158 was soon labouring up the 1 in 300 - and steeper - northwards, and it was at this stage we collectively decided we were "well on our way" to Dunrobin.
Traversing such wicked gradients along our splendid route made me long for Class 37 haulage with "real" coaches, if only to marvel at the sound of over 100 tons of English Electric locomotive thrashing through the Scottish countryside. But, after all, this was 2011 and the operational economies and efficiencies of running a modern railway (or not having one at all) had to be firmly remembered now. Coasting into the lovely settlement of Tain - the station itself being close to the town - I pondered over the concept of being a regular Inverness commuter from here. The beauty of the Far North Line was, by now, becoming more apparent in its unique diversity and attraction. Wonderful scenery incessantly rolled past the window of our DMU. Edderton soon passed and, after a further ten or so glorious miles and another station stop or two we were back on the climb, this time on the way up to Lairg. When reached, the mere name of Lairg brought back a familiar resonance inside my head: way back in the 1970s, I supervised the loading of the Saturday night newspaper trains from Euston to all points north. I remember the first train we had to deal with was the 20.02 Euston to Lairg, with just one or two vans for Lairg itself, although that train's entire formation was a lengthy one (and usually Class 85 hauled to Mossend) and it conveyed many other newspaper vans for detachment en route. However, on this occasion, we found Lairg to be a relatively small station with signs of significant business in the past, like so many other Far North Line stations. Rogart soon came and went, the quaint little station with its fascinating mark 2 camping coaches evident on the down side of the small station. Then with eager eyes, the almost barely untraceable remnants of The Mound were passed - to me a now very sad and lacking of its former glory, given that location's once thriving operational significance. Indeed, whilst passing the site, it was almost impossible to imagine that a restaurant car would regularly be attached and detached there, let alone it being busy with the to and fro of the Dornoch branch line train too!
The landscape retained its stark beauty as we approached Golspie and from some personal notes, we were aware that we were in the vicinity of the monument to the 1st Duke of Sutherland. I found Golspie yet another halt that was clearly a shadow of its former self. We found the station had lost its loop and down platform, but at least the listed station building was in situ and bore the initials of The Sutherland Railway on a plaque on its gable end. As we departed Golspie, it was time to gather our belongings, dispose of our coffee cups and other litter in the bins and don our shower-proof garments, as they would most certainly be required. As the train's engines roared flat out along the damp rails ascending the two miles to our destination at 1 in 60, we soon reached the summit of that stretch which was Dunrobin Castle station itself. Clearly, the conductor had informed the driver of my disability and therefore the challenge I might have in alighting at the fine former private station. As such, the driver's adroit dexterity aligned us almost perfectly with the heavy movable platform steps there, which I couldn't do without, particularly as my being on crutches too meant a somewhat retarded progress onto the platform. Alongside my wife and small child, the conductor was also of great help in my alighting at the station; well-done ScotRail! So great was the synergy between the crew, my wife and my careful "stepping-off" at Dunrobin! Relatively speaking, my disembarkation at Dunrobin was largely untrammelled, especially as one considers the nuances and dichotomy between a station such as this lovely little Scottish halt versus, say, London Underground's Jubilee Line and its perfectly level platform/train interface and overall station access/egress at Canary Wharf, for example. But, after all, we were, by then, at postcode KW10 6SF (or thereabouts).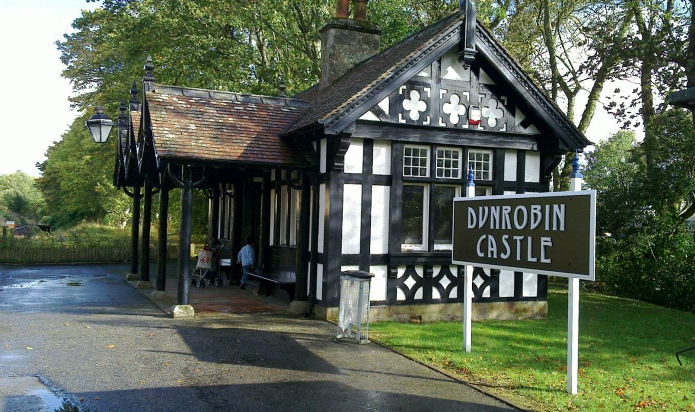 As soon as we were, at last, standing on the indubitably pre-eminent Dunrobin Castle station, the hegemony of the numerous Dukes of Sutherland cadre was evident all around. Yes, it was soon clear we were in a very special place. Other than the lovely platform itself - with its still very obvious former bay on its Wick & Thurso end - I felt we were in someone's private garden already. Apparently, the station is now lovingly maintained by The Small Stations Society, who lease the site from the present Duchess of Sutherland on "peppercorn" terms. And wow, what a place! Once the train had departed for its lonely continuation even further north toward the likes of Helmsdale, Forsinard, the REAL County March Summit and eventually Thurso and Wick, its sound soon became indistinguishable. Then the shear quiet, the serenity, the unusual birdsong, the VERY clean air and even the almost haunting mist were all amongst the first natural elements to engage one's consciousness. Without doubt, I felt I had just stepped into the huge garden of someone's massive and lavish (yet not pretentious) estate. It was at this point, once again, that I sincerely wished I was of true Scottish ancestry.
The monument of The 20th Earl and 2nd Duke of Sutherland very close to the station grounds was, for me, spoilt somewhat by the rather intrusive occasional noise of speeding traffic traversing the A9 between the station and the magnificent driveway to the castle. And what a magnificent driveway that is too. Serenity at its height. Tree-lined magnificence. The railway could soon be a million miles away, but the sound of traffic on the road, unfortunately, could not. As we walked very slowly toward the wonderful castle dwelling, stopping several times on the way, we marvelled at the beauty, uniqueness and purity of the surroundings. "Oh, you lucky Scottish people," we thought. Upon arrival at the castle's entrance, there was certainly an instant majestic air to the occasion. Once through the door, we were afforded a very warm greeting by castle staff whilst we were in awe of the entrance hall; clearly this was just the start of a few hours of superb and regal magnificence. And it soon became apparent to us that this REALLY was The Jewel In The Crown Of The Highlands, as the castle's official and fine brochure declares. The main entrance of the castle is adorned with a massive coat of arms atop a grand fireplace, which relates to the aforementioned 2nd Duke of Sutherland (1786 - 1861). It was he who, very tastefully, more than tripled the size of the castle between 1845 and 1850. Well done, that man!
We found the rest of the castle equally as awesome and beautiful: from the main staircase and gallery through to the dining room (and its portraits of the 2nd Duke's wife, Harriet), on to the splendour of the music, breakfast and drawing rooms and then into the ladies' sitting room. All of these rooms were so very different but each sparking the imagination as to what life could have been like for the generations of Sutherlands residing in this pre-eminent and very rural dwelling. Apart from the diverse range of the many other rooms of historical note that were open to the public (both small and large), to further whet the appetite of all manner of visitors, the gardens between the building and the nearby deep-blue North Sea coast were a sight to behold. Indeed, "magnificent" would be an insufficient word to describe this area. Looking out to sea across those gardens from our elevated position in the castle grounds, one could easily imagine a Duke being transported from an ocean-going vessel to the castle itself and subsequently being attended to, once inside the fine building, in a most royal fashion. Other than its beautiful paintings, another striking aspect of the castle was its furniture and the shear elegance and diversity of the rooms that remained open to the public, for we must not forget this castle is still inhabited. For me, The library and the Duke's study were of utmost interest. For my wife, the symmetry and flooring of the Queen's corridor were of particular interest and, in the music room, the painting of Michael Wright - an Irish Chieftain - was particularly enthralling. If this wasn't enough, the ladies' sitting room and the artefacts within the military room were simply outstanding to us. And, before this begins to sound like a commercial for the castle, I would like to state that I, for one, would love a room like the dining room to devour my freshly caught salmon and breakfast delights too!
Alas, time was pressing on us and the timetable of the Far North Line, alongside our other travel arrangements at that time, dictated we head to the castle shop to purchase a few souvenirs and then the main tea room for some light refreshment before heading back along that wonderful driveway to the little station. With plenty of time to catch the afternoon Wick - Inverness DMU back to the Highland Capital, we had chance to savour the delights of this small site in more detail, while wondering what it would have been like there 100 years previously. Soon it was time for our train back to Inverness and, with Dunrobin Castle station being a request stop, I was at the ready to hail the Class 158 as it approached us through the damp air. Owing to my bone-crumbling disease, these days I would need a forklift truck to alight and board a train at Dunrobin Castle station (and other stations across the UK rail network with a similar platform/train interface). But two years ago this was achieved purely with the help of my wife and the generous ScotRail train conductor, via my use of the heavy semi-portable platform steps.
As the train revved away from this magic place, our day-long adventure to Dunrobin Castle was all but at an end. The significant return journey ahead allowed us to rest, enjoy food and drink from the refreshment trolley again, gaze in awe at the scenery once more - this time from the other side of the train - and ponder over our souvenirs, which included reading about the Castle's history from various material. As we galloped along a good deal of jointed track southward, the suspension of our suburban-style train at least afforded us the luxury of a much needed cat-nap as the hills and babbling brooks floated past our window. Dingwall was reached bang on time and Inverness a whisker early that, in spite of further drizzle, was most welcomed. Our last night at the close-at-hand Royal Highland Hotel beckoned and before we knew it we were on the following morning's Highland Chieftain HST back to England, a country that now seemed to possess a fraction of the magic of the one we had just visited.